There's a lot to love about Oregon.
From its breathtaking natural scenery to its quirky, avant-garde culture, there's a little something for every type of traveler.
Do you like testing your limits on grueling ski slopes and back-breaking mountain climbs?
Do you prefer relaxing in hot springs or fishing on the docks of quiet wooden cottages?
Would you enjoy a stroll through renowned art museums?
There are many amazing things to do in Oregon.
Here are just a few suggestions as you plan your vacation.
1. Portland Japanese Garden
If you've always dreamed of sipping sake under the softly-falling petals of a cherry blossom tree, the Portland Japanese Garden can turn these visions into reality.
You won't even have to leave Oregon to enjoy them!
Despite the name, the Portland Japanese Garden is actually a series of gardens.
Some of them have ponds and streams filled with koi fish; others have ferns, flowers, stones, shrubs and water wheels like a real zen garden.
The architecture is inspired by temples and traditional Minka houses.
Lanterns light the walking paths.
If you like cultural activities, there are fun events hosted at the Portland Japanese Garden, too.
From tea ceremonies to woodblock exhibitions, you can fully embrace the art, music, nature and folklore of Japan.
Consider putting the Portland Japanese Garden on your shortlist of tourist attractions in Oregon.
It's one of the most fun places to visit in the entire state, especially if you're a dedicated student of eastern culture.
Address: 611 SW Kingston Ave, Portland, OR 97205, United States
2. Thor's Well
You've never seen a sinkhole like this one.
With ferocious power, Thor's Well is so big and so mighty that it regularly sweeps visitors out to sea.
They get too close, and the God of Thunder lashes out at them with gut-churning, rock-crushing force.
What is Thor's Well?
Though it has many nicknames, including "the drainpipe of the Pacific," it doesn't actually suck away the ocean.
In simple terms, it's just a deep hole in the middle of a rocky outcropping.
The waves slam into the rocks; the water goes flying in every direction; the hole appears to act like a drain, emptying the area until the next wave.
People come from all over to photograph Thor's Well.
It's proof of nature's fury in action, and it's easily one of the coolest places in Oregon.
Just don't get too close!
Address: Highway 101, Yachats, OR 97498, United States
3. Oregon Coast Aquarium
As a coastal state, Oregon has its fair share of docks, ports, bays, aquatic centers and marine life exhibitions.
However, none of them can hold a handle to the Oregon Coast Aquarium.
Filled with literal tons of water, the Oregon Coast Aquarium showcases everything from sharks to seabirds.
There are underwater passageways where you can stroll across the ocean floor, and there are tide pools where you touch starfish or get a kiss from a sea otter.
As an educational site, there are fun learning experiences to be had at the aquarium as well.
You can sign up for a number of classes, lectures, workshops and other special events.
They're divided between kids and adults, so everyone will have something new to try or explore.
If you're thinking about vacation ideas along the coast, consider the Oregon Coast Aquarium.
It's one of the best places in the state for families who aren't afraid to get splashed a little!
Address: 2820 SE Ferry Slip Rd, Newport, OR 97365, United States
4. Rimsky-Korsakoffee House
With dim lights, crammed tables and decorations named after dead people, the Rimsky-Korsakoffee House is one of the quirkiest places to visit in Oregon.
You might even say that it's to die for.
There are many bizarre things in Rimsky's, including gruesome knick-knacks on the shelves and tables that randomly rotate or vibrate.
According to legend, the house itself is haunted, and the owners certainly play up the superstitions with spooky decor and mournful music.
The menu is also a swerve.
While they serve the usual coffees and cakes, they also experiment with freshly-made, limited-quantity desserts that incorporate all kinds of spices, sauces and toppings.
They only accept cash. They don't post their specials online.
When they run out of something, that's it; there's no more.
If you want to experience the Rimsky-Korsakoffee House, you'll need to go there in person, and you'll need to be prepared for everything.
Don't expect it to be like any other coffee shop.
This is a creative, boundary-pushing business that lives up to its reputation.
Address: 707 SE 12th Ave, Portland, OR 97214, United States
5. Terwilliger Hot Springs
Located about a quarter-mile into the wilderness, the Terwilliger Hot Springs can offer a relaxing soak after a long, sweaty hike.
They're one of the best places to visit in Oregon, especially if you're a fan of letting things air out.
Clothing is optional here!
Six pools are separated by rock arrangements along the river.
Their temperatures range from 85°F – 112°F, so their heat will really sink into your bones and loosen up your muscles.
The fresh air from the mountains is also a plus; it's the deep, cleaning kind of oxygen that you can only enjoy when you're miles from civilization.
If you're ready to trade your bath bombs for the real thing, consider a soak in the Terwilliger Hot Springs.
Not only are they one of the most beautiful places in Oregon, but they can provide some much-needed R&R during a busy vacation.
Address: Hwy 19, About 1 mile S of Cougar Dam, Blue River, OR 97413, United States
6. National Historic Oregon Trail Interpretive Center
You can't talk about Oregon without mentioning the Oregon Trail.
More than 300,000 settlers took a journey across its dusty roads and rivers, and many of them perished along the way.
The National Historic Oregon Trail Interpretive Center honors their lives and memories.
It isn't just a museum filled with exhibits; it brings the past to life with everything from workshops to living history demonstrations.
Visitors can watch films, listen to guest speakers, examine wagon replicas and look at carefully preserved artifacts from the 1800s.
If they want to stretch their legs, they can also go outside and hike on several nature trails with beautiful mountain views.
Does this sound like something that you and your family would like?
The National Historic Oregon Trail Interpretive Center is one of the finest Oregon attractions for history buffs, so if you're fascinated by wagons, bonnets and axes, book your ticket today.
Address: 22267 OR-86, Baker City, OR 97814, United States
7. Crater Lake National Park
As the only national park in Oregon, Crater Lake National Park draws visitors from all over the northwestern United States.
They travel for miles to see its hills, mountains, forests, springs, streams, and waterfalls.
Its biggest draw is Crater Lake.
Thousands of years ago, a volcano erupted so spectacularly that it formed a crater plunging 2,000 feet into the earth; now that crater is filled with water, and it's one of the deepest lakes in the world.
It's become a hot spot for summertime activities like swimming, fishing, camping and boating.
Sightseeing is also popular at the park.
Hikers can enjoy trails and rock pillars; families can frolic among the flowers in gardens and secluded coves.
Are you traveling to Oregon in the winter?
You'll miss the crackling campfires, but you can still enjoy skiing, sledding, snowshoeing and other chilly pursuits.
The lake is especially beautiful when its deep blue waters contrast against the pure white snow.
Consider a trip to Crater Lake National Park if you're looking for the best things to do in Oregon.
It's one of the prettiest places in the state, and it's a national treasure for a reason!
Address: Oregon, United States
8. Cherryfest
Are you headed to Oregon in the summertime?
Do you love to sink your teeth into fresh red cherries?
You might like Cherryfest, a multi-day festival that takes place every June or July in Salem, Oregon.
The city of Salem is also known as "Cherry City" because of its natural abundance of cherry trees.
It's hosted a variety of fairs and festivals dedicated to the fruit, but Cherryfest is the most enduring.
It's been around since the days of the pioneers.
What are some fun things to do at Cherryfest?
If you like music, there are always bands giving outdoor performances.
If you're there for the food and drink, you'll have your pick of meats, breads, cheeses, pies and liquors.
Not everything is cherry-themed, but most of it is. That's the glory of Cherryfest.
If you're a cherry lover looking for fun things to do in Oregon, clear a weekend this summer and have a blast!
9. Crux Fermentation Project
The Crux Fermentation Project is a craft brewery located in Bend, Oregon.
Like its name suggests, it's an experimental kind of place, so you won't find the usual brewing techniques here.
Instead, they age their beers in wooden barrels and cultivate wild yeast strands through open fermentation.
They have almost two dozen taps, so there's always something new to try.
When you visit, you can take a tour, hit the bar, try samples in the tasting room or enjoy a frosty pint on the deck patio.
If you discover a brew that you really like, you can buy a bottle of your new favorite from the gift shop.
You don't have to be a connoisseur to enjoy the Crux Fermentation Project.
As long as you can appreciate a tasty beer, it's a must-see destination.
Address: 50 SW Division St, Bend, OR 97702, United States
10. John Day Fossil Beds
Covering almost 14,000 acres, the John Day Fossil Beds are a staggering example of desert beauty.
There are red cliffs and dry, cracked canyons; there are colorful badlands and prickly desert shrubs that can survive anything.
The fossil beds contain the last remnants of plants and animals that lived in Oregon millions of years ago.
They're one of the major points of interest in the area, and they attract thousands of visitors each year.
There are other things to do at the John Day Fossil Beds, however, so don't feel like you have to squint at the dirt all day.
If you like working up a sweat, you can hit the hiking trails; if you prefer your fun to be a little more air-conditioned, you can explore the museum, theater, bookstore and gift shop.
The John Day Fossil Beds are considered a U.S. National Monument.
They're a must-do for history buffs, nature lovers, fossil finders and anyone else who enjoys amazing natural wonders, so get on the phone and start planning your trip.
You won't want to miss a top attraction like this.
Address: 32651 OR-19, Kimberly, OR 97848, United States
Looking for more thrills? Why not check out some of the things to do in Eugene, Oregon?
11. Powell's Books
Covering an entire city block, Powell's Books is a gargantuan collection of everything from comic books to rare first editions.
It has more than 3,000 sections in its flagship store, and there are other stores scattered around the city of Portland, too.
Bibliophiles will have a field day at Powell's Books.
Not only does it offer all of the comfy chairs and coffee bars that you'd expect from a modern bookstore, but it also hosts things like guided tours, writing workshops and children's storybook time.
This is in addition to the thousands and thousands of books that cover every surface of dozens of rooms.
If you can't find a specific title in the store, they offer even more through their website.
They move countless new, used, rare and out-of-print books every year.
If you're looking to add to your bookshelf, you won't want to miss Powell's Books.
Wandering its maze of hallways is one of the top things to do in Oregon!
Address (Flagship Store): 1005 W Burnside St., Portland, OR 97209, United States
12. Out'n'About Treehouse Treesort
Anyone can stay in a resort.
How many people can say that they stayed in a treesort?
The Out'n'About Treehouse Treesort is unlike any other lodging that you've experienced.
The rooms are made completely out of wood, and they're nestled in treetops between 10 – 40 feet off the ground.
Individual cabin names include the "Peacock Perch" and the "Treezebo."
Once you've enjoyed a refreshing night in the clouds, you can climb back down to Earth and take advantage of the resort's many events and classes.
For outdoor enthusiasts, there's hiking, ziplining and horseback riding.
For families, there's tie-dyeing and mosaic painting.
You can also take a short drive to nearby stores for food, firewood, souvenirs and camping supplies.
Put yourself on top of the world with the Out'n'About Treehouse Treesort.
It's different from other Oregon attractions, but different can be a lot of fun!
Address: 300 Page Creek Rd, Cave Junction, OR 97523, United States
13. Mount Hood
There are dozens of mountain ranges in Oregon, but Mount Hood is one of the best.
In the winter, you can enjoy just about every snow sport under the sun, including skiing, sledding and snowboarding.
In the summer, after all of the icicles have melted from the trees, the forests become gorgeous places for hiking and camping.
Do you prefer relaxation to athleticism? Mount Hood still has you covered.
The main resort is Mount Hood Meadows, a home-away-from-home that offers all of the amenities that you could need, but there are other, more rustic lodgings available as well.
You can pamper yourself with a luxurious suite or become a cowboy in a rustic cabin.
No matter what kind of vacation that you're hoping to have, Mount Hood is one of the best places to see in Oregon.
It might even be one of the most beautiful places in the US all together.
If you're wondering what to see in the northwest, this is it!
14. Sea Lion Caves
Home to hundreds of sea lions, the Sea Lion Caves are a series of gigantic underground caverns where these playful critters come to frolic.
Visitors have to descend stairs and take an elevator just to reach them.
When you get there, however, you'll enjoy a new kind of site seeing.
The stone walls are covered in moss and lichens, and the underground streams are always rushing fast.
The sea lions tend to gather on the rocks as they caper, chatter and socialize.
When you've filled up your camera roll, you can step outside to the whale-watching deck and see if you can spot any orcas on the horizon.
There are also learning stations if you want to know more about marine life, and a gift shop is nearby for souvenirs.
Sea lions are some of the coolest marine animals that you'll ever see, and with the Sea Lion Caves, they're more accessible than ever.
Address: 91560 US-101, Florence, OR 97439, United States
15. North Mississippi Avenue
Located in Portland, this avenue is basically a neighborhood in its own right.
It's known for its trendy, high-energy atmosphere, and its streets are always alive with culture and commerce.
The buildings have been painted with every color of the rainbow.
The businesses are an eclectic mix of everything from bakeries and bubble tea shops to jewelry stores and pottery barns.
Food carts are always roaming, and live music can be heard from bars, cafes and studios.
Art lovers will find a lot to appreciate on the avenue as well.
It hosts a number of independent galleries, and it sees a lot of up-and-coming creators.
It's a must-see destination if you like independent art.
Are you traveling to Portland and wondering about the best things to do in Oregon this weekend?
Stop by North Mississippi Avenue.
Take advantage of your proximity to one of the most interesting places in the state!
16. Wildlife Safari
With the fields and savannas of Wildlife Safari, you can travel to Africa without ever leaving Oregon.
It's home to dozens of species, including lions, cheetahs, elephants, hippos and giraffes, and they roam freely across 600 acres of protected land.
You can drive along a trail to see them in action, or you can stop at the petting zoo to actually handle some of the smaller, gentler creatures.
A nice thing about Wildlife Safari is that it isn't exploitative.
It's contributed to a lot of conservation efforts, and it's been praised by animal rights activists for its open, natural habitat.
It considered one of the top organizations of its kind in the state.
For some guilt-free fun with African animals, take a drive through Wildlife Safari.
You'll send your wheels churning through one of the best destinations in Oregon, and you'll be helping a charitable organization at the same time.
Address: 1790 Safari Rd, Winston, OR 97496, United States
17. Mount Jefferson
Mount Jefferson isn't for the faint of heart.
As the second-highest mountain in Oregon, it has steep cliffs, hard summits, low levels of oxygen and a remote setting that scares off many potential visitors.
It also has a death toll: At least one person dies while attempting a climb each year.
If you're an experienced outdoorsman, however, you might enjoy the challenge presented by Mount Jefferson.
Your first test will be getting there.
It's so secluded that it's only accessible by foot or horseback, and there's a distinct lack of trails on certain areas of the mountain.
Of course, if you can hack it, you'll be treated to some of the best landscapes in the state of Oregon.
The views on Mount Jefferson have to be seen to be believed.
Not only will they put you on top of the world, but they're also far enough from the big cities that they're almost completely free from lights and pollution.
Are you the type of adrenaline junkie who sees a death-defying mountain climb as a fun excursion?
If so, Mount Jefferson is waiting.
18. Wanderlust Tours
If you're wondering what to do in Oregon but don't have any firm plans yet, consider booking a trip with Wanderlust Tours.
Rain or shine, they can show you the best parts of the Bend region, including lakes, forests, rivers, caverns and more.
Would you like to swim in stunning blue waters or ski down a snow-topped mountain?
Have you always dreamed of white water rafting or exploring an underground lava tube?
Do you get a thrill out of camping underneath the stars?
Wanderlust Tours can provide all of these experiences and more.
They'll take you to all of the best Oregon vacation spots, and they're open all year long, so you don't even have to worry about seasonal closings.
Whenever you're headed to the area, they can be ready and waiting for you.
You just have to pick up the phone and call!
Address: 61535 S Hwy 97 #13, Bend, OR 97702, United States
19. Willamette Valley
You don't have to go to Napa Valley for amazing wine.
While the vineyards of Oregon might not be as famous as their California counterparts, they're still lush and beautiful, and they can offer a sweet afternoon with a good drink and good company in a natural setting.
Willamette Valley is the best example of a wine country in Oregon.
It has sprawling vineyards in every direction, and it's dotted with quaint little shops and cottages to give the full, picturesque look.
Local activities include everything from wine tastings to horseback riding across the fields.
If you're looking for the best things to do in Oregon, consider a trip to Willamette Valley.
Once you step on the thick green grass of the countryside and take a deep breath that smells like grapes, you'll realize that you made the right decision in going there.
20. Lewis and Clark National and State Historical Parks
Covering thousands of acres in multiple states, the Lewis and Clark National and State Historical Parks is a series of parks and nature reserves that celebrate the Lewis and Clark Expedition.
Some of the trails were actually pounded by Lewis and Clark's boots; others were just designated as likely areas of travel for the duo as they made their way west.
These are the official parks on the Oregon side of the border:
– Ecola State Park
– Fort Stevens State Park
– Sunset Beach State Recreation Site
These are the parks on the Washington side that are just a few hours away if you feel like taking a drive:
– Cape Disappointment State Park
– Fort Columbia State Park
If you're looking for historic places to see in the northwestern United States, the Lewis and Clark National and State Historical Parks should keep you occupied for a while.
Address: 92343 Fort Clatsop Rd, Astoria, OR 97103, United States
Making a trip to Astoria soon? Why not check out some of the best things to do in Astoria, Oregon before you go?
21. Bridgeport Village
Shop 'til you drop at Bridgeport Village.
It's an upscale, open-air shopping mall, so you'll need a little money to burn, but it's worth the cost for the experience alone.
The complex is lined with shops, cafes, bookstores, bakeries and boutiques.
Fairy lights are draped over the rooftops.
Music can always be heard from windows and patio decks, and vendors often line the main square to hand out balloons, coupons, perfume samples and ice cream cones.
It's okay if your budget doesn't quite meet their standards.
When a complex is this nice, even window shopping is fun!
Bridgeport Village isn't like the harshly-lit malls of your hometown.
It's a warm, friendly place, and it's one of the top vacation ideas for people traveling to Tigard.
If you'll be visiting the area, don't miss the opportunity to admire Bridgeport Village.
Address: 7455 SW Bridgeport Rd, Tigard, OR 97224, United States
22. Kam Wah Chung and Company Museum
Originally built as a trading post in the late 1800s, the Kam Wah Chung and Company Museum was forgotten for decades after the death of its owner.
When it was rediscovered, it had become an untouched time capsule of early Chinese-American life, so the decision was made to turn it into a museum.
Today, you can find all sorts of delights and oddities on the shelves.
There are knick-knacks ranging from toys to jewelry boxes; there are ancient medicine bottles mixed with spice jars and dried herbs.
Mysterious symbols are stamped on letters. Everything is decorated with vintage fabrics and furniture pieces from the 1800s.
From Japanese gardens to Chinese museums, the state of Oregon can be a real melting pot of different cultures.
If you're wondering how to plan a trip and see them all, start with a visit to the Kam Wah Chung and Company Museum.
Address: 125 NW Canton St, John Day, OR 97845, United States
23. Cannon Beach
You've already seen Cannon Beach.
Even if you've never traveled to Oregon before, you've seen its misty, rocky shores in movies like Twilight, Point Break and The Goonies.
The beach offers all of the usual fun, including swimming and snorkeling.
Annual sandcastle competitions are held every year, and you can see fireworks burst over the water on the Fourth of July.
If you want to venture away from the surf, you'll find all kinds of shops, resorts, restaurants, boutiques and movie theaters within the city.
Cannon Beach has a very lively atmosphere that makes it a must do for tourists.
Unleash your inner vampire with a trip to Cannon Beach.
It's a nice place, especially if you're a movie buff, and who knows when you'll get the chance to breathe the same air as Robert Pattinson again?
Address: Cannon Beach, OR 97110, United States
24. Oregon Museum of Science and Industry
The best museums don't even feel like museums, and the Oregon Museum of Science and Industry is so much fun that your kids won't even realize that they're getting an educational experience.
For starters, there are more than 200 exhibits dedicated to everything from dinosaurs to ocean waves.
Hands-on laboratories are always cooking up new science experiments.
A planetarium will take you to the stars, and a movie theater will let you enjoy documentaries about sharks, submarines, butterflies, hurricanes and everything in between.
The Oregon Museum of Science and Industry is one of the top vacation destinations in the state, especially when you're traveling with kids.
It offers cool things to do for visitors of all ages, so no one will be bored.
Whether you're carrying a toddler or prodding along with a teenager, it's a weekend trip that will keep everyone entertained.
Address: 1945 SE Water Ave, Portland, OR 97214, United States
25. Dee Wright Observatory
Built on the remains of an old wagon trail, the Dee Wright Observatory is one of the most unique structures in Oregon.
It's an observational point that offers stunning views of the nearby mountains, but it isn't made of the usual brick or concrete.
It's made of lava stones.
That's right: The entire observatory is built on a foundation of basaltic lava.
You'll need to pick your way through huge, jagged rocks just to reach the summit.
For this reason, the area is sometimes called a "lava field."
You won't be in any danger, of course, since the lava melted and hardened into stone more than a thousand years ago.
But if you're looking for fun things to do in Oregon, crossing a lava field is definitely a bucket list item for the ages.
Address: McKenzie Hwy, Blue River, OR 97413, United States
26. Rogue Valley ZipLine Adventure
If you've never flung yourself from the top of a tree, this is your chance to make it happen.
Rogue Valley ZipLine Adventure is a ziplining company, and it's all about the thrill of hurdling across open air while attached to nothing but a razor-thin wire.
Ziplining isn't the only fun that they offer, however.
They can also take you on hiking and rafting trips, or they can guide you to local attractions like a replica gold mining town.
They even have a special tour package called "Zip, Dip and Sip" that includes ziplining across the mountains, rafting down the river and enjoying fine wine at the nearby vineyard.
Get your heart pumping with Rogue Valley ZipLine Adventure.
It isn't the only ziplining experience that you can have in Oregon, but it's one of the best.
Address: 9450 Old Stage Rd, Central Point, OR 97502, United States
27. Voodoo Doughnut
"The magic is in the hole." With a tagline like that, how can you resist taking a peek inside Voodoo Doughnut?
Open 24 hours per day, Voodoo Doughnut is one of the most peculiar places to visit in Portland, but it's also a lot of fun.
It experiments with new puffs and pastries every day, so if you're the type of person to enjoy bacon-topped doughnuts drizzled with maple syrup, this is the destination for you.
They don't actually curse their doughnuts. That's just a bit of lore.
You might want to try multiple doughnuts, however, to be totally sure of their safety.
A trip to Voodoo Doughnut is pretty much a requirement for anyone visiting Portland.
It's beloved by the locals, and it'll become a great vacation story as you describe the sights, sounds and smells of a one-of-a-kind bakery.
Address: 22 SW 3rd Ave, Portland, OR 97204, United States
28. Kite Festival
The Kite Festival is held every year in the summer and fall, and it's one of the most fun things to do in Oregon.
Thousands of bright, colorful kites are sent into the sky, and while some of them are homemade crafts from kids or amateurs, many are gigantic, high-quality structures made by professionals.
Emojis can be the size of planes. Dragons can have tails that flutter in the breeze for dozens of feet.
There are fun things to do on the ground as well.
There are races in the sand with people strapped to parachute kites; there are arts and crafts workshops and musical performances by local artists.
Enjoy a unique event with the annual Kite Festival.
Whether you're traveling in the blazing days of summer or the cool afternoons of autumn, the Kite Festival will put on a spectacular show that you won't want to miss.
29. Olallie Lake Resort
Get away from it all with a trip to the Olallie Lake Resort.
Located completely off the grid, it has no cell service and no electricity, but its simplicity offers a rare and rustic vacation experience.
How often do you get the chance to light your own oil lamps in a rustic wooden cabin?
As for activities, there's plenty of stuff to do even without power.
If you're a nature lover, you can go hiking or camping around the mountainous woods; if you enjoy quiet time on the water, you can enjoy fishing, swimming, canoeing and paddleboarding on the lake.
You'll need to prepare yourself for a weekend without Instagram when you travel to Olallie Lake Resort.
If you aren't afraid of unplugging, however, it's definitely one of the most unique places to visit in Oregon.
Address: Mt. Hood National Forest, 4 NF-4220, Oregon 97041, United States
30. Tamastslikt Cultural Institute
Native Americans have lived in Oregon for thousands of years, and they have important stories to tell.
The good news is that the Tamastslikt Cultural Institute is here to preserve their art, culture, history and folklore.
Three tribes are represented by the institute: Cayuse, Umatilla and Walla Walla.
They've each contributed texts and artifacts for educational purposes, and since the institute is run by fellow tribe members, everything is carefully protected and respectfully presented.
As for the fun stuff, the institute holds all kinds of special events.
From kid camps to pow-wows, there's always something on the schedule.
The Tamastslikt Cultural Institute is the only Native American museum along the Oregon Trail.
It has the heavy burden of representing the past in a place where no one else does, but that just makes their work even more important.
Buy a ticket, learn something new and contribute to a good cause.
Address: 47106 Wildhorse Blvd, Pendleton, OR 97801, United States
31. Fort Stevens State Park
Fort Stevens State Park was built on Fort Stevens, an abandoned military base that withstood everything from sea storms to submarine attacks.
Today, it's little more than a series of empty corridors and rusted artillery guns, but it's become the centerpiece of one of the biggest attractions of the region.
At Fort Stevens State Park, visitors can enjoy more than 3,500 acres of beaches, forests, rivers and mountains.
There's hiking and biking; there's bird watching and whale watching.
You can jump into the water or fling some frisbees on the grass.
Tours are also a popular pastime.
One of the coolest things to see is a 100-year-old shipwreck that juts out of the sand of a local beach!
If you're wondering what to do around Oregon, Fort Stevens State Park won't disappoint.
It offers a wide range of activities that are sure to keep you busy, and with the fun local culture that surrounds the fort, it's much more memorable than other parks.
Address: 100 Peter Iredale Rd, Hammond, OR 97121, United States
32. The Grotto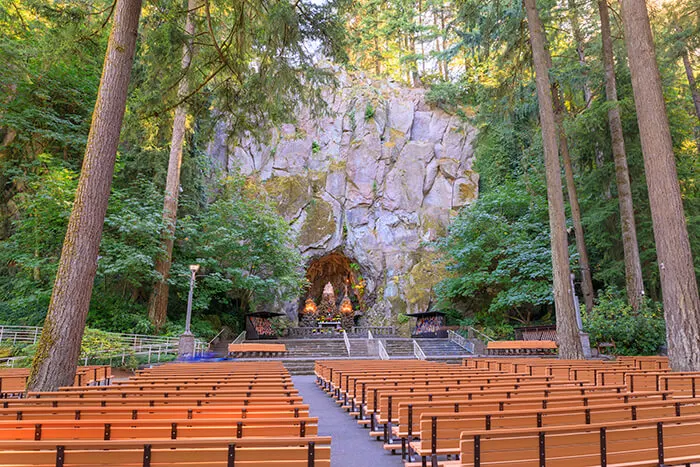 You don't have to be religious to appreciate the beauty and tranquility of The Grotto.
Though it's a Catholic shrine dedicated to Mary, the mother of Jesus, it can also be enjoyed by secular visitors.
What makes The Grotto so special?
For starters, it's located within a flowing landscape of flowers, gardens, brooks and bridges.
It also has an amazing centerpiece: a statue of Mary giving her blessings from a cave that was carved into a cliff wall.
If you're religious, The Grotto is one of the most powerful places to go in Oregon; it's well-known as a site of spiritual healing.
If you're just interested in the gardens and caves, it'll still make a nice detour for the weekend.
Consider a trip to The Grotto if you're looking for fun and interesting tourist spots.
You might not get any visions, but you'll be able to feel the faith in every stone.
Address: 8840 NE Skidmore St, Portland, OR 97220, United States
33. Darlingtonia State Natural Site
The Darlingtonia State Natural Site is one of the craziest places to visit in Oregon.
It's devoted to a single species, the Darlingtonia californica, and this species isn't just a run-of-the-mill flower.
It's a carnivorous plant that literally eats insects for breakfast.
Also known as the "cobra lily," Darlingtonia californica has a long, serpentine shape with an inner tube for catching and holding prey.
It even boasts a spiky leaf that looks like a forked tongue.
It's vividly colorful, and the fields of the Darlingtonia State Natural Site are dazzling to the eye.
You could almost forget that it's a field of mass slaughter!
If you don't mind gruesome bug murders, however, consider a trip to the Darlingtonia State Natural Site.
It'll be a fun and memorable thing to do while you're traveling through Oregon, and you'll have a cool story to tell once you're back home.
Address: 5400 Mercer Lake Rd, Florence, OR 97439, United States
34. Newport
Hailed as "the coast you remember," Newport is a kooky city in Oregon that offers everything from wax museums to gigantic aquariums with live animal shows.
It's a fresh, funky sort of destination, especially for visitors who are looking for places to go that are off the beaten path.
Seafood joints are on every corner.
Lighthouses are still in operation.
Shops, restaurants, museums and art galleries line the bay, and critters are always coming on the shore to say hello.
The calls of sea lions are just as common as the honks of horns in traffic.
Newport is one of the major points of interest in Oregon.
You might not find it in a lot of brochures, but it's a favorite of the locals, and it'll provide a one-of-a-kind weekend during your trip.
Stop by if you're in the mood for something that's just plain different.
35. Multnomah Falls
If you like beautiful places, you'll definitely want to put on your hiking shoes and make the trek to Multnomah Falls.
Not only does it weave through craggy cliffs and green hills like something out of a storybook, but since it's fed by an underground stream, it's a waterfall that never dries up.
You can visit it at any time of year!
You'll need to take a short hike to reach Multnomah Falls, but it's a moderate one, and there are plenty of sightseeing opportunities along the way.
Once you make it to the cascade, you can view it from trails, footpaths, lodges, bridges and observation decks.
Another nice feature of Multnomah Falls is the bridge.
It stretches across the top of the water, and you can either walk it or view it from a distance for some amazing photo ops.
If you're headed to Oregon and wondering where to go, put Multnomah Falls on your list.
It's one of the top tourist attractions in the state, and since it's an everlasting waterfall, it'll fit into your vacation schedule no matter when you visit.
Address: 53000 E Historic Columbia River Hwy, Bridal Veil, OR 97010, United States
36. Captain George Flavel House Museum
Built in 1885 by one of the first millionaires in the state, the Captain George Flavel House is an architectural marvel.
It's almost like a miniature castle, especially since it was constructed in a "Queen Anne" style that brings to mind the wealth and splendor of Victorian London.
Heavy fabrics decorate ornate furnishings.
A spiral staircase will take you between floors, and stained glass windows give every room a colorful glow.
Outside, there's a carriage house and a wild garden, and tall towers seem to reach for the sky.
The house measures 11,600 square feet in total, and it covers an entire city block.
The best places to visit in Oregon aren't always the loudest.
Sometimes, they're quiet homes with well-tended yards.
Consider a trip to the Captain George Flavel House Museum if you're looking for something a little different than the usual tourist attractions.
Address: 441 8th St, Astoria, OR 97103, United States
37. Enchanted Forest
Despite the name, the Enchanted Forest isn't a garden or wilderness area.
It's something much more fun: an amusement park!
It gets its name from a vivid storybook theme.
The attractions are inspired by Mother Goose, Alice in Wonderland, Grimms' Fairy Tales and many others.
The rides have dragons and wizards; the shops are nestled in castles and decorated with jolly rogers.
There are light shows and comedy theaters.
There are water slides, bumper cars and haunted houses.
Visitors can dig for buried treasure or listen to folk songs at outdoor concerts.
Whether you're a pirate or a princess, the Enchanted Forest is one of the top destinations in Oregon.
Families will love it, and couples can use it as a new, exciting alternative to the usual date nights.
Just make sure to call ahead and confirm its hours of operation since they can vary by the season!
Address: 8462 Enchanted Way SE, Turner, OR 97392, United States
38. Anthony Lakes Mountain Resort
Nestled deep within the mountains, the Anthony Lakes Mountain Resort is a winter wonderland where the powder is always fresh and the sun is always sparkling on the slopes.
If you're looking for the best vacation spots in Oregon, it'll be a real treat!
The main attraction of the resort is skiing.
It offers both alpine and backcountry skiing, and whether you're at the level of beginner, intermediate or expert, you'll find some of the best slopes around.
Another benefit of the resort is its warm, cozy lodging.
It offers bars, cafes, cabins, shops, equipment rentals and everything else that you might need to have a great time away from home.
The Anthony Lakes Mountain Resort is one of the top 10 places to visit in Oregon.
If you're making a list of where to go and what to do, this is a destination to consider!
Address: 47500 Anthony Lakes Hwy, North Powder, OR 97867, United States
39. Oregon Vortex
If you like giving yourself the heebie-jeebies, you'll love the eeriness of the Oregon Vortex.
It's an unnaturally tilted building that sticks out of the ground, and there are multiple stories about how it came to be.
Local legend says that someone tried to live on sacred Native American ground and got punished by the land.
Others say that it was the office of a normal mining company before its owners started getting sucked into a supernatural vortex.
Lots of odd things happen in the building.
Brooms stand on end, and marbles roll uphill.
Objects appear to change size and shape depending on where you look at them.
If you don't mind tempting the spirits during your vacation, consider a visit to the Oregon Vortex.
It's a roadside attraction unlike any other, and it's definitely one of the most fun attractions in the state.
Address: 4303 Sardine Creek L Fork Rd, Gold Hill, OR 97525, United States
40. Prehistoric Gardens
Is there still a part of you that gets excited about dinosaurs?
At the Prehistoric Gardens, you don't have to be ashamed of loving Triceratopses or thinking that T-Rexes are totally cool.
It's a roadside attraction that's meant for the paleontologist in us all.
More than 20 life-sized dinosaur sculptures are spread out on the grounds.
The area is designed to look like a rainforest, so some of them are hidden by shrubs and trees.
You'll need to step carefully during your explorations if you don't want to run into a Velociraptor!
One ticket will give you an all-day pass, so you can wander the Prehistoric Gardens at your leisure.
Take pictures. Look up information about every species that you encounter.
If you have kids, it can become an interactive learning experience.
There's a giddy, dino-loving third-grader inside of everyone, and with the Prehistoric Gardens, it will come right out.
Have fun at this attraction! It's one of the best places to visit in Oregon.
Address: 36848 US-101, Port Orford, OR 97465, United States
41. Oregon State Fair
Smell the hot dogs. Get sticky with the cotton candy.
Go back and forth on the pendulum rides until you're ready to hurl.
There's no place like a state fair, and the Oregon State Fair is especially fun!
Between 200,000 – 300,000 people visit the Oregon State Fair each year.
It's chaotic, but you'll buzz with the energy of the crowd as you enjoy food, drink, games, rides, concerts and other amusements.
The attractions range from carousels to bumper cars.
The menu can include everything from deep-fried pickles to finger-lickin' barbecue.
Since it's hosted in Oregon, there's also an emphasis on the farming and agricultural industry with this fair.
There are usually petting zoos for livestock, and contests centered around pigs and cows are common.
In terms of Oregon attractions, it doesn't get much better than the Oregon State Fair.
It's completely unique to the state, and it's one of the best ways to spend your time while you visit!
Address: 2330 17th St NE, Salem, OR 97301, United States
42. Three Capes Scenic Loop
The Oregon Coast is famous for its scenic driving trails.
Not only does the topography change from beaches to forests to mountains, but there are also all kinds of attractions in the form of parks, lighthouses, landmarks, monuments and observation decks.
The Three Capes Scenic Loop is just one of the driving routes that you can find along the coast, but it's among the best.
It has breathtaking views of both land and sea, and since it stretches for a good 50 miles along the ocean, you'll have your pick of detours as well.
If you get hungry, stop at a local seafood bar and order a shrimp platter.
If you want to stretch your legs, pull over at one of the beaches for a long amble through the sand.
Scenic drives are a great way to enjoy the wonders of nature without having to sacrifice snacks and air conditioning.
If you're interested, fill up the tank and get started on the Three Capes Scenic Loop.
43. Petersen Rock Garden
The Petersen Rock Garden is another one of those nifty Oregon attractions that you won't find anywhere else in the country.
Even more remarkably, it was built by a single man!
The creator was named Rasmus Peterson.
After emigrating from Europe at the age of 17, he started collecting little doo-dads that he found around town, including rocks, fossils, gems, geodes and crystals.
Then, he started building.
He built miniature replicas of churches and cottages.
He built bridges for the ponds and terraces for the houses.
Every available surface of the garden was either formed or decorated with rocks.
By the time of his death, the Petersen Rock Garden was a genuine marvel, and it quickly became one of the top destinations in Oregon for fans of the cool and the funky.
Give it an hour or two if you'll be passing by!
Address: 7930 SW 77th St, Redmond, OR 97756, United States
44. Oregon Shakespeare Festival
The Oregon Shakespeare Festival isn't an event.
It's a place.
In fact, it's one of the most awesome places to see in the entire state.
Located in the city of Ashland, the Oregon Shakespeare Festival is a old-school repertory theater that's been around since the 1930s.
It hosts dozens of performances per week and hundreds per year; at any given time, there are at least five shows on the roster.
They don't limit themselves to Shakespeare.
The Bard is their favorite, of course, but they also have plays and productions for everything from Greek tragedies to Spanish comedies.
They'll even throw in the occasional blockbuster show from a well-known Broadway title.
The performances are all given in an outdoor, open-air theater.
During the day, the sun shines on the actors; at night, the stage lights up with a warm golden glow.
You don't have to be a theater geek to appreciate a good play in a vintage setting.
If you're looking to have fun in Ashland, book a ticket for the Oregon Shakespeare Festival.
Address: 15 S Pioneer St, Ashland, OR 97520, United States
45. Baldwin Hotel Museum
If you're interested in Old Oregon, the
Baldwin Hotel Museum
is like a relic from another time.
Located in the quiet, sleepy town of Klamath Falls, it's been run by the same two families for generations, and they haven't changed much about the decor.
In fact, one of the best things about the Baldwin Hotel Museum is the fact that it's basically a time capsule of the early 1900s.
The wallpaper is the same; the furniture is the same.
If it isn't authentic, it's an exact replica.
Another charming feature of the museum is that the docents are very friendly and knowledgeable.
They'll give you a tour, and they'll tell you everything that there is to know about the hotel and the historical 1900s life in general.
The Baldwin Hotel Museum isn't one of the flashy tourist attractions of Oregon, but some things don't need glitz and glamour to be fun.
If you'd enjoy a low-key afternoon in a quaint little museum, this is the destination for you.
Address: 31 Main St, Klamath Falls, OR 97601, United States
46. Washington Park
Oregon is filled with beautiful places.
In fact, you might be so overwhelmed by your options that you don't even know where to visit.
But Washington Park is a destination that you won't want to miss, especially since it can serve as a gateway to many other Oregon attractions.
Here are just a few things to see that are within walking distance of Washington Park:
– Oregon Zoo
– Hoyt Arboretum
– International Rose Test Garden
– Washington Park Amphitheater
– Portland Children's Museum
– Oregon Holocaust Memorial
This isn't even including the amenities of Washington Park itself.
From playgrounds to archery ranges, it's sure to keep you busy, so it's one of the top 10 things to do in Oregon for sure.
Address: 4033 SW Canyon Rd, Portland, OR 97221, United States
47. Train Mountain Railroad
Many people had a "train phase" when they were younger.
For some, however, the dream is still alive, and it can be enjoyed in a quirky way at the Train Mountain Railroad.
You see, the Train Mountain Railroad isn't a regular railroad.
It's for miniature trains.
These knee-high locomotives can be ridden like the real thing, but they only reach about five miles per hour, so they provide a scenic journey rather than a speedy trip.
There's also an art to straddling them just right.
Once every three years, miniature train hobbyists come together for the Train Mountain Triennial.
It's a fun, memorable event that welcomes visitors who are interested in tiny engines and even tinier tracks.
You won't find the Train Mountain Railroad anywhere else in the world.
It's been officially certified by the Guinness Book of World Records as the longest hobby railroad in the world, so it's a one-of-a-kind attraction in Oregon.
If you're headed nearby, pull on the whistle and get your choo-choo going!
Address: 36941 S Chiloquin Rd, Chiloquin, OR 97624, United States
48. Wooden Shoe Tulip Farm
The Wooden Shoe Tulip Farm is only open to the public for one month out of the year, so it's just as rare and fleeting as the blossoms that come out of the soil.
For visitors who are passing through the state at the right time, however, they'll be blessed with an unforgettable memory of a gorgeous destination.
Rows and rows of tulips are cultivated in every color.
The pinks mingle with the purples; the reds and whites contrast against the yellows and oranges.
In the background, Mount Hood rises majestically like something off a postcard.
You can view the tulips with a walking tour or a tractor ride offered by the farm owners.
There are also hot air balloon rides that will pass over the colorful, bountiful fields.
The Wooden Shoe Tulip Farm is one of the best sights in the United States.
It's a little slice of the Netherlands that can be found right in Oregon.
If you want nice pictures for your scrapbook, this is the place to get them.
Address: 33814 S Meridian Rd, Woodburn, OR 97071, United States
49. Apple Valley Country Store
The Apple Valley Country Store is one of the hidden gems of Oregon.
If you have a sweet tooth, it's the single best place to fill your belly with pies, cakes, tarts, jellies, jams and cinnamon rolls.
It's also a nice store for handmade foodstuffs like apple butter and maple syrup.
In addition to the ready-to-eat desserts, they sell all kinds of ingredients for good old-fashioned home cooking.
You can enjoy the cookies and milkshakes right there in the store, and you can pack up some spices, sauces and pie fillings for later.
The signature dish of the Apple Valley Country Store is a four-pound apple pie.
Many have tried to finish it, but few have completed their quest.
Do you think that you can do it?
Is your mouth already watering at the thought of huckleberry milkshakes and chocolate-topped ice cream sundaes?
If you're ready to stuff your face and have some fun, indulge yourself at the Apple Valley Country Store.
Address: 2363 Tucker Rd, Hood River, OR 97031, United States
50. Wallowa Lake Tramway
Say goodbye to Oregon with the Wallowa Lake Tramway.
It's one of many lifts and gondolas that you can find scattered around the mountains, but since it ascends more than 3,700 feet, it's among the best.
The panoramic views will be stunning.
When you reach the top of the tramway, the cliffs below will look like pinpricks.
Since there's a rest area at the summit, you'll be able to gaze to your heart's content as you sip a cold beer or munch on a stacked hamburger.
The restaurant has a simple fare, but it's hearty.
No one wants to leave Oregon once they arrive.
All good things must come to an end, however, and with the Wallowa Lake Tramway, at least you can take one last look at the beauty and majesty of the wilderness before you return home.
Address: 59919 Wallowa Lake Hwy, Joseph, OR 97846, United States
Got more time? Why not check out some of the things to do in Seaside, Oregon?
Start Planning Your Trip To Oregon
These are just a few of the most memorable things to do in Oregon.
Whether you're looking for death-defying thrills or relaxing days on the beach, it's a state that can offer it all.
Have fun!