Thrumming with art, culture and history, Boston is one of the best places to visit for a one-of-a-kind vacation.
Not only does it offer everything from rock climbing to helicopter touring, but it's also one of the oldest and most historically significant locations in the United States.
It was the site of the Boston Tea Party; it was the place where Paul Revere took his revolutionary ride.
If you're interested in the American biography, Boston is where the first pages were written.
Are you planning a trip to Boston? Do you need some pointers and travel hacks for your journey?
Let us take the place of your usual guidebook. Here are just a few of the best things to do in Boston, Massachusetts.
Disclaimer: This article may contain affiliate links. If you make a booking through these links, we may earn a small commission at no extra cost to you.
1. Freedom Trail
If you're looking at a map of Boston and wondering where to start, you can hit the ground running with the Freedom Trail.
It will take you through many important landmarks in the city, including the Paul Revere House, the Bunker Hill Monument, the USS Constitution and the site of the Boston Massacre of 1770.
The Freedom Trail is a little more than two miles overall, and it winds through Boston with a series of brick pathways to keep you on track.
In addition to the big-name attractions, you'll also pass by a number of shops, museums, churches, graveyards and historical meeting houses.
You can wander from the trail at any time if you feel like grabbing a coffee at a local cafe or snapping a commemorative photo with a statue; the bricks will always lead you back.
If you're considering what to do in Boston, the Freedom Trail is a good way to start your vacation.
It's both interesting and entertaining, and it'll serve as a gateway for further sightseeing as you pass through some of the most well-traveled areas of the city.
Check out these tours & activities around the Freedom Trail.
2. Fenway Park
The fields are green. The seats are rickety. The smell of popcorn is always in the air.
As one of the oldest baseball stadiums in the United States, Fenway Park has been carefully preserved as an athletic landmark, so it has a classic, clean-cut vibe that harks back to the golden days of America's favorite pastime.
For example, did you know that Fenway Park has never been expanded?
It still seats the same number of people as it did in 1912, so it offers a close, personal view of your favorite pitchers and batters.
You can also hail old-fashioned hotdog vendors or take a tour of the stadium's clubhouses and press rooms.
They're filled with memorabilia, so you'll be able to admire the same mitts, bats, balls and trading cards that your parents and grandparents did.
There's nothing more "Boston" than the home of the Boston Red Sox.
Schedule a tour of Fenway Park if you want to experience the heart and soul of Major League Baseball!
Check details, prices and reviews here.
Address: 4 Yawkey Way, Boston, MA 02215, USA
3. Isabella Stewart Gardner Museum
It isn't often that you find a museum where the building is just as stunning as the artwork inside of it, but the Isabella Stewart Gardner Museum will take your breath away from the moment that you step across the tiles.
Created by Isabella Stewart Gardner, a patron of the arts from the 1800s, it was designed to look like a palace in the middle of a garden.
Its halls are decorated with ornate carpets and wallpapers; its courtyard has a collection of trees, patios, archways and textiles.
Its artifact collection includes everything from old paintings to rare books.
The Isabella Stewart Gardner Museum is definitely one of the best things to do in Boston.
If you aren't amazed by the architecture, you'll be staggered at everything housed inside of it.
It's a must-do for anyone with the slightest interest in art!
Address: 25 Evans Way, Boston, MA 02115, USA
4. Boston Rowing Center
People in rowboats are a common sight in Boston.
Harvard has a rowing team, and rowers from Cambridge are always training for the next regatta.
But did you know that not every colorful dot on the water is a professional athlete?
Many of them are tourists, and they're enjoying the services of places like the Boston Rowing Center.
The Boston Rowing Center gives visitors a chance to rent a rowboat and enjoy a splashing good time.
The center is an extension of the Hull Lifesaving Museum, a non-profit dedicated to maritime education, and it welcomes people of all ages who want to flex their biceps with an oar.
If you're a beginner, you can take a class or join a group rowing tour.
If you know what you're doing, you can rent your own boat and take the kids for a leisurely afternoon on the river.
Explore the scenery with the help of the Boston Rowing Center.
Rowing is a common activity in Massachusetts, so you'll fit right in with the locals, and you might even make some new friends to take to the pub when you dry off!
Address: 88 Sleeper St, Boston, MA 02210, USA
5. Boston Common
Maybe you want to enjoy a morning jog as the sun rises over the trees.
Maybe you want to ride a carousel or splash in an enormous frog pond.
Boston Common can make it happen!
As one of the oldest public parks in the United States, Boston Common is the Massachusetts equivalent of Central Park or the Golden Gate Park.
It's a large, well-tended recreational area that offers all kinds of events and activities for anyone who can find it.
Visit in the summer to work up a sweat on the tennis courts and baseball fields.
Visit in the fall to watch the leaves change and crunch underfoot.
Visit in the winter to go sledding on the hills or ice skating on the pond.
There's always something to do in the Boston Common, which is why we consider it a top 10 destination in the city!
Address: 139 Tremont St, Boston, MA 02111, USA
Visiting other parts of Massachusetts? Check out our list of things to do in Salem, MA!
6. Polcari's Coffee
To experience Boston like a local, you'll need to know all of the local hot spots.
One of the most famous is Polcari's Coffee.
Passed down from generation to generation, Polcari's Coffee is an old-fashioned coffeehouse that also sells nuts, herbs, spices, oils and other Italian cooking goods.
You enter through a quaint shopfront and are immediately engulfed by rich smells and dazzling displays of wall-to-wall bean jars.
A vintage scale will balance and weigh your coffee beans when you're ready to order, and the homey, friendly staff will remember your name if you ever come back.
Polcari's Coffee is a must-see in Boston.
Not only does it offer high-quality goods, but it's also one of the cooler, more unusual things to do in the Boston area.
You'll feel like you stepped back into simpler times as you go on a journey of java.
Address: 105 Salem St, Boston, MA 02113, USA
7. Emerald Necklace
The Emerald Necklace is a series of parks and gardens that stretches across the "neck" of the Boston peninsula.
It takes advantage of the unique topography of Massachusetts by linking together many of its most beautiful places, including:
– Boston Common
– Boston Public Garden
– Arnold Arboretum
– The Riverway
– Olmsted Park
– Jamaica Pond
You won't be able to visit everything in the Emerald Necklace in a single trip.
Each "jewel" of the necklace is a tourist attraction in its own right, so whether you're hoping to nap among the wildflowers or take a footbridge through the ferns, you'll need to plan ahead.
Decide which of these sights will bring you the most happiness as a nature lover, and put them on your list of the best places to see in Boston!
8. Bodega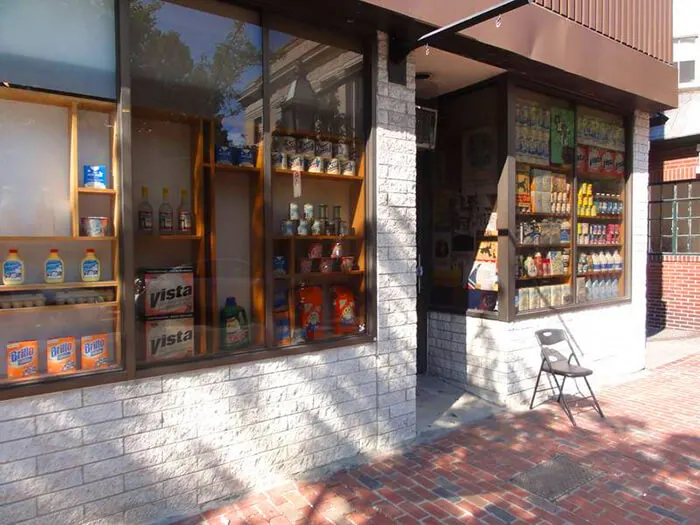 Boston attractions come in many forms, but "an upscale fashion boutique hidden behind a dirty vending machine" is one of those that you have to see to believe.
Bodega is a hidden shop in Boston.
You'll only find it if you travel to a rundown convenience store in the Back Bay, and you'll have to push aside a specific Snapple vending machine to get inside.
Nothing has signs or markers, not even the convenience store, so you might have to wander the labyrinth of Boston alleyways before you stumble on the right path.
Once you're inside Bodega, however, you'll be amazed at its clean, well-lit shopping space.
It's a luxury brand, so its clothes and shoes are top dollar.
It's even been graced with celebrity spenders like Jamie Foxx and Kevin Durant.
Bodega is one of the most fun things to do in Boston.
It's an adventure wrapped in a mystery and topped with a dash of retail joy, and finding it will make a fantastic story to tell your friends when you get home!
Address: 6 Clearway St, Boston, MA 02115, USA
9. Kendall Square
Known as "the most innovative square mile on the planet," Kendall Square is a cluster of high-tech buildings where you'll find everything from science centers to start-up companies.
It's located very near the Massachusetts Institute of Technology (MIT), so young professionals are always scurrying here and there.
Not everything is about work, however.
Kendall Square is home to a number of bars, shops and restaurants where its residents can escape the grind, and these places are usually designed to impress.
For example, the Kendall Center is all business within its walls, but there's a free rooftop garden where visitors can breathe in the scent of fresh flowers while enjoying incredible views of the city.
Stop by Kendall Square if you're looking for cool things to do in Boston that you can't find anywhere else.
There's only one MIT in the United States, so soak in its neighborhood while you can!
10. Boston Harbor
There are lots of Boston attractions at the Boston Harbor.
Not only does it carry huge significance as the historical site of the Boston Tea Party, but it's also home to museums, lighthouses, shipyards, statues and landmarks.
As well as other culturally relevant things that can teach you about the city's past and its place in the world.
Take a ferry tour of the islands of Massachusetts.
Hop on a bike and pedal down the boardwalk filled with shops and restaurants.
Grab a bite to eat from a local cafe, or visit a floating museum located on a boat where the artifacts sway with the tide.
There's so much neat stuff at the Boston Harbor that you won't know what to see first.
There will be too many options for the mortal mind to comprehend.
It's the only downside of visiting major points of interest in Boston!
Check out these awesome activities around the Boston Harbor.
Traveling to other areas of Massachusetts? Why not check out some of the things to do in Cape Cod?
11. Brattle Book Shop
Looking at the Brattle Book Shop, you wouldn't know that it's one of the largest and most well-respected bookstores in the state of Massachusetts.
It's a cozy, crowded kind of place where books are heaped on shelves and collapsing in piles on every available surface.
They even spill out into the brick alleyway beside the store!
If you're a book lover, however, you'll quickly realize the treasure trove that is Brattle Book Shop.
There are literally thousands of titles, and they include paperbacks, hardcovers, first editions and out-of-print copies.
There are maps and journals as well as rare manuscripts and vintage comic books.
The only thing that you won't find here are contemporary bestsellers; it's an antiquarian establishment, so it specializes in old, rare items.
You could spend an entire weekend getting lost in the shelves of Battle Book Shop, so make sure to give yourself plenty of time when you go.
"Today" can quickly turn into "tonight" when you're browsing the finest collection of books in Boston!
Address: 9 West St, Boston, MA 02111, USA
12. New England Aquarium
There's so much to see and do at the New England Aquarium that you'll need a dozen pairs of eyes to catch everything.
From the cute little penguins to the colorful sea turtles, it's a smorgasbord of fun!
The main attraction of the New England Aquarium is its "Ocean Tank," a series of see-through tunnels that allow you to walk under 200,000 gallons of water.
You'll crane your neck for all kinds of eels, sharks, stingrays and sea dragons that swim freely over your head.
You might also like the tide pool, a gigantic pool where you can actually touch things like snails, hermit crabs and sea urchins.
Or maybe you're more interested in the penguin or seal exhibits?
The former is famous for its collection of rockhopper penguins, and the latter is famous for being a free exhibit that you can enjoy outside of the aquarium without even needing to pay for a ticket.
If you're looking for places to go in Boston, put the New England Aquarium on your shortlist.
You don't have to be a zoologist to have a great time with the penguins!
Check details, prices and reviews here.
Address: 1 Central Wharf, Boston, MA 02110, USA
13. Faneuil Hall Marketplace
When your money is burning a hole in your pocket, drop by Faneuil Hall Marketplace to relieve yourself of some coins.
Despite the singular name, it's actually the site of four different marketplaces centered around a public plaza, and you won't know which way to turn as you eat, drink, shop and sightsee.
You might even witness buskers or jugglers performing for cash!
The main draw of Faneuil Hall Marketplace is the food.
With dozens of vendors, you can find everything from oversized pretzels to spicy meat dishes, and their scents will mingle in the air as you explore.
Another fun thing about the marketplace is the sheer diversity of its wares.
It doesn't matter if you're looking for homemade crafts or locally-grown flowers; you can find all sorts of goodies here.
Finally, Faneuil Hall Marketplace is active at all times of the day and night.
When the sun goes down, the lights come on, and you can still enjoy all of your favorite activities even when it's dark outside.
Visit the Faneuil Hall Marketplace if you're looking for the top things to do in Boston.
It's a lovely, lively place, and it will ensure that you have some good souvenirs of your Massachusetts vacation when it's time to leave.
Address: 4 S Market St, Boston, MA 02109, USA
14. Santarpio's Pizza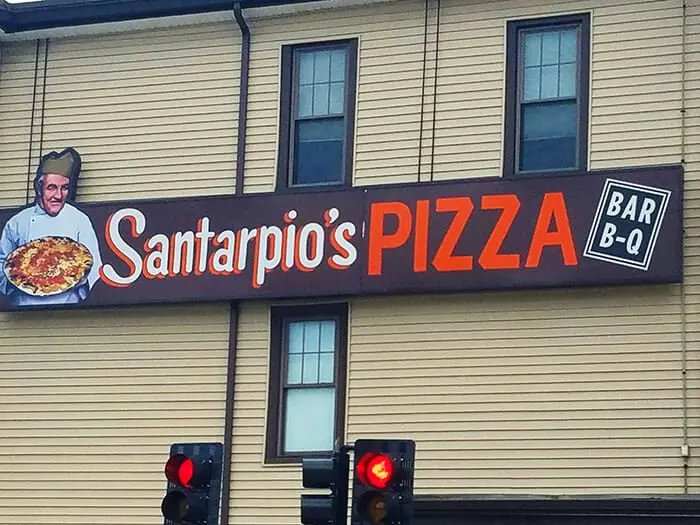 Owned and operated by the Santarpio family, Santarpio's Pizza is one of the lesser-known points of interest around Boston.
It's a favorite of the locals and the select few that they tell about it, but you'll never find it listed in fancy travel brochures.
What makes Santarpio's Pizza so special?
For starters, it's been in operation since 1903, and it still retains its vintage atmosphere to this day.
The walls are covered in boxing posters.
he menu can be changed at a moment's notice with only a quickly-scribbled sign to announce it.
For many years, it was a cash-only establishment, but they finally relaxed that policy and started accepting credit cards.
As for the food, you won't be disappointed.
From its signature deep-dish pizzas to its savory lamb skewers, you'll be able to fill your belly with classic, unpretentious dishes.
Stop by Santarpio's Pizza if you aren't afraid of a little grime under your shoes in exchange for an authentic meal experience.
There's a reason why it's considered one of the top places to visit in Boston!
Check out this mouth-watering guided pizza tour.
Address: 111 Chelsea St, Boston, MA 02128, USA
15. Museum of Fine Arts
Offering more than 450,000 artifacts, the Museum of Fine Arts is the largest museum in Massachusetts and the fifth-largest museum in the United States.
It's the kind of place where you can get lost for days among its galleries, display cases and show rooms.
What are the coolest things to see in the Museum of Fine Arts?
It depends on your fancy.
If you like ancient Egyptian art, you can find everything from glittering jewels to ancient sarcophagi tombs.
If you like oriental works, the museum is famous for its Japanese woodblock prints and Chinese calligraphy scrolls.
There are also all kinds of classics in the form of French post-impressionist art from Monet, Renoir, Degas and Van Gogh.
The Museum of Fine Arts is one of the major tourist attractions of Boston, so you'll definitely want to put it on your Boston bucket list.
Don't leave the city without taking in the city's finest collection of artwork!
Address: 465 Huntington Ave, Boston, MA 02115, USA
16. Boston Helicopter Tours
A helicopter tour of Boston will take your breath away.
The sunlight will glimmer on the skyscrapers and high-rise condos; the waters of the river will stretch as far as the eye can see.
You'll also enjoy fantastic aerial views of parks, gardens, bridges, baseball stadiums and golden-domed government buildings.
Boston Helicopter Tours isn't the only company that will send you into the sky, but it's one of the most popular.
They offer three different tour packages depending on the sights that you want to see, and you can schedule them at day or night.
If you want to watch a sunset over the city, you can do that.
If you want to marvel at the lit-up buildings in the evening, you can do that, too.
Boston Helicopter Tours is an amazing way to go sightseeing in Boston.
You don't have to settle for coin-operated binoculars on the pier; you can strap yourself into a helicopter and see the entire state of Massachusetts sprawling beneath you!
17. Castle Island
Do you know your revolutionary history? If so, you've probably heard of Castle Island.
It's a small strip of land located off the shores of Boston, and it played an important role for Massachusetts when it was used as a fortification point to stop the British from claiming American soil.
The main attraction of Castle Island is a military bastion called Fort Independence.
Originally built in 1634, it's been preserved as a historical landmark for centuries, and free tours are available every day for visitors who want to learn more about its history.
Other things to do on Castle Island include biking, swimming, fishing and picnicking.
The serene atmosphere lends itself well to a quiet afternoon where you can recharge your batteries.
It's for this reason that Castle Island is one of our top Boston attractions: It's the perfect place to take a breather during the madness of a busy vacation.
Address: 2010 William J Day Blvd, Boston, MA 02127, USA
18. Craigie on Main
Craigie on Main is one of the best secrets in Boston.
It isn't unpopular; it's a well-known upscale establishment where you can order things like oyster plates and white chocolate almond desserts.
However, the best menu item at Craigie on Main isn't even on the menu.
It's a juicy hamburger that you have to request off the books, and you have to be one of the first patrons of the evening to order it.
The chef only makes 18 of these burgers each night!
The prime-cut beef is only available in limited quantities, and the burger is made with such painstaking attention to detail that it wouldn't be time- or cost-effective to create them over and over again.
For a burger that will change your life, book a reservation at Craigie on Main.
Boston eating doesn't get better than this.
Address: 853 Main St, Cambridge, MA 02139, USA
19. Museum of Science
The Museum of Science is easily one of the top things to do in Boston.
Offering everything from a live butterfly garden to a hallway filled with optical illusions, it will delight visitors who are interested in biology, chemistry, history and paleontology.
An indoor zoo will let you observe turtles and porcupines.
Hands-on exhibits will allow you to play around with tools, fossils, putties, moon rocks and tinker toys.
A gigantic generator sits in the middle of a technical display and sends lightning bolts jumping from one metal rod to another, and a planetarium is always flashing lights to send cosmic messages from space.
There's even a dome theater that plays IMAX movies!
If you're traveling to Massachusetts, you won't want to miss the Museum of Science.
It's a highlight of Boston and a definite bucket list item for visitors of all ages.
Address: Museum Of Science Driveway, Boston, MA 02114, USA
20. Blue Hills Reservation
Massachusetts is one of the most beautiful states in the U.S., and nowhere is this more apparent than the Blue Hills Reservation.
While not considered "proper" mountains, the rolling hills are green and lush, and they offer spectacular views of nearby ponds, meadows, swamps and tree groves.
They're also incredible when observed from a distance: They got their name from European explorers who were dazzled by the blueish mist that surrounded their peaks.
Visitors to the Blue Hills Reservation can enjoy a number of fun outdoor activities.
There's swimming, fishing, boating and camping in the summer; there's skiing, sledding and snowshoeing in the winter.
You might also want to take a hike or horseback ride through its numerous nature trails.
Note that the Blue Hills Reservation is located several miles south of Boston, so if you're looking for stuff to do within city limits, it might not suit your particular travel plans.
If you're willing to take a little drive, however, you'll find that the Blue Hills Reservation is well worth the gas. Plan your trip today!
Address: 695 Hillside St, Milton, MA 02186, USA
21. Hatch Shell
The first thing that you'll notice about the Hatch Shell is its design.
Made with curved wood in an act deco style, it looks exactly like the open-faced shell that it's named for, and it's one of the top tourist attractions in Boston for people who enjoy architectural oddities.
The other noteworthy thing about Hatch Shell is its activity roster.
As a public venue, it hosts all kinds of concerts, festivals and fundraisers, so there's always something happening under the arched ceiling.
Free movies are shown on the weekends; an orchestra plays on major holidays.
There are summer bands and winter gatherings.
There are charity walks for every cause that you can imagine.
Long story short, there's tons of fun to be had at Hatch Shell.
You just have to figure out what you want to do.
Are you in the mood for movies or music?
Do you want to shout at a political rally or listen to the trumpets blare during a live orchestra performance?
The Hatch Shell has a little something for everyone, so it's definitely one of the top destinations of Boston!
Address: 47 David G Mugar Way, Boston, MA 02108, USA
22. Mount Auburn Cemetery
Visiting a cemetery might not be at the top of your vacation ideas, but Mount Auburn Cemetery isn't an ordinary burial ground.
It's a garden and a graveyard at the same time, and it's considered a National Historic Landmark due to its venerable age.
Not only is it the oldest cemetery in the state of Massachusetts, but it's one of the oldest in the whole of the United States!
What can you do at the Mount Auburn Cemetery?
If you enjoy photography, you'll love the natural scenery of its fields, groves, lakes and burial plots.
There are elaborate headstones everywhere, and an on-site chapel is an architectural marvel with textured ceilings and stained glass windows.
A stone watchtower overlooks the grounds if you want to climb the steps and look at everything from on high.
You can also play find-the-grave if you're a fan of famous names.
A lot of remarkable people have been buried at Mount Auburn Cemetery, including Paul Revere, Samuel Adams, Mary Baker Eddy and even Mother Goose!
Mount Auburn Cemetery is one of the most fun things to do when you're near Boston.
It won't thrill you like a roller coaster, but it'll be a unique experience during your Boston vacation, and you'll never forget the time that you spend there.
This will be especially true if you take pictures for your scrapbook!
Address: 580 Mt Auburn St, Cambridge, MA 02138, USA
23. Newbury Street
Newbury Street is one of the best places to visit in Boston.
In fact, it might be one of the best places to visit in the entire state of Massachusetts.
It's a mecca for high-end retail, and its reputation has given rise to some of the trendiest shops in the country.
Countless retailers have gotten their start on Newbury Street.
Some of the businesses are housed in the iconic brownstone buildings that give the street its signature look; others are pop-up stores or temporary kiosks that are meant to showcase exclusive goods or capitalize on popular fads.
There are things sold on Newbury Street that you can't find in traditional boutiques and department stores.
You have to be in the right place in the right time on Newbury Street, and that's part of the magic of the location.
Newbury Street is one of the major points of interest of Boston; it's basically the Fifth Avenue of Massachusetts.
If you're wondering where to go on your Boston vacation, you won't want to miss this mile-long wonder.
24. Franklin Park Zoo
Fun for the whole family, the Franklin Park Zoo is one of our favorite Boston attractions.
It's the kind of place where you can come back every weekend and still not see everything. There's just too much going on!
The biggest draws, of course, are the animals.
The tropical habitat has monkeys, hippos, crocodiles and capybaras; the grassland habitats have lions, zebras, giraffes and wildebeests.
The outback trail is filled with kangaroos and kiwis; the "bird's world" is filled with sparrows and sea eagles.
There are other nifty things to do at the Franklin Park Zoo.
For example, there's a golf course adjacent to the main attraction, and an arboretum is available for tours and nature walks.
No matter what kind of family fun that you're after, the Franklin Park Zoo is one of the top destinations in Boston.
Whether you're hoping to fly like a butterfly, swing like a monkey or stomp like a rhino, this zoo will provide an enjoyable experience for visitors of all ages.
Check details, prices and reviews here.
Address: 1 Franklin Park Rd, Boston, MA 02121, USA
25. Brooklyn Boulders
Are you afraid of heights?
Located just outside of Boston, Brooklyn Boulders is an indoor rock climbing facility where you can test your bravery on walls that rise to dizzying heights.
You don't have to be an experienced climber to go for gold; there are rookie classes where you can slowly build both your skills and your courage before you ascend to the highest hand-holds.
When you're done with the rocks, there are other activities to enjoy at Brooklyn Boulders as well.
You can take a yoga class, hop on some cardio equipment and even enjoy live music during special events.
If you're looking for the best things to do near Boston, consider Brooklyn Boulders.
You don't have to be within the bounds of the city to have fun!
Address: 12A Tyler St, Somerville, MA 02143, USA
26. Prudential Tower
Known to locals as "the Pru," this 900-foot skyscraper is a marvel of modern architecture.
It's also a hopping tourist attraction filled with everything from restaurants to retail shops, so the interior is just as exciting as the exterior.
Visitors can explore everything from food courts to fashion boutiques as they wander the shopping centers of Prudential Tower.
At the very, very top of the building, you'll find "Top of the Hub," a restaurant that offers floor-to-ceiling windows with panoramic views of the city.
You can also get great views from the Skywalk Observatory, a high-level observation deck that showcases everything below.
Prudential Tower is one of the big places of interest in Boston.
Even if you're going to shop or dine elsewhere, you won't want to miss the scene from its observation deck.
They're worth every bit of the climb!
Address: 800 Boylston St, Boston, MA 02199, USA
27. Taza Chocolate Factory
Unleash your inner child with a trip to the Taza Chocolate Factory.
Not only will you fulfill a lifelong dream of living like Willy Wonka, but you'll also get to learn about a rare type of chocolate known as "stone-ground" chocolate.
It's not a new invention.
It actually dates back to the days of the Aztecs and the Mayans.
It uses grinding tools to create crunchy, gritty chocolate that's completely different from the creamy store-bought stuff, and it's all the rage among chocolate connoisseurs.
A tour of the Taza Chocolate Factory will let you see the cocoa beans being crushed into powder by granite millstones.
You'll also get to ask questions, touch the machines, watch informative videos and enjoy all of the free samples that you can eat.
If you go on a weekend, you can catch special children's events like Chocolate Story Time and Taza Cacao Scout Bingo.
Give your taste buds something new to try with the sweet treats of the Taza Chocolate Factory.
It's one of the lesser-known tourist attractions of Massachusetts, but it's worth going off the map.
Address: 561 Windsor St, Somerville, MA 02143, USA
28. Middlesex Fells Reservation
Also known as "the Fells," this is another vacation spot that's a little outside of Boston, but it's easy enough to hop over once you're done in the city.
It's also worth the extra trip.
The Middlesex Fells Reservation offers more than 2,200 acres for nature lovers to explore, and it's filled with rentable equipment for outdoor activities that range from mountain biking to horseback riding.
If you don't mind getting wet, you can also go sailing, canoeing, kayaking or paddle boating.
If you'd prefer to stay dry, you can check on-site attractions like the John Botume House.
If you're looking for fun things to do in Boston, the Middlesex Fells Reservation should get a giant checkmark on your map.
It has a little something for everyone, and it'll open your lungs to fresh Massachusetts air!
Address: 4 Woodland Rd, Stoneham, MA 02180, USA
29. Harvard Museum of Natural History
The Harvard Museum of Natural History offers unique things that can't be found anywhere else in Massachusetts.
It isn't a collection of musty books and artifacts; it's a dazzling display of art, science and nature.
For example, the museum is home to a "glass garden" that draws visitors from around the world.
There are thousands of flowers, ferns, trees, seeds and saplings that are represented by highly realistic glass-blown botanical models.
Where else can you find something like that?
There are other jaw-dropping attractions at the museum as well.
The gigantic skeleton of a black whale is suspended from the ceiling.
Gemstones glitter in their display cases. Meteorite fragments are carefully preserved behind glass.
There's no question about it: The Harvard Museum of Natural History is one of the best things to do in Boston.
It offers a one-of-a-kind experience for anyone who is willing to step inside and learn something new. Schedule your tour today!
Address: 26 Oxford St, Cambridge, MA 02138, USA
30. Revere Beach
You might not think of Boston as a tropical destination, but there are still a few places where you can enjoy sun and sand.
One of them is Revere Beach.
Located a few miles north of Boston, Revere Beach is ideal for warm-weather fun.
Not only does it offer the usual summertime pursuits like swimming and suntanning, but you can also enjoy yourself in skating rinks, bowling alleys and dance halls.
There's always a lively crowd. You'll make friends every time that you go back to the bar for another cocktail.
The next best thing about Revere Beach is that it's in a centralized location.
You can take its main highway and head directly into downtown Boston, or you can branch out to several other Massachusetts cities in the surrounding areas.
The choice is yours. Where are you going to go?
31. Bow Market
There are lots of malls and markets in Boston, but Bow Market is one of the most unique.
Housed in a sunny courtyard, it's a small, open-air shopping complex that only allows independent retailers, so it boasts an eclectic mix of booksellers, wine bars, nail salons, candy shops and vinyl record stores.
Visitors can wander around the complex and enjoy everything from craft beers to hand-painted jewelry.
There's no rush and no limit to the cool stuff that you might find as you browse.
If you work up an appetite while shopping, hit up the food trucks that are always parked nearby.
If you're looking for fun things to do in Boston that aren't overrated or overrun with tourists, consider Bow Market.
You'll be able to support small business owners while also getting a taste of the real Boston: the one that isn't listed in a glossy brochure.
Address: 1 Bow Market Way, Somerville, MA 02143, USA
32. Georges Island
Part of the Boston Harbor Islands National Recreation Area, Georges Island is a great spot for vacationers.
It's just a little outside of the city, and it's a nice way to escape the crowds and enjoy some peace and quiet.
Activities on Georges Island range from the historical to the recreational.
Fort Warren is an important landmark if you're interested in military history; there are parks, playgrounds, shops and restaurants if you prefer unstructured entertainment.
A ferry runs every day from Boston to Georges Island, so getting there will never be a problem. You'll always be able to catch a ride.
If regular old Boston isn't enough for you, take a side trip to Georges Island.
It will keep the fun going even after you've exhausted the major attractions of the city, and it'll be another place to check off your map as a globetrotter!
33. Boston Harborwalk
It's tough to say goodbye to Boston, but you can end your vacation in a satisfying way when you take the Boston Harborwalk.
Stretching across the piers and ports of the city, the Boston Harborwalk will take you on a "greatest hits" journey around Boston.
If you wander on foot, you'll pass all of the shops, pubs, museums, theaters and art galleries that make it such a busy tourist destination.
If you hike or bike it, you can get in one last adrenaline rush as you move through nature trails and gardens.
If you opt for a cruise, you can relax on the water as you take in the Boston skyline for the final time.
All trips have to come to an end, but with the Boston Harborwalk, parting will be a little less sorrowful.
Start Planning Your Trip To Boston
These are just a few ways to enjoy your time in Boston, Massachusetts.
There are many more, so don't feel limited by the suggestions on this list.
It's one of the best vacation spots in the United States, so there are always new things to see, do, taste, buy, climb and explore in the greater Boston area!