If you are looking for a fun family-friendly vacation destination, Tallahassee should be at the top of your list.
Tallahassee is a wonderful place for a quick weekend visit or an even longer vacation.
With tons of fun, affordable attractions, you can find something to do for just about every member of your family.
Ranging from historic museums to parks and everything in between, there are lots of things to do in Tallahassee that will leave you with wonderful family memories to last a lifetime.
When thinking about how to plan a trip, keep a few travel tips and travel hacks in mind:
• Choose a variety of activities for your trip, including both high and low energy levels.
• Think about the kinds of attractions you and your family enjoy.
• Make a list of your top things to do in Tallahassee and points of interest.
• Be willing to be flexible.
• Plan activities for both day and night.
Tallahassee is located in the northern panhandle of Florida and is the state capital.
It was established in 1824, and is home to Florida State University and Florida A & M University.
It is also an entertainment hub for Florida, with several annual art and food festivals, concerts for top performers, a vital art community, and extensive state and city parks.
Many Tallahassee venues are free to the public and are among the most enjoyable things to do in Tallahassee.
When deciding what to do in Tallahassee, remember there is a myriad of choices for pretty much any interest.
Tallahassee is a college town, but it also has multiple weekend activities for families, adults and couples. Things to do in Tallahassee include:
• Museums
• Historic Homes
• National Historic Landmarks
• Wildlife Trails
• Lakes
• Rivers
• Festivals
• Concerts
• Great Restaurants
• Art Galleries
If you are planning a weekend getaway to watch a football game at Florida State University, think about what else you want to do in Tallahassee.
For example, Tallahassee played a vital role in the Civil Rights movement, one idea for a weekend trip is to spend time visiting African American history sites, where you can learn about the major events during this period of American history.
Another idea might be sneak in a fun Tallahassee pub crawl or a tour of Florida state parks or walkways while visiting for a football or basketball game.
The list below consists of the best attractions and activities, so let's get started.
Things To Do In Tallahassee
1. Explore The Lake Jackson Mounds Archaeological State Park
The Lake Jackson Mounds Archaeological State Park is just north of Tallahassee and is one of the most important archeological sites in the state.
The Lake Jackson Mounds include a public plaza, several home sites and four distinct earthwork mounds.
The site represents the Florida Fort Walton culture, which existed in this location between 1050 and 1500 C.E.
Two of the mounds are open for the public to explore and there are also trails that encompass a grist mill and plantation from the 1800s.
Address: 3600 Indian Mound Rd, Tallahassee, FL 32303, USA
2. Visit St. Marks Lighthouse
St. Marks Lighthouse is located within the St. Marks Wildlife Refuge.
It is one of the oldest lighthouses in Florida. It survived both the Civil War and the Second Seminole War of 1835.
Listed on the National Historic Registry, St. Marks Lighthouse is a wonderful place to explore for both kids and adults.
Spend time at the beach gathering sea shells and playing in the surf.
The lighthouse keeper's house is open to visitors and there are limited tours of the tower.
Address: 1255 Lighthouse Rd, Tallahassee, FL 32355, USA
3. Explore Tom Brown Park
One of the largest parks in Tallahassee, Tom Brown Park contains more than 250 acres of land for a wide range of activities.
Enjoy lighted night sports fields, open grass for disc golf, trails for running and hiking, dog-friendly areas, and fun playgrounds for families with kids.
Additionally, there are pavilions for large groups, picnic tables and open grass fields to sit back and watch the kids run and play.
Tom Brown Park is open year-round and there are no entrance or use fees.
Address: 443-557 Easterwood Dr, Tallahassee, FL 32311, USA
4. Visit The Challenger Learning Center / IMAX Theatre And Planetarium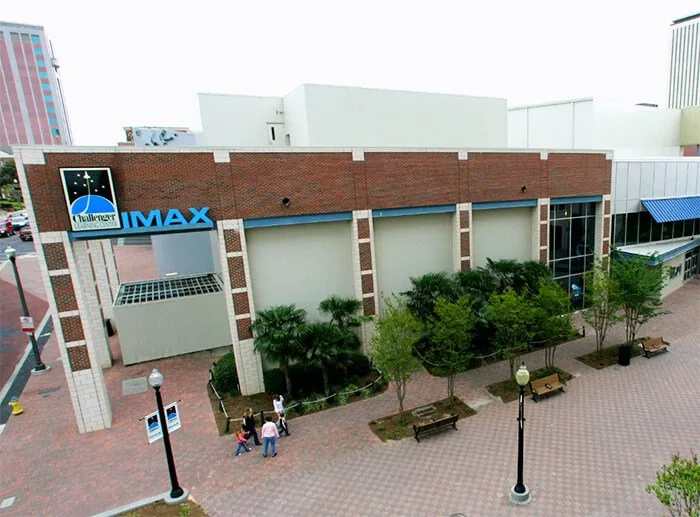 This photo of the Challenger Learning Center of Tallahassee is courtesy of TripAdvisor
The Challenger Learning Center / IMAX Theatre and Planetarium is located in downtown Tallahassee and is one of the most educational things to do in Tallahassee for families with kids.
It hosts a five-story planetarium displaying the evening sky and planetary universe.
There is also a mission control simulator for visitors to explore, along with a Space Station laboratory.
The Tallahassee IMAX and IMAX3D theater shows a variety of educational and science documentaries and the Space Station Simulator is open to the public every second Saturday of the month (registration required).
Address: 200 S Duval St, Tallahassee, FL 32301, USA
Traveling to other parts of Florida? You'll love our awesome lists showing you the best things to do in Tampa and things to do in Destin, FL!
5. Shop At Bradley's Country Store
Bradley's Country Store has been in continuous operation by the same Florida family since 1927. It is also listed on the Registry of Historic Places.
Approximately ten miles outside of Tallahassee, Bradley's Country Store is a great place to pick up supplies for a romantic picnic or handmade food gifts.
Enjoy their stone ground grits, onsite homemade sausage, locally made jam and baked goods.
If you are visiting the weekend before Thanksgiving, look for the Country Fun Days.
This is a holiday festival celebrating local vendors, with handmade crafts from local vendors for sale.
Also, there are entertaining activities like wagon rides, clogging, live music and more.
Address: 10655 Centerville Rd, Tallahassee, FL 32309, USA
6. Dream At Lichgate On High Road
One of the most unique things to do in Tallahassee, visiting Lichgate on High Road is like stepping into a fairytale home and garden.
Located close to the main campus of Florida State University, it is three acres of green space with a small cottage located in the center.
Spend a dreamy romantic afternoon watching clouds or a picnic for two on the lush lawns around the cottage.
Look for the walking meditation labyrinth and Shakespeare Garden just south of the cottage.
Address: 1401 High Rd, Tallahassee, FL 32304, USA
7. Catch A Performance At Cascades Park
Cascades Park is a large city park located in the thriving center of downtown Tallahassee.
There are play areas for families with kids. Among the exciting features of the park are an amphitheater, a Korean War memorial, and multiple wildlife trails.
One of the most delightful places in Cascades Park is the interactive fountain.
During the day, play in the water playing with kids, dancing among the 73 randomly shooting water jets.
At night, the fountain becomes a synchronized show, with water jets playing to music and lights.
The Smokey Hollow Commemoration is dedicated to honoring the African American community in this area from the Civil War through the 1960s.
This area was home to a thriving middle-class African American community, including stores, homes and African American businesses.
Visit a shotgun house, spirit houses and community heritage gardens, which provide examples of the close-knit community.
Cascades Park is home to the Southern Shakespeare Company and they hold regular performances for visitors during the annual Shakespeare in the Park Festival.
You can also find other performances at the park's Capital City Amphitheater, walking trails and tons of open space for picnics and family fun.
Cascades Park is located on 24 acres in the center of downtown Tallahassee.
Address: 1001 S Gadsden St, Tallahassee, FL 32301, USA
8. Check Out Railroad Square Art Park
You can spend an entire day exploring the wide range of art galleries and stores at Railroad Square Art Park.
Originally Railroad Square Art Park was a Tallahassee lumber yard; it was later repurposed into an industrial business park.
Today, the 10-acre site is home to a variety of artist galleries, unique restaurants and shops.
Railroad Square Art Park includes artist studio space for students in the Florida State University's studio art program, so you can watch artists as they work on their creations.
Another highlight of Railroad Square Art Park is live music and great food at Crumbox Gastgarden, which is located inside a railway caboose.
Spend time listening to local musicians playing jazz, blues and rock at many of the bars in the art park.
Other entertainment includes live performances at Mickee Faust Academy for the Really Dramatic Arts, truly unique experience in Florida.
Address: 618 McDonnell Dr, Tallahassee, FL 32310, USA
9. Get Your Geek On At The Mag Lab
The Mag Lab is the only lab of it's kind in the United States.
Here, you can take a tour of some of the largest and most powerful magnates in the country and learn how they are made and how they are used.
Talk to scientists about technological developments and how magnates are part of our everyday lives, from cell phones to medical devices to the energy industry.
Address: 1800 E Paul Dirac Dr, Tallahassee, FL 32310, USA
10. Goodwood Museum & Gardens
Goodwood Museum & Gardens is a Florida plantation house built in the 1830s.
Located on 16 acres, you can stroll through beautifully landscaped gardens with awe-inspiring oaks and gorgeous lush green lawns.
Enjoy the fragrant and colorful flowers of azaleas, camellias, peonies, and more.
As the seasons change, stroll through brightly colored leaves of Japanese maples, oaks and other beautiful trees.
The house is completely furnished with original furnishings, art, glassware and textiles.
Take a peek into rooms furnished as they would have been when the family hosted grand balls, the children played in their rooms and the family gathered for dinner.
Address: 1600 Miccosukee Rd, Tallahassee, FL 32308, USA
Planning a road trip around Florida? Be sure to check out our lists of things to do in Key West, things to do in Jacksonville & things to do in Orlando!
11. Bike Ride At The Tallahassee-St. Marks Historic Railroad State Trail
The Tallahassee-St. Marks Historic Railroad State Trail follows the very first railway running from Tallahassee to St. Marks.
Operating from 1836 to 1983, the railroad is 16 miles long and has paved bike and walking trails that are also suitable for inline skaters.
Kids can stop and play at the Felburn Foundation Boundless Playground. Casual restaurants and shops are located at the end of the trail in St. Marks.
12. Take A Romantic Stroll Through The Downtown Market
The Downtown Market is open every Saturday from March through November.
Located in downtown Tallahassee, the market makes for a great morning or early afternoon date.
Sample local produce, cheese and other tempting foods. Grab a freshly baked baguette, some summer berries and a bottle of wine for an impromptu picnic.
Add a bouquet of fresh flowers and enjoy a music performance and while away the afternoon.
Local artists also have booths displaying fine art, crafts and jewelry.
Address: 115 E Park Ave, Tallahassee, FL 32301, USA
13. Drool Over Antique Cars
If you are an avid admirer of automobiles, you will definitely enjoy visiting the Tallahassee Automobile Museum.
With more than 150 vehicles, the museum holds some extremely unique examples of American transportation.
For example, the hearse used for Abraham Lincoln's funeral is on display, as are several Batmobiles.
The majority of vehicles on display are American-made, however historic vehicles from other countries are also on display.
The museum also has a collection of Native American artifacts and other antique items on display.
Address: 6800 Mahan Dr, Tallahassee, FL 32308, USA
14. Frolic Among The Flowers At Alfred B. Maclay Gardens State Park
Alfred B. Maclay Gardens State Park is one of the most beautiful places in the US.
This is the premier botanical park in the city and boasts more than 1,100 acres of landscaped gardens, including camellias, azaleas, dogwood trees, cypresses and more.
Established in 1823, the park is part of a U.S. Historic District called the Killearn Plantation Archeological and Historic District.
There are 18 outbuildings associated with the Killearn Plantation and other activities include birdwatching, canoeing, hiking and bike riding.
Address: 3540 Thomasville Rd, Tallahassee, FL 32309, USA
Thinking of a vacation in other parts of Florida? Be sure to check out our awesome lists like the best things to do in Pensacola and things to do in Fort Lauderdale!
15. Spend A Romantic Afternoon At Lake Ella And Fred Drake Park
Lake Ella and Fred Drake Park are located just north of downtown Tallahassee.
Lake Ella is 12 acres and adjacent Fred Drake Park is 6.5 acres and both are combined into a wonderful public park.
With three fountains, walking trails and picnic areas, visitors can enjoy a relaxed weekend Saturday or Sunday enjoying nature or a casual lunch.
The paved walkway circling the lake is perfect for bike rides, roller skating or walking.
Along the way, visit former honeymoon cottages that have been turned into shops and cafes for enjoyable refreshments or picnic items.
Address: South Lake Ella Drive, Tallahassee, Florida
16. Visit the Past At The Knott House Museum
Built in 1834 by George Proctor, the Knott House served as an important location during the Civil War years.
It was headquarters for the Union Army in 1865 during the Civil War and was where Abraham Lincoln read the Emancipation Proclamation.
Over the years, the Knott House was home to several families until William Knott and his wife Luella became owners.
They donated the house to the Historic Tallahassee Preservation Board and it was opened to the public after extensive renovations, which brought the house back to its 1928 glory.
Guided tours are available Wednesday through Saturday.
Address: 301 E Park Ave, Tallahassee, FL 32301, USA
17. Learn What Mission Life Was Like At Mission San Luis De Apalachee
Mission San Luis de Apalachee was established in 1633 as a Franciscan mission for the Apalachee Province settlement of the Anhaica.
Located west of downtown Tallahassee, you can explore restored buildings, including the church and convent, fort, and blockhouse.
In 1960, the mission became a National Historic Landmark and today visitors can explore what mission life was like several hundred years ago.
Address: 2100 W Tennessee St, Tallahassee, FL 32304, USA
18. Marvel At Butterflies At St. Marks National Wildlife Refuge
St. Marks National Wildlife Refuge is part of the annual October Monarch butterfly migration path to Mexico.
It is a terrific location to enjoy watching the butterflies as the flutter among the trees.
Photographers will enjoy taking photos of not only the butterflies, but also more than 250 species of birds, including wintering songbirds.
Other activities include bike riding, hiking and horseback riding.
St. Marks National Wildlife Refuge is part of the Florida National Scenic Trail.
19. See Tallahassee On A Segway
Tallahassee Segway Tours is a fun and unique way to see the city.
Tours include the Gaines Street Art District, the Florida State University area, the Capitol area, downtown, historic areas and more.
Evening tours allow you to see Tallahassee from an entirely different perspective. Custom tours are available.
In addition to Segues, Tallahassee Segway Tours offers scooters for individuals who are unable to use standing transportation.
Address: 1500 S Monroe St, Tallahassee, FL 32301, USA
Visiting other parts of Florida? Don't miss our lists of awesome things to do in Miami & things to do in St. Augustine!
20. Create A Masterpiece At Painting With A Twist
Painting with a Twist in Tallahassee is a great romantic date night destination, whether you are looking for something to do on a weekend or on a school night.
Teachers provide you with a canvas, paints and a few tips and you can go to work on creating your own unique art masterpiece.
Enjoy a glass of wine, laugh with your co-artists and have a fun evening.
Even if you are not the greatest artist, you will have an evening full of laughter and fun.
Address: 1660 N Monroe St Suite 8, Tallahassee, FL 32303, USA
21. Get A Science Lesson At Waterworks
Waterworks is actually a downtown Tallahassee bar, but it also has a surprise.
On Thursday evenings; they have a "Science Salon" and invite local scientists and professors to demonstrate or lecture on scientific topics.
Look for lectures on archeology, biotech and more as you enjoy adult libations.
Waterworks is a tropical Tiki lounge that also serves bar food.
Address: 1133 Thomasville Rd, Tallahassee, FL 32303, USA
22. Visit The Tallahassee Museum Of History And Natural Science
The Tallahassee Museum offers a wide variety of outdoor activities that are sure to appeal to family members of all ages.
Viewed as one of Florida's top things to do in Tallahassee, the Tallahassee Museum is located on 52 acres of amazing public lands.
Showcasing Florida's unique native plant species and animals, visitors can enjoy miles of hiking trails, historical buildings and zip lines through the trees.
Enjoy special events such as evening tours, lessons in canning, music festivals and other crafts.
The Tallahassee Museum has an incredible range of attractions for visitors, including a living history museum, revolving natural history exhibits, wildlife exhibits and a butterfly garden.
One of the most popular is the Tree-to-Tree Adventures.
With three fun and challenging courses to choose from, you can zip through the trees at 62 feet above the ground at the line's highest point.
Get a treetop view of the park's 52 acres of wildlife, forest, swamps and even more.
Courses also offer obstacles, including rope swings, bridges and zip line connections.
Address: 3945 Museum Drive, Tallahassee, FL 32310, USA
23. Indulge Your Sweet Tooth At Lofty Pursuits
Lofty Pursuits is a great place for families who are looking for fun, packed in with learning.
Almost everyone will find Lofty Pursuits one of the most fun things to do in Tallahassee.
Here, kids will learn how to make all kinds of candy and ice cream while learning about the science behind their sweetest dreams.
Keep an eye out for the old-fashioned pay phone at the back of the store; try a number and the phone will translate it into a related song.
Lofty Pursuits is more than a candy store. It is also a toy store, a game room, an experimental lab and a place to watch candy and ice cream being made using 100-year-old techniques.
Try ice cream flavors such as Cherry Oblivion or Cinnamon in the ice cream shop, or candies like dill pickle drops, honey nectar candy or peach drops in the candy store.
If a meal is more to your liking, choose from menu items such as shrimp and grits, blueberry pancakes or a Reuben sandwich, to name a few.
Address: 1355 Market St A11, Tallahassee, FL 32312, USA
24. Walk Through The LeMoyne Center For The Visual Arts
The LeMoyne Center for the Visual Arts is an art gallery displaying art from Tallahassee artists, along with internationally recognized artists.
Look for fun, funky contemporary art and fine art paintings and mixed medium displays.
Artworks include a wide range of mediums ranging from watercolor to metal sculpture.
The LeMoyne Center for the Visual Arts is also host to the annual Chain of Parks Art Festival, which brings in artists from around the country.
Address: 125 N Gadsden St, Tallahassee, FL 32301, USA
25. Listen To Music At The Bradfordville Blues Club
The Bradfordville Blues Club is a popular fun place to hear some of the best blues performers in Florida.
Decorated with portraits of historical blues musicians, the club is a great place for a relaxing evening or romantic dinner.
Although the club is a one-room cinder block building, outside tables and bonfires provide welcome outdoor respite between music sets.
If you are planning a weekend trip to Tallahassee, be sure to look for some of the best blues musicians in Florida.
Popular performers include Mississippi Heat, The Brandon Santini Band, Delta Moon and more.
Special events include the Outdoor Summer Concert series, monthly Bluegrass Sundays, Valentines Day concerts and Mardi Gras celebrations.
Address: 7152 Moses Ln, Tallahassee, FL 32309, USA
26. Tour The Lewis Spring House
The Lewis Spring House was designed and built by Frank Lloyd Wright and a visit is one of the most unique things to do in Tallahassee.
It was originally owned by George and Clifton Lewis, who were owners of the Lewis Bank and active leaders in the civil rights movement.
The Lewis' were also highly active in promoting the arts community in Tallahassee.
The Lewis Spring House in Tallahassee is uniquely designed to look like a boat or a football, with wide windows and convex walls.
Like many of Wright's designs, the house illustrates the connection between the internal structure and the surrounding natural environment.
Currently, the Lewis House is owned by Byrd Lewis Mashburn, one of George Lewis' children.
She offers tours to visitors and tells stories of her family, including her father's appointment to President John F. Kennedy's Advisory Committee for Civil Rights.
As part of Mashburn's story, she discusses civil rights meetings held in her home during the 1950s and 1960s.
Address: 3117 Okeeheepkee Rd, Tallahassee, FL 32303, USA
27. Cruise Among The Manatees At Wakulla Springs Park
Manatees are native to Florida and are some of the most gentle creatures to be found.
In the walrus family, manatees enjoy playing in the warm waters of Wakulla Springs in Tallahassee.
Watch baby manatees with their mothers and take a relaxing Jungle Cruise to see them up close and personal.
The Jungle Cruise runs daily from 9:00 a.m. to 5:00 p.m.
Along the way, you'll travel down the Wakulla River and see not only manatees, but also turtles, alligators, vultures and other native Florida wildlife.
There are other fun weekend attractions that families with kids can enjoy at Wakulla Springs Park.
The park includes several nature trails for bike riding and hiking. Two of the trails are the Cherokee Sink Trail and the Nature Trail.
The Cherokee Sink Trail features a large sinkhole swimming area and is one of the less-traveled trails in the park.
The Nature Trail runs along is around four miles long and is an easy walk through the upland forest away from the water.
During winter months, park rangers offer guided tours to point out winter wildlife and natural features of the park.
Other features of Wakulla Springs Park include beaches, horseback riding trails, scuba diving and a historic lodge.
Address: 465 Wakulla Park Dr, Crawfordville, FL 32327, USA
Start Planning Your Trip To Tallahassee
Hopefully, this long list of attractions and activities in Tallahassee will serve you well.
If you are looking for other Florida travel destinations, look at things to do in Gainesville.