Being a state's capital means you have to live up to some pretty high expectations. Richmond, Virginia does its state proud.
The capital of VA has earned a resounding reputation for family fun and natural wonder that you should be thrilled by.
Determining what to do in Richmond comes with allowing yourself to be whisked into the past while staying in the present.
There are all kinds of fun stuff to do here, but this should give you a good start when it comes to the top things to do in Richmond.
Things To Do In Richmond, VA
1. Lewis Ginter Botanical Garden
Biodiversity in plant life is extremely important. There are more than a quarter of a million different species in the world.
While not all of them are at the Lewis Ginter Botanical Garden in Richmond, you'll likely find that some of the loveliest species you've ever encountered are here.
This botanical garden has a massive acreage and so much to appreciate. The name might be a bit misleading, as this is not a singular garden.
Instead, it's composed of all kinds of specific ones, from Cherry Tree Walk to Asian Valley.
They all have their own unique appearance, helping to show how special Richmond and Virginia as a whole are. All of these are marvelous attractions.
The Lewis Ginter Botanical Garden is the ideal place for a family outing to VA.
Your kids are sure to love the Children's Garden, and you catch some top-notch food at the Robins Tea House and the Garden Cafe.
This is one of the best things to do if you're looking for as much beauty as possible. It's what to do if you have a tremendous love for nature.
Address: 1800 Lakeside Ave, Richmond, VA 23228, USA
2. American Civil War Museum
Richmond was a huge part of the American Civil War. Virginia commemorates this important history with the American Civil War Museum.
These are great places for getting educated on how it was like to live and fight during this time.
There are three different parts of the American Civil War Museum.
There's the museum, the White House of the Confederacy, which was the home of Jefferson Davis, President of the Confederacy, and the Museum of the Confederacy.
All of these can give you some of the best education possible about the Civil War.
All kinds of incredible items from the Civil War can be found here. It's one of the most fantastic sites in all of Virginia.
Anyone interested in history who comes to VA needs to come to the American Civil War Museum.
It's what to do if you like your history lessons to come alive as much as possible.
Address: 500 Tredegar St, Richmond, VA 23219, USA
3. Hardywood Park Craft Brewery
Nowadays, it can seem like every city is introducing its own breweries. However, you should definitely check out Hardywood Park Craft Brewery.
The local pride in Richmond also extends to their beer. Some of the best beer you'll find in Virginia or anywhere else is at this brewery.
At Hardywood Park Craft Brewery, you'll be guided through the process that turns hops, grains, and more into beverages that people savor so much.
If your senses can't wait any longer, you'll be able to try various brews under the Hardywood Park name.
A stop at the Hardywood Park Craft Brewery could be the pinnacle of a weekend in Richmond.
Not only is there awesome beer, but this VA brewery also hosts special events like concerts.
For a Virginia experience that appeals to all kinds of tastes, come to Hardywood Park Craft Brewery.
Address: 2408-2410 Ownby Ln, Richmond, VA 23220, USA
4. Armour House And Gardens At Meadowview Park
When you step on the property of Armour House and Gardens at Meadowview Park in Richmond, you may feel the ghosts of the past rushing around you.
This is one of the most notable historic sites in all of VA.
Although the house itself was built a little more than a century ago, the significance of the site itself goes back to the Civil War.
Confederate general Robert E. Lee was here to observe the Seven Days Battle. Atop a hill, Lee was able to use his keen eye to survey his troops.
Now, this location is much calmer but not dull. You can go for a hike, look at flowers, or listen to the sounds of the fountains.
It's fun for everyone in your family as well as shining a light on one of the most important parts of American history.
Address: 4001 Clarendon Rd, Richmond, VA 23223, USA
5. Metro Richmond Zoo
One of the best zoos in the country is in Virginia. At the Metro Richmond Zoo, you can see how nearly 200 unique animal species live and communicate.
This VA zoo does a terrific job of promoting conservation for vulnerable species.
Whatever your kinds of animals are, the Metro Richmond Zoo should be able to satisfy your desires to experience wonders of the animal kingdom.
Housed at this zoo are monkeys, lions, pythons, and more. There's also special breeding to help increase the population of endangered species.
Going to the zoo isn't just fun. It's also highly informative.
The Metro Richmond Zoo is run by people who are committed to bringing fun and education into one complete package.
Watching the various animal activities and spending time with loved ones at the zoo is a memory to hold onto forever.
Address: 8300 Beaver Bridge Rd, Moseley, VA 23120, USA
Visiting other parts of Virginia? Be sure to check out our list of things to do in Virginia!
6. RVA Trolley
How were you planning on getting around Richmond? Were you going to drive, bike, use rideshare apps, or take the bus?
Well, there's another option for getting around Richmond. The RVA Trolley is one of the best pieces of public transit in all of Virginia.
Richmond is a pioneer in public transportation, as the VA capital was the first city to include a trolley.
That's just not in the United States either. That's in the entire world. The people of Virginia still show pride in their trolley history by keeping it in the city.
The trolley doesn't just bus you around. It also gives you a chance to see what all the stuff to do in Richmond.
You can go on a guided tour in a trolley to find all about what makes Richmond such a historically rich city.
Address: 1301 E Cary St, Richmond, VA 23219, USA
7. The Edgar Allan Poe Museum
Edgar Allan Poe is one of the most important and best authors in all of history.
Anyone with even a passing interest in literature should know about works like "The Raven" or "The Telltale Heart."
These gothic tales continue to send chills down readers' spines. At the Poe Museum in Richmond, Poe's genius is honored.
This is one of the best places to visit in all of Virginia. The VA museum houses all kinds of fantastic items from Poe's life, including all kinds of original written works.
It's one of the most special points of interest because of how it lets you tap into the mind of this fascinating author.
Tourist attractions like the Poe Museum encapsulate how much creative types can speak to us, even more than a century after their deaths.
You can come to this VA museum between Tuesday and Sunday. It's the perfect place for letting yourself be inspired to write something unforgettable.
Address: 1914 E Main St, Richmond, VA 23223, USA
8. Agecroft Hall
Although American gained its independence through breaking away from British rule, there's still plenty of reverence for our English forebearers.
You can witness that at Agecroft Hall.
This manor is a lovely ode to the majesty of Elizabethan architecture, some of the best to have ever existed. You should be moved to see it in Richmond.
The story of Agecroft Hall starts long ago, across the pond.
It was the first part of the English town of Lancashire, before coming to America. It was taken apart, sent overseas, and rebuilt in Richmond.
The finished Agecroft Hall is one of the best places to visit in all of Virginia.
It blends the richness of both the 15th and 20th centuries into something entirely unique and undeniably stunning.
Between the gardens and historic paintings, it's hard to think of a place that summarizes the charm of VA quite like Agecroft Hall.
Address: 4305 Sulgrave Rd, Richmond, VA 23221, USA
9. Short Pump Town Center
Despite its name, this site is anything but short on attractions. It's one of the best places to visit in Richmond. Short Pump Town Center has so much for locals and tourists to visit.
This is a shopping and entertainment complex unlike any other in Virginia.
At Short Pump Town Center, you can choose between a plethora of stores, including plenty that are unique to the area.
There's also all kinds of great dining to be had here. You can get Mexican, Italian, and Vietnamese, among other cuisines.
Short Pump Town Center is one of the best places to visit in VA due to how exciting it is.
You can also catch musicians and hilarious comedians around here. Come by for a weekend that's sure to be packed with fun.
Address: 11800 W Broad St, Richmond, VA 23233, USA
10. Maymont Children's Barn And Nature Center
One of the best educational activities in all of Richmond is visiting the Maymont Children's Barn and Nature Center.
At this farm attraction, families can celebrate the glory of nature, from the animals to the plants.
When you learn about this place, you might want to book a trip to Virginia today.
One of the greatest attractions in all of VA, the Maymont Children's Barn and Nature Center includes a mansion, plenty of flowers, and beautiful animals.
You can witness otters hanging out at the nearby river. It's what to do in Virginia if you're wanting to take a break from overstimulation.
A weekend trip to Maymont Children's Barn and Nature Center in Richmond can reconnect you with how wonderful the natural world is.
Address: 1000 Spottswood Rd, Richmond, VA 23220, USA
Traveling to other areas of Virginia? Don't miss our list of fun things to do in Williamsburg, VA!
11. Richmond National Battlefield Park
More of the importance of Richmond during the Civil War can be gauged by visiting Richmond National Battlefield Park.
This site takes you back to a time of cannons and Gatling guns. You can get a thorough sense of what it was like to be on the grounds during the Civil War.
In this VA park, you can witness up to 13 distinct battle areas. With tens of square miles of land, you can understand how much Virginia mattered in the Civil War.
You can also learn about how wounded soldiers were treated by visiting the biggest hospital of the Confederacy.
With a museum, lectures, and exclusive events, the Richmond National Battlefield Park is one of the best parts of any visit to Virginia.
There's a lot of stuff to unpack about the Civil War, and this is a great place to do it. This is one of the best things to do in Richmond if you're a Civil War buff.
Address: 470 Tredegar St, Richmond, VA 23219, USA
12. Belle Isle
People go on vacation to get away from the stimulation of everyday life. Unfortunately, the stimulation of visiting a busy city can also get to you.
While the more energetic activities of Richmond are certainly great, there might be times when you want to see some of the calmer sides of the Virginia capital.
If this sounds like you, then you need to check out Belle Isle. This island is within the capital of VA and offers total bliss.
It's also one of the most beautiful places in America.
To access it, you have to trek across a bridge, but the journey is great and the destination is more than worth it.
Once you reach Belle Isle, you'll see acres of unspoiled beauty in Richmond. You can take a siesta on the comfortable rocks, go for a hike, or even a bike ride.
These kinds of attractions are what makes Virginia such a special place.
13. Chickahominy Bluff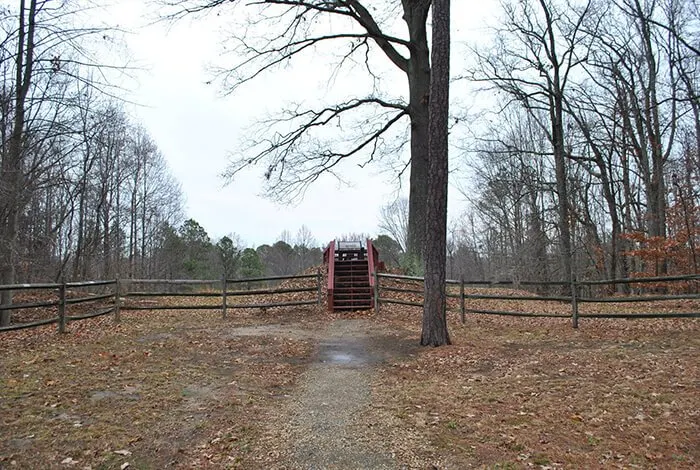 With a name like this, how could you not want to visit Chickahominy Bluff?
However, there's more than just an amusing name to this Richmond site. It's actually one of the most critical points in the Civil War.
In 1862, at Chickahominy Bluff, tens of thousands of Confederate soldiers made their way across the Chickahominy River, which is near this site.
This was known as the Seven Days Battle. At this Virginia location, the intensity of the Civil War was at its most apparent.
Although it's battlefield days are long gone, Chickahominy Bluff is still a hugely important part of VA and Richmond.
You can see earthworks remnants and find out about what the battle was like.
It's the kind of experience that those who were in Virginia at this time would never forget, and upon learning about it, neither will you.
Address: 2302 Springdale Rd, Richmond, VA 23222, USA
14. Riverfront Canal Walk
The United States is centuries, even millenniums younger, than other countries, but that doesn't mean that it doesn't have a complex history to explore.
If you're seeking a history lesson that shows just how much progress our country showed in a relatively short amount of time, come to the Riverfront Canal Walk in Richmond.
This is one of the best ways to get some fresh air and learn in Virginia. The Riverfront Front Canal Walk covers 400 years of how the VA capital came to be.
As you walk along the James River and see the Kanawha Canal and Haxall Canal, you can witness beautiful statues and things like the American Civil War Center.
These are things to see in-person and with your full attention.
The downtown of the Virginia capital is so well honored by the Riverfront Canal Walk.
There's also the loveliness of how much Richmond cares about its past. Time spent on the canal walk is time spent extremely well.
Many of the fun things to do in Richmond can be found at the canal walk.
Address: 139 Virginia St, Richmond, VA 23219, USA
15. Virginia Aviation Museum
Air travel has become so accessible that you can book a flight today and be on a plane tomorrow.
At the Virginia Aviation Museum in Richmond, you'll receive some of the best possible education on air travel. There are so many stories to be unpacked.
The VA Aviation Museum is associated with the Richmond International Airport. Arguably the best part of coming to this museum is seeing all of the classic aircrafts.
You can see a replica of the Wright Brothers plane. The Virginia Aviation Hall of Fame is also part of this museum.
Just seeing these vessels is impressive enough. However, the Virginia Aviation Museum also features engrossing explanations of the planes and their history.
You can even imagine being a pilot yourself, as you get a feel for what it's like to maneuver an actual J-3 Cub. Your dreams can soar so high in at the Virginia Aviation Museum.
Address: 5701 Huntsman Rd, Richmond, VA 23250, USA
Exploring other parts of Virginia? Why not check out some of the fun things to do in Virginia Beach & some of the things to do in Charlottesville, VA?
16. The Virginia State Capitol
Being the capital of Virginia, Richmond has to show they'll live up to that title. The Virginia State Capitol is one of the finest in the nation.
It showcases a rich southern history and clearly shows why the people of Richmond have so much fondness for their city.
The VA State Capitol is a pioneer in multiple respects. The Monumental Classical design, the choice of Thomas Jefferson, has become the standard.
Additionally, its General Assembly is the longest-running legislative body in the western part of the world.
On a visit to the Virginia State Capitol, you can see how some of the best politicians in Virginia's history worked together.
There's all kinds of information about this ever-important state. There are hundreds of years of history within these walls, and there are sure to be hundreds more.
Address: 1000 Bank St, Richmond, VA 23218, USA
17. Science Museum Of Virginia
Few places make learning come alive quite like how science museums do. The Science Museum of Virginia is one of the best science museums in the country.
It's one of the most fun and enriching experiences you can have on a vacation.
The beauty of science is that it involves so many things. There's physics, chemistry, biology, and more.
This wondrous VA museum provides minds of all kinds and all ages with inspiration.
Should you want to be really awestruck, you should catch a movie at The Dome, which features the biggest screen in all of Virginia.
If you have a child with a budding interest in music, the Science Museum of Virginia is where to take them.
Go through various exhibits and interactive displays to help them get their minds opened even more.
It's the kind of experience they'll be sure to cherish for the rest of their lives.
Address: 2500 W Broad St, Richmond, VA 23220, USA
18. Church Hill
Near downtown, Church Hill is one of the lushest, most vibrant parts of all of Richmond.
It serves as the genesis of Richmond, and learning how this area expanded into one of the most notable cities in all of the south is quite exciting.
However, the very experience of walking through this area is positively unmatched.
Church Hill is historic, not only in age but also in look. However, while plenty of the buildings are more than 200 years old, they aren't left to disappear.
As it's a part of Virginia history, Richmond does all they can to keep Church Hill in good shape.
Teeming with neighborhoods, picaresque nature, and an overall sense of serenity, Church Hill is a jewel of VA.
It shows how there's still room for the past when it comes to our modern society. Some of your best Richmond experiences can be had at this historic area.
19. Deep Bottom Park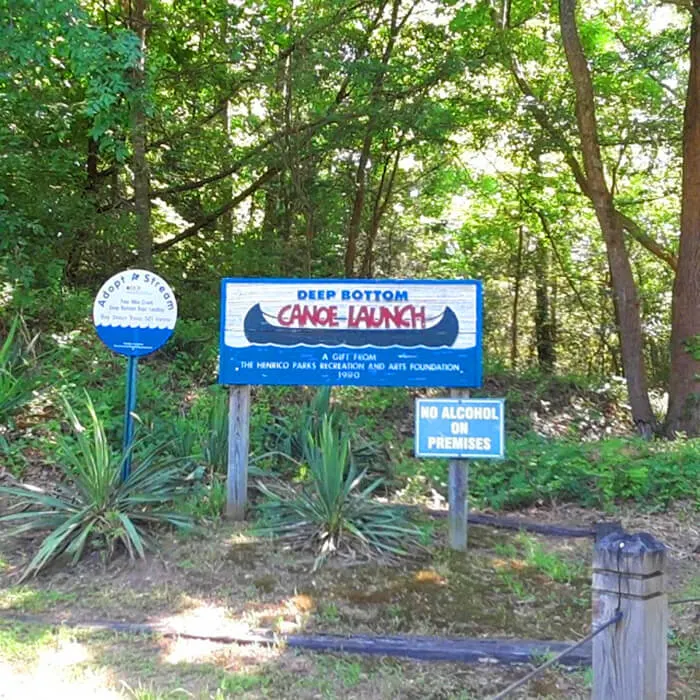 Turf and surf fun in Richmond can be had at Deep Bottom Park.
Against the James River, this park provides people with opportunities for fishing, swimming, or just hanging out on the shore.
It's a distinct part of Virginia that can host some very special memories.
The water is one of the best parts of this Virginia park. The current of the James River is great for taking a boat out on.
You might also go for a swim, provided that you're good with the current.
On land, you can observe the tall trees and the birds that reside inside them. It's not every day that you get to see an osprey.
Deep Bottom Park contains some of the most striking beauty in all of VA.
Address: 9525 Deep Bottom Rd, Henrico, VA 23231, USA
20. The Fan District
Don't let the name fool you. This is a cool part of town, but not in the way you might think.
The Fan District is a Richmond neighborhood that got its name from how its streets are splayed out.
When you check it out, you'll quickly see why it's considered one of the best neighborhoods in the city.
One of the hippest places in all of Virginia, the Fan District spoils you with options for dining and fun.
Get food at Bombolini, Spoonbread Bistro, or Helen's Restaurant. It's also worthwhile to check out live music at places like The National or The Broadberry.
Plenty of college students live in the Fan District, making it great for anyone that's full of youthful energy. However, it also has appeal for older people.
If anyone doesn't think VA can be cool, they need to visit the Fan District.
21. L'Opossum
Don't worry, this isn't a museum of roadkill in Richmond. Instead, it's one of the most intriguing restaurants in all of Virginia.
L'Opposum contains a one-of-a-kind menu, made with one-of-a-kind soul.
The southern roots of VA are here, but there's also a heavy French presence.
At this Virginia restaurant, you can try dishes such as "Beef Swellington" or even foie gras bread pudding. The presentation of these dishes is also absolutely stunning.
When you step into L'Opposum, you should immediately feel like you're in a very special place.
Through its atmosphere and mesmerizing dishes, courtesy of chef David Shannon, this is sure to be one of the best meals you've ever had.
Address: 626 China St, Richmond, VA 23220, USA
22. Wilton House Museum
One of the biggest points of interest on a weekend visit to Richmond is checking out the Wilton House Museum.
This is another site that shows just how much history is within the city limits of Richmond.
When you visit Wilton House Museum, you can feel like you're near some of the most inspiring figures who also made their way to this Virginia property.
Dating back to colonial times, Wilton House Museum was originally part of a plantation.
George Washington is among those who stayed here, as is Thomas Jefferson. Today, it commemorates all kinds of VA history.
The preservation of the Wilton House Museum is absolutely astonishing. The architecture still holds up, as does the interior design.
Come to the Wilton House Museum for a further understanding of Richmond's place in history.
Address: 215 S Wilton Rd, Richmond, VA 23226, USA
23. Monument Avenue
If you're looking for what to do in Richmond, you can have a monumental experience at Monument Avenue.
This stretch lets you experience statue depictions of incredible figures like Robert E. Lee. All kinds of Virginia splendor can be experienced here.
The monuments are just one of many draws of this Virginia boulevard. There's also lovingly-designed homes and buildings.
These demonstrate the VA dedication towards making houses look and feel like homes. This is the kind of stuff that keeps people talking for ages.
Awesome events happen at Monument Avenue.
Some of the best parts of coming to VA include seeing the Easter Parade or being a spectator at Ukrop's annual 10k race at Monument Avenue.
If there was a monument to Monument Avenue, it would be bigger than you could possibly imagine.
24. Real Richmond Food Tours
Richmond is serious about dining. In different parts of the Virginia capital, you'll find powerful flavors from a wide range of cuisines.
If you're worried that you'll never be able to make up your mind, worry no longer. Real Richmond Food Tours are here for you to get as much taste of Virginia as possible.
On a weekend excursion, you should save room for a food tour. On Real Richmond Food Tours, guests are brought along to all kinds of Richmond eateries.
These are places that have won the hearts of people in and out of VA. It may be hard to not stuff your face all at once, given how succulent every bite is.
Along with the delectable food, you'll also get a further glimpse into the significance of one of the best cities in the south.
There's history to be shared and buildings to be admired. A food tour is one of the best things to do in Richmond, as it shows that this is a city of truly great taste.
When it comes to dining activities, food tours are where it's at.
25. John Marshall House
One of our greatest institutions is the Supreme Court, and one of our greatest justices was Chief Justice John Marshall.
It was under Marshall's direction that the Supreme Court was able to become one of the best parts of the United States, showing the undying importance of respecting our Constitution.
At John Marshall House in Richmond, you can see how this heroic figure lived. For nearly half-a-century, this judicial titan resided at this Virginia home.
The house has been given plenty of upkeep. It's also quite the museum, allowing visitors to see how life was like centuries ago.
We might be separated by hundreds of years, but people like John Marshall have messages that still stand out today.
Someone living in VA long ago knew that justice is always important, and we must uphold that conviction.
Address: 818 E Marshall St, Richmond, VA 23219, USA
Exploring other areas of Virginia? Why not check out some of the things to do in Norfolk, VA & some of the things to do in Roanoke, VA?
26. Virginia House
Virginia House gets right to the point when it comes to names. It also gets right to the point when it comes to masterful design.
This is another home that started in England before finding its way to Virginia. With all due respect to England, we're glad that it landed in Richmond.
Although it came to VA in the early 20th century, the design of Virginia House, one of the best in all the south, is rooted in the 16th century.
It's situated on a hill near the James River, giving you an incredible view. The knockout sights don't end when you enter its doors.
Within Virginia House are some of the finest antiquities you might've ever seen. These come from places like Spain and Asia.
If you're hosting a special event for a weekend, Virginia House is one of the best places to do so.
Richmond is a gorgeous place for gorgeous buildings. This VA house more than achieves that standard.
Address: 3256, 4301 Sulgrave Rd, Richmond, VA 23221, United States
27. Hollywood Cemetery
One of the best attractions in Virginia is also one for plenty of reflection.
At Hollywood Cemetery in Richmond, you can see where so many great Americans were laid to rest. These include former presidents and military leaders.
Among those buried at this VA cemetery include Presidents John Tyler and James Monroe. Jefferson Davis' burial spot is also here.
There is so much soul and historic significance to be found here. This is one of the best places for anyone who feels connected to a time before them.
Through the massive acreage and its location by the James River, Hollywood Cemetery lets you see what being a legend truly means.
It's not about just making an impression in your lifetime. It's about making an impression in the lifetimes that follow yours.
Richmond is a city of legends, for legends. When you step upon these grounds in VA, you may know what to do to become great yourself.
Address: 412 S Cherry St, Richmond, VA 23220, USA
28. Virginia Museum Of Fine Arts
Richmond has a rich cultural history, and the Virginia Museum of Fine Arts exemplifies this.
This VA museum has a mission to keep art alive. You can find all kinds of wonders inside this museum, which the city introduced during the Great Depression.
Opening a museum during such an uncertain time might seem rather risky. However, the people of Richmond and VA as a whole know when something is worth pursuing.
The Virginia Museum of Fine Arts shines as a standard for what art can do for a city. Richmond made it through the Depression, but they haven't stopped creative inspiration.
At this Richmond gem are galleries displaying art from different cultures, including African American, South Asian, and Russian.
There is nothing but respect for other ways of life. It's because of the open-minded nature of Richmond that a museum such as this can thrive.
Visiting this VA museum is what to do if you have any reverence for art.
Address: 200 N Arthur Ashe Blvd, Richmond, VA 23220, USA
29. Virginia Museum Of History And Culture
One of the best parts about visiting Richmond is how so many of the tourist attractions also give you a deep understanding of Virginia history and culture.
However, if you want to get these lessons in museum form, the Virginia Museum of History and Culture is one of the best things to do in Richmond.
The Virginia Museum of History and Culture is the work of the Virginia Historical Society, which dates back to the 19th century.
It serves to preserve important stuff, such as documents and books. Despite troubles during the Civil War, the society was able to prosper.
It became abundantly clear that keeping all these irreplaceable items intact was a calling.
As of 2018, the Virginia Museum of History and Culture was officially christened.
Exhibitions cover important parts of history, from the civil rights movement to the significance of silver in VA.
This Richmond museum shows that we must preserve as much from our past as possible if we're to have any hope of understanding where we came from.
Address: 428 N Arthur Ashe Blvd, Richmond, VA 23220, USA
30. Kings Dominion
Just outside of Richmond in the town of Doswell lies one of the best amusement parks in the country. Kings Dominion gives you a taste of pure VA thrills.
Whether you like roller coasters, thrill rides, or water slides, you're sure to unleash your inner child when you're here.
It's what to do if you want to get your heart rate jumping without feeling on edge.
Roller coaster fiends are sure to have a great time at Kings Dominion.
Some of the best coasters at Kings Dominion include Intimidator 305, Anaconda and Avalanche. For thrill rides, you can strap into Drop Tower, WindSeeker, and Berserker.
There are also rides for younger kids who aren't tall enough or otherwise quite ready for the more extreme rides.
On a hot summer day when you want nothing more than to cool off, Kings Dominion is here for you.
You can some of the best times in the water at the waterpark, with stupendous water slides, a wave pool, and even a lazy river for just kicking back.
Going to Kings Dominion is definitely one of the most fun things to do in Richmond.
Address: 16000 Theme Park Way, Doswell, VA 23047, USA
Start Planning Your Trip To Richmond
Richmond is one of the best cities in VA and in the south, full of activities and life.
If you're planning a trip to Richmond, this list hopefully showed that there are so many points of interest.
The tourist attractions of Richmond are ones that teach you about our country's amazing history and leave you feeling mentally richer.
All of the things to see in Richmond, from the historic sites to the museums, are attractions with tons of depth.
In case you're wondering how to plan a trip to Richmond, there are many travel tips and travel hacks worth pursuing.
If you're a fan of cities like Gainesville and Kansas City, Richmond should definitely suit your travel desires.
Make plans for a weekend vacation to Richmond, and you'll have so many things to see and so much stuff to do.
Your time in the VA capital is going to be something you tell people about for weeks on end.
What to do in Richmond or what to see aren't the important questions. Instead, it's what to do and what to see next?
Hopefully, this list of fun things to do in Richmond will serve you well! Happy travels!