Seoul might be known for its sleek skyscrapers and futuristic technology, but there's one place in the city where tradition is still thriving: Insadong.
Insadong is one of the oldest, most culturally important neighborhoods in Korea.
It has cobbled streets lined with quaint little shops and family-run restaurants; it has a sprawling network of alleyways that don't conform to any map.
40 percent of the country's art galleries and antique shops are in Insadong. 90 percent of its traditional stationary shops call it home.
There's also a contemporary side to Insadong.
Just like when the neighborhoods of "In" and "Sa" came together to create "Insadong," modern living has merged with a more traditional way of life.
For example, on the rooftop of Insadong's busiest shopping center, you can find a tranquil garden where they serve hot cups of tea for spiritual purification.
Are you planning a trip to Korea? Are you looking for cool things to do in Seoul?
You won't want to miss one of its best neighborhoods, especially if you're a fan of authentic Korean culture. Consider this just a small list of what to do in Insadong.
Things To Do In Insadong
1. Insadong Tourist Information Center
Your first stop in Insadong should be the Insadong Tourist Information Center.
You can pick up all kinds of guides and brochures to help you plan your next move, and the staff speaks a multitude of languages if you need any travel tips or have any questions about the area.
Another big attraction of the tourist center is the "rent a hanbok" service.
For a small fee, you can don the traditional Korean hanbok and pose for pictures in front of the building's temple-like exterior.
Hanbok are usually too expensive for tourists to outright buy, so this is a nice compromise that will give you a taste of Korean culture while also getting you in the spirit for your vacation.
Address: 19 Insadong 11-gil, Jongno 1(il).2(i).3(sam).4(sa), Jongno-gu, Seoul, South Korea
2. Ssamzie-gil
It's hard to miss Ssamzie-gil. It's basically a gigantic shopping center, but thanks to its four-story, open-air design, it feels more like an outdoor market than a mall.
You can explore hundreds of shops, stalls, cafes, workshops and art galleries, and you can buy everything from fringed fashion accessories to hand-carved wooden statues.
Gardens flourish between floors, and the walkways and railings are often decorated with beads, chimes, flowers and lanterns.
Ssamzie-gil is so unique that it could be a piece of art all by itself, but the real treasures are found inside of its businesses.
Whether you're hoping to buy souvenirs, take a pottery class or just try some of Korea's famous fried chicken, Ssamzie-gil is the place to be.
Address: 44, Insadong-gil, Jongno-gu, Seoul, South Korea
3. Tapgol Park
Tapgol Park is a small but significant park located in the greater area of Insa-dong (literally "Insa neighborhood").
Its centerpiece is a gigantic pagoda that dates back to the 15th century, and it's also filled with traditional pavilions and life-sized stone carvings that depict Korea's struggle for independence.
It's still something of a political location today; many protests are held in Tapgol Park because of its history and cultural meaning.
Even if you're not there for the politics, however, it's a beautiful place to just sit and breathe while you enjoy the view.
Seoul isn't always known for its greenery, but when you're enjoying a picnic lunch under the shade of an oak tree, you'll realize that there are still bits of nature to be found in a modern metropolis.
Tapgol Park can be considered an oasis from the rest of the city.
Address: 99 Jong-ro, Jongno 2(i)-ga, Jongno-gu, Seoul, South Korea
4. Talbang Shop
Cover your true face at the Talbang Shop. It's one of the best places in Insadong to buy hahoetal, or traditional Korean masks, and the shopkeeper carves and paints each one by hand.
They hang on the walls in a stunning tableau: Blushing brides are next to white-skinned ghouls, and wrinkled old hags cackle at baby-faced children.
The masks aren't cheap, so be prepared to drop a few bills if you want to take one home as a souvenir, but the sheer artistry that goes into each creation is worth the expense.
Genuine hahoetal masks are something of a dying art form in Korea, but this one shopkeeper has been keeping the magic alive since he first opened his doors in 1982.
Address: 03146 48 Insadong-gil, Jongno-gu, Seoul, South Korea
5. Gyeongbokgung Palace
It isn't a trip to Korea without a visit to a palace, and Gyeongbokgung Palace is the biggest and grandest of the five royal complexes still remaining from the Joseon era.
Not only can you walk its halls and pray at its outdoor temples, but you can also enjoy on-site attractions like the National Palace Museum of Korea.
Despite the singular form of its name, the palace isn't just one building; it's a gigantic complex that includes throne halls, banquet halls, bridges, pavilions, courtyards and more gated entrances that you can count.
It's so big that it would take you hours to explore it all, so you might want to prioritize when you visit!
If you've ever wanted to step into the slippers of a king, however, consider a visit to Gyeongbokgung Palace.
Address: 161 Sajik-ro, Sejongno, Jongno-gu, Seoul, South Korea
6. Shin Old Tea House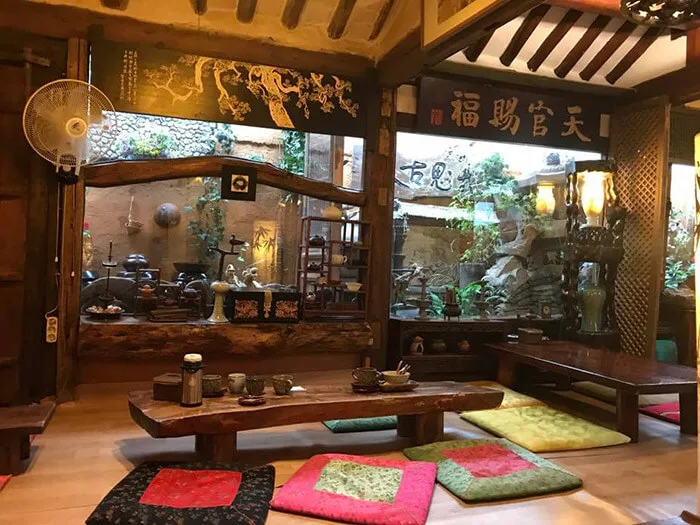 If you're looking for historical things to do in Insadong, consider the Shin Old Tea House.
It will take you back in time with its wooden shutters, painted lamps and colorful tapestries, and you can sip from dozens of varieties of cha as you recline on floor pillows and enjoy the ambiance of a traditional Korean tea house.
There's a small but serviceable menu of Korean snacks, so you won't go hungry as you munch on sticky rice cakes and riceballs.
You can also chat up the friendly locals if you want to practice your "annyeonghaseyo" on a Seoul native.
Whether you're a fan of culture, conversation or just good old-fashioned cups of tea, there's a little something for everyone at the Shin Old Tea House.
Address: 166 Jongno 1(il).2(i).3(sam).4(sa), Jongno-gu, Seoul, South Korea
7. Napcheong Bronzeware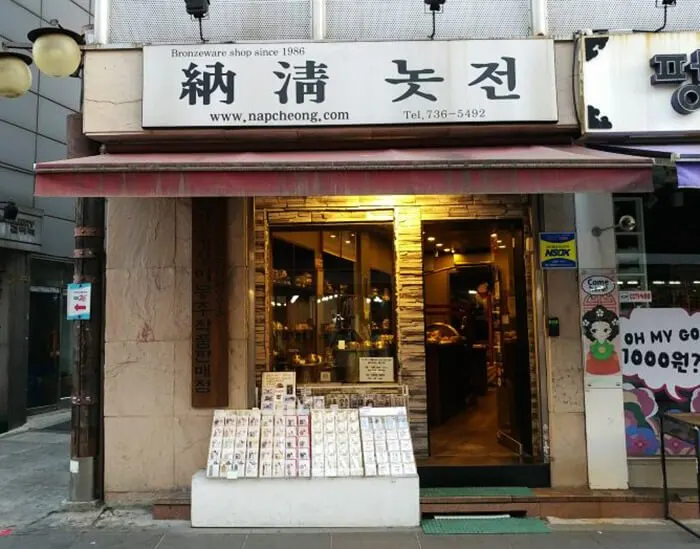 There's a special kind of brassware in Korea called bangjja. It's forged with a hammer and a particular ratio of tin to copper, and only masters of the craft are qualified to make it.
Like many things in Korea, it's steeped in tradition; newlyweds are often given bangjja sets of plates, bowls and chopsticks, and bangjja candlesticks and incense burners are used in memorial rites during funerals.
It has fun applications as well; you can find all sorts of musical instruments and household decorations forged from it.
Napcheong Bronzeware isn't the only shop in Insadong that sells bangjja goods, but it's one of the most popular, and you can trust that its products are both genuine and well-made.
It's definitely worth a look if you're trying to find cultural things to do in Insadong.
Address: 192-13 Gwanhun-dong, Jongno-gu, Seoul, South Korea
8. Kyung-in Museum Of Fine Art
The Kyung-in Museum of Fine Art looks like something out of a movie.
The building is styled with curved roofs, wooden gates and stone steps lined with bamboo, and an open courtyard scatters flower petals across the pavement in the spring.
Once you step inside, however, it's a completely different story: The museum is sleek and modern, and it houses everything from art exhibits to gift shops.
Be prepared to lose time when you're wandering through its galleries. There's a lot to see, and it's a pleasing mix of beautiful and informative.
You'll learn quite a bit about Insadong when you visit the Kyung-in Museum of Fine Art.
Address: 57-1 Gwanhun-dong, Jongno-gu, Seoul, South Korea
9. Miss Lee's Cafe
Covered in handwritten notes that hang from every inch of the walls and ceiling, Miss Lee's Cafe is a homey, kitschy nod to '70s and '80s Korea.
Its main menu item is doshirak, a lunchbox of sausage, kimchi and fried egg served over rice, and this is a nod to what students in Seoul used to pack in their own lunchboxes before they went off to school.
Visitors are encouraged to shake their containers before eating just like a real '70s student.
You'll also find vintage toys and knickknacks scattered over the countertops of the cafe, and old-timey posters can be vaguely spotted under all of the notes left from previous customers.
If you want to leave your own note, you're more than welcome.
Miss Lee's Cafe has been featured in several Korean TV shows, so it's a rite of passage to add your own message to the mix.
Address: 144 Gwanhun-dong, Jongno-gu, Seoul, South Korea
10. Alive Museum
One of the quirkiest places to go in Insadong is the Alive Museum. True to its name, it brings artwork "alive" through a series of optical illusions, parallax effects and interactive displays.
You can take a picture of yourself fighting a shark or being flung into outer space; you can swoon in the arms of Superman or get crunched between the teeth of Marilyn Monroe.
The artwork is so eye-boggling and reality-bending that it's often called "4D" by dazed visitors.
If you're looking for a fun, unique stop during your trip to Seoul, consider the Alive Museum at 12 Insadong Street.
Address: 12 Insadong-gil, Insa-dong, Jongno-gu, Seoul, South Korea
11. Knife Gallery
The Knife Gallery is the only one of its kind in Seoul, and it's located right near the front entrance of Insadong.
It showcases more than 6,000 knives from all around the world, including a few that you might have seen before in movies.
The best feature of the Knife Gallery, however, is the sheer variety of its collection.
From the throwing knives of Japan to the cooking knives of India, you'll be able to examine every kind of blade, handle and sheath.
Some knives are old or rare enough that they're protected by glass displays, but others can be handled with care as you marvel at their shape or sharpness.
If you want to take one home, you can even custom-order a knife and watch its manufacturing process as a special exhibit!
Address: 192-11 Gwanhun-dong, Jongno-gu, Seoul, South Korea
12. Gana Art Center
If you're willing to wander off the main stretch of Insadong Street, you'll find the Gana Art Center standing proudly in a sea of high-rises and gleaming office buildings.
It's a contemporary art gallery with plush carpets and red ropes, and it houses some of the finest art that Insadong has to offer.
A lot of the works aren't even from the neighborhood; the Gana Art Center imports paintings and sculptures from all around the world, which is one of the reasons why it's considered such a prestigious establishment.
Despite its world-class nature, however, it still welcomes any visitor to Seoul who is interested in art, so don't feel shy about opening the glass door and stepping inside.
Address: 97 Pyeongchang-dong, Jongno-gu, Seoul, South Korea
13. Gaeseong Mandu Koong
Did you know that North and South Korea used to be one nation before they separated during the Korean War?
Today, of course, North Korea is run by a dictator, and many of its citizens flee its oppression by becoming refugees in South Korea.
Gaeseong Mandu Koong is a restaurant that's run by one of these refugees.
She's a sweet elderly lady who defected when she was young, and she makes soups, chowders and dumplings with the help of her granddaughters.
Supporting her business will fill your belly and help a good cause, so stop by Gung when you're craving the Insadong equivalent of soul food.
Just make sure that you grab a seat early in the day; Gung is so popular that it can literally run out of food by the afternoon. It's a "first come, first serve" kind of place.
Address: 11-3, Insadong 10-gil, Jongno-gu, Seoul, South Korea
14. Beautiful Tea Museum
If you like tea, you won't want to miss the Beautiful Tea Museum at 19-11 Insa-dong.
It's found in a gorgeous hanok, a type of traditional Korean house made with a curved roof, and it showcases all kinds of tea-related artwork and artifacts.
There are ceramic cups with delicately-painted details; there are traditional tea sets displayed and catalogued with spoons, saucers and pots.
When you're done with the sights of the museum, step into the covered courtyard and enjoy a cafe that serves more than 150 types of tea from around the world.
The Beautiful Tea Museum is an absolute mecca for tea lovers.
Address: 19-11 Insadong-gil, Insa-dong, Jongno-gu, Seoul, South Korea
15. Huwon Secret Garden
Located in the rear of Changdeokgung Palace, Huwon Secret Garden boasts almost 80 acres of hills, ponds, fields, meadows and groves.
Weeping trees dip over shaded gazebos, and lily pads drift down bubbling brooks.
The tranquility of the garden setting is no coincidence; it was considered a place of rest for the royal family, and it still serves the same function for tired tourists today.
In fact, it's so peaceful and beautiful that it was officially recognized as a World Cultural Heritage Site by UNESCO.
If you find yourself yearning for an escape from the shiny buildings and honking traffic of Seoul, kick up your feet at the Huwon Secret Garden.
Address: Myeongnyun 3(sam)ga, Jongno-gu, Seoul, South Korea
16. Kukje Embroidery
From the outside, Kukje Embroidery looks like one of those cozy, hole-in-the-wall shops that makes Insadong Street so famous.
Once you cross the threshold, however, you'll realize why Kukje Embroidery operates three shops and an embroidery training academy in Seoul.
This is a company that knows its craft, and it sells everything from silk scarves to beaded good luck charms lined with embroidered details.
It's an absolute haven for souvenir shopping, especially if you like one-of-a-kind gifts.
You'll have your pick of pillows, fans, rugs, handbags, jewelry boxes, makeup mirrors and anything else that can be decorated with embroidery.
Address: 197-28 Gwanhun-dongJongno-gu, Seoul, South Korea
17. Jogyesa Temple
Jogyesa Temple is a little piece of history tucked away between the glittering chrome of modern Seoul.
While it's not the biggest or grandest religious site in Korea, it's considered the chief temple of a certain order of Korean Buddhism, so it's an important national landmark.
It's even home to an ancient white pine tree that's considered a natural monument!
If you visit in May, which is Buddha's birthday, you can also partake in festivities like the Lotus Lantern Parade.
More than 100,000 people wind through the streets of Seoul with floats, masks, lanterns and paper animals.
It's one of those amazing cultural experiences that you can only get in the Insa-dong area.
Address: 55 Ujeongguk-ro, Gyeonji-dong, Jongno-gu, Seoul, South Korea
18. Ddong Café (Poop Cafe)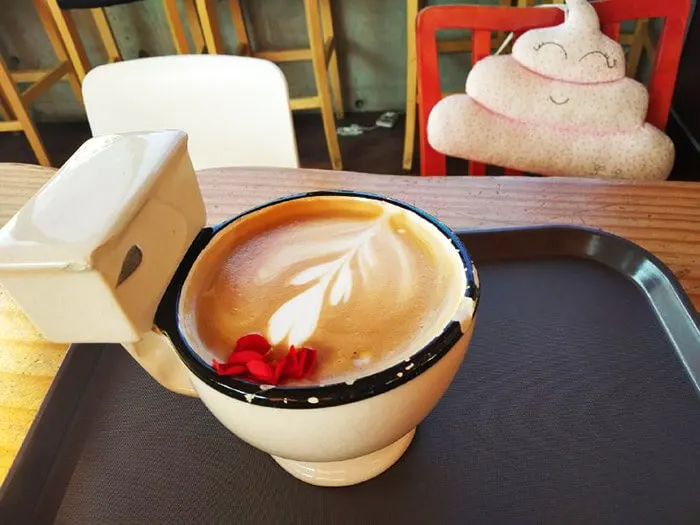 In terms of novelty attractions, it doesn't get much more novel than the Poop Cafe.
It's a bright, clean and well-lit establishment; it just so happens that the theme of the place is poop.
Coffee is served in mugs shaped like toilets, and seat cushions are long, puffy snakes that can be coiled into piles of dung.
Cheerful anthropomorphic poop drawings cover the walls.
Have you ever wanted to enjoy a cup of hot chocolate under a piece of poop wearing sneakers and giving you a thumbs-up sign?
With the Poop Cafe, these unfulfilled dreams can become a reality.
Address: 44, Insadong-gil, Jongno-gu | 4th floor of Ssamzigil mall, Seoul 03146, South Korea
19. Bukchon Hanok Village
Bukchon Hanok Village is a carefully-preserved village that will drop you right back to the days of big hats and horses.
It's dominated by hanok, traditional Korean houses, and there are dozens of criss-crossed alleyways with quaint little shops and cafes tucked between them.
It's basically a piece of Seoul that was frozen in time before it could modernize.
The only downside of Bukchon Hanok Village is that it's become something of a hot spot for tourists, so it can get crowded during busy months.
If you want to enjoy a quiet walk among the red bricks and wooden gates, visit Insadong during the off-season.
Address: 37, Gyedong-gil, Jongno-gu, Seoul, South Korea
20. Sulbing
Sulbing is a dessert cafe chain that specializes in bingsu, a kind of frozen treat made with shaved ice or milk flakes.
You can add all sorts of toppings to a scoop, including nuts, fruits, syrups, cookies and red bean pastes.
Sulbing became famous for unique combinations like "mango cheese" and "green tea," but it also serves less daring varieties if you'd prefer the regular, tasty kind of bingsu.
Just make sure to plan ahead. The citizens of Insadong were thrilled to get their own Sulbing location, and it quickly became a hot spot for couples, families and tourists.
Address: 39, Insa-dong, Jongno-gu, Seoul 110-290, South Korea
21. Insadong-gil
Say goodbye to Seoul with a walk down Insadong-gil or Insadong Street.
It's the central path through the neighborhood, and it will let you wander among the shops, parks, cafes and art galleries to give you one final look at the old-fashioned heart of Seoul.
You can complete your shopping for painted masks and calligraphy sets; you can eat your last cinnamon-topped, nut-stuffed pancake from a street vendor.
If you time things right, you might even see one final performance of costumed Korean dancing with traditional drums and flutes.
There's no place in the world like Insadong, so walk down its main road and soak it all in while you have the chance.
Start Planning Your Trip To Insadong
If you're wondering how to plan a trip to Seoul, start with a visit to Insadong.
It's bursting at the seams with art, history and culture, and it has everything from sprawling street markets to luxurious air-conditioned museums.
You won't regret getting a taste of Insadong when you come to Korea!