Preparing for a trip to Seoul, South Korea? One of the places you must visit on your trip is Myeongdong.
Korea's Myeongdong has been a tourist hotspot since the '70s. Today, Myeongdong is one of the best places to shop and eat in all of Seoul and Korea.
Wondering what to do in Myeongdong, Seoul?
This one-stop destination is complete with Myeongdong shopping street vendors selling makeup, bags, fast fashion, and some of the tastiest Myeongdong street food and sit down restaurants in the world.
As you plan your Seoul itinerary for your visit to Myeongdong, be sure to use the following eight travel tips for all visitors to Myeongdong.
Things To Do In Myeongdong:
1. Eat Street Food Around Myeongdong
Don't come to Myeongdong on a full stomach. With Korea's greatest street food eats anywhere you look in Myeongdong, you'll need to save room to try a bite of just about everything.
While most of the street food is incredible in Myeongdong, most visitors' and locals' favorites are the Kalguksu with its rich broth, chewy noodles, and savory meat.
Pair this Kalguksu with garlicky kimchi, and you'll be in street food heaven in Myeongdong.
While the street food in Myeongdong is just so good you can stop in and try whatever you see, there are a few spots that you absolutely have to try on your visit to Myeongdong.
The following are the 3 of the best restaurants you have to visit when in Myeongdong:
Loco Quan 401
This popular eatery in Myeongdong can be found at the very heart of Myeongdong. Opened in 2015, this restaurant features a wide variety of meats, soups, and noodles.
Loco Quan 401 features all of your favorites like traditional Korean BBQ, kimchi noodles, pork belly, and the like.
Address: 41 Myeongdong 10-gil, Chungmuro 2(i)-ga, Jung-gu, Seoul, South Korea
Korea Dessert Cafe Sulbing
This dessert cafe in Myeongdong is a tasty stop all visitors that love Korean sweets should visit.
Famous for their Sulbing Dessert of "snow ice", the Korean Dessert Cafe Sulbing features the sweetest and creamiest delicacies in Myeongdong.
Their most popular Sulbing is the Premium Strawberry Snowflake dessert that comes with fresh strawberries, small chocolate bars, and a dozen milk base.
If you love rich desserts, this cafe is a must when visiting Myeongdong for street food.
Address: 22 Myeongdong 4-gil, Myeongdong 2(i)-ga, Jung-gu, Seoul, South Korea
Noo Na Hol Dak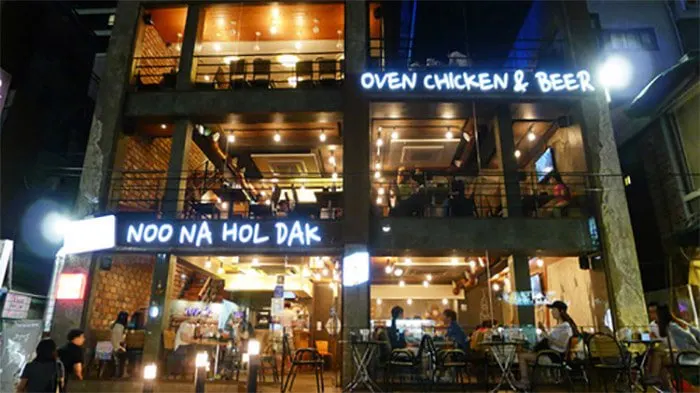 Stop by Noo Na Hol Dak for some incredible Korean fried chicken in Myeongdong.
One of the most popular spots with Seoul locals, Noo Na Hol Dak's crispy baked chicken is a mouth-watering meal that's not to be missed.
Pair this delicious Myeongdong take on street food with beer for a complete meal that you'll have to write home about.
Address: 8 Namdaemun-ro, Myeongdong 1(il)-ga, Jung-gu, Seoul, South Korea
2. Shop Seoul Fast Fashion Favorites In Myeongdong
Fast fashion stores line the Myeongdong fashion street are a go-to if you're hoping to take advantage of all of Myeong-dong, Korea's most popular clothing trends.
Each Myeongdong store features a variety of trendy pieces, standard selections, and basics in case you need to fill up on anything you may have forgotten at home on your trip.
The following Myeongdong shopping malls are some of the most popular fast fashion outlets:
Shinsegae Department Store
Centrally located in Myeongdong, Seoul, the Shinsegae Department store leans more towards luxury fashion rather than inexpensive shops.
After a 2007 remodel, the Shinsegae Department Store features a wide variety of luxury brands, an art gallery, and Trinity Garden for all visitors to Seoul that want a cultural experience alongside their shopping in Myeong-dong.
Address: 52-5 Myeong-dong, Jung-gu, Seoul, South Korea
Noon Square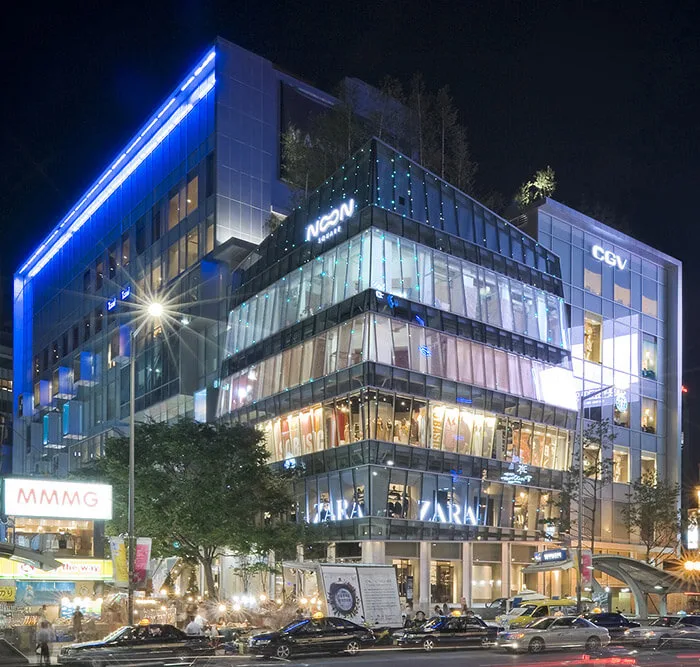 The large shopping complex that is Noon Square is also at the center of the city.
This culture and fashion powerhouse is the perfect outing for visitors wondering what to do in Meongdong.
Visitors have their pick of the most iconic brands, fabulous restaurants, and many options for things to do in Myeong-Dong.
Some of the big name brands you'll find here are Steve Madden, Mango, Zara, and H&M.
Address: 14 Myeongdong-gil, Myeongdong 2(i)-ga, Jung-gu, Seoul, South Korea
The Lotte Department Store
The Lotte Department Store is at the heart of the Myeongdong shopping district.
One of the largest department stores in Korea, this high-end shopping center is a favorite amongst tourists and locals.
With over 1.5 million daily visitors, if you're ready to get in on some shopping, be sure to arrive to Lotte early in the day to beat the crowd around Seoul.
Address: 9-12th Fl. LOTTE Duty Free Store, 1, Sogong-dong, Jung-gu, Seoul, South Korea
3. Buy Korean Skincare And Makeup
Korean skincare is praised over the world as one of the most effective methods for turning back the clock on aging. Find these products when visiting Myeongdong shopping street.
With so many choices in terms of stores and the actual skincare and makeup products, shopping for these items is one of the best things to do in Myeongdong.
Visit the following Myeongdong shopping street stores when shopping for skincare and makeup products in Seoul:
A-Land
At A-Land, you'll be able to find all the new and popular brands all in one place on Myeongdong shopping street.
Known for carrying a wide variety of COSRX products, you can find everything you need at A-Land.
The other brands that A-Land carries are Whamisa, Heimish, Olivarrier, Son&Park, By Wishtrend, I'm From, Benton, Klairs, Pap Recipe, and more.
In addition to these Myeongdong skincare products, A-Land sells unique clothes, socks, bags, and accessories.
Carrying affordable and good quality products, A-Land has everything you need during your trip to Myeongdong.
Address: 30 Myeongdong 6-gil, Myeongdong 2(i)-ga, Jung-gu, Seoul, South Korea
Stylenanda 3CE Pink Hotel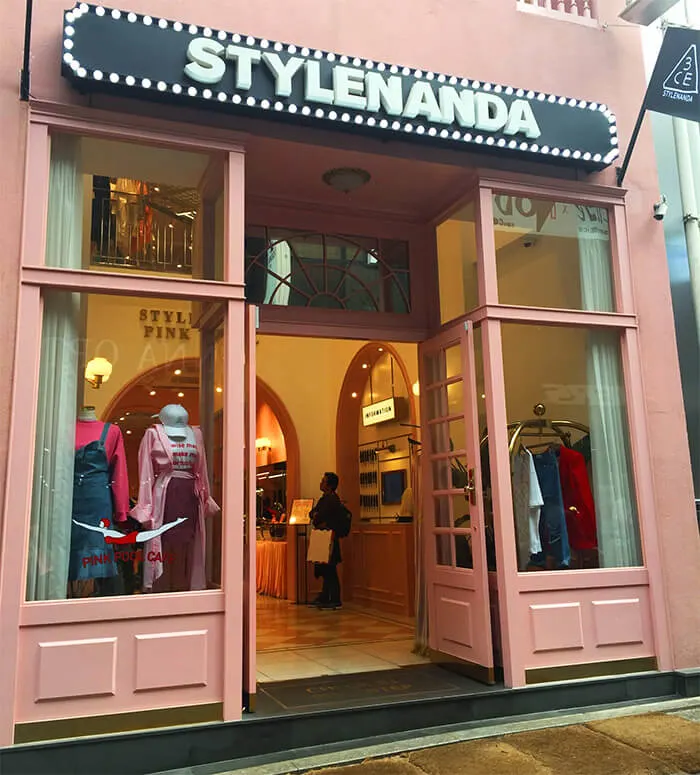 Looking for things to do in Seoul? Visit 3CE.
Known for its bright lights, pink decor, and overall party atmosphere, the Pink Hotel's 3CE store offers legitimate makeup products on Myeongdong shopping street in addition to trendy clothings.
While many Myeongdong tourists flock to this store for Instagram-worthy photos, their quality of skincare products is unmatched.
Koreans in Myeongdong love the makeup products at 3CE and agree that they are all highly pigmented and authentic Korean brands found in Myeongdong shopping street.
Address: 37-8 Myeongdong 8-gil, Chungmuro 2(i)-ga, Jung-gu, Seoul, South Korea
Aritaum
Aritaum is the beauty store in Myeongdong that carries the largest inventory of Amore Pacific brands like Makonde, Hanyul, IOPE, and Laneige.
One of the best reasons to visit Aritaum at Myeongdong shopping street is to find the "Idol Lash"— one of the more comfortable lashes available today.
If you're in the market for natural, and affordable lashes, it's a good idea for you to visit Aritaum when looking for things to do in Myeongdong.
Address: 43-1 Myeongdong 8-gil, Myeong-dong, Jung-gu, Seoul, South Korea
4. Visit SMTOWN Pop Up Market
Korean pop music or K-pop is famous all over the world and especially so in Myeongdong.
Home to some of the most talented singers and dancers, Korea has many stores and galleries all over dedicated to these pop stars and the SMTOWN pop up shop is just that.
SM Entertainment in Myeongdong created the SMTOWN pop up shop for fans of these Korean artists.
While this stop is designed to cater to serious fans of these musicians, tourists just passing through Myeongdong will love this shop as well.
With over 65 different types of merchandise available on these popular artists, fans and tourists alike can peruse the store to their heart's content when planning things to do in Myeongdong.
If you're a fan of K-pop, look out for artists like EXO, Super Junior, SNSD (Girl's Generation), TVXQ, Henry, and more.
These famous artists are represented all over the pop-up shop with everything from cups, cup holders, photos, posters, accretions, clothing, and almost anything else you can imagine.
Address: 123, Sogong-dong, Jung-gu, Seoul, South Korea
5. Visit Popular Tea Houses
Just as you can spend several days eating around Korea, you can do the same when it comes to tea.
If you're a fan of good tea, consider taking a tea tasting tour through some of Korea's best tea houses.
One of Seoul's best teahouses is Dalsaeneun Dalman Saenggakhanda (The Moonbird Only Thinks Of The Moon).
Taking visitors back to the simple tea houses of old, this tea room is decorated with oil lamps, household tools of days gone by, older photographs, and features traditional music and soft lighting.
With all the traditional teas that this market offers, visiting The Moonbird Only Thinks Of The Moon will give you the authentic tea experience you're looking for.
Address: 14-3, Insadong 12-gil, Jongno-gu, Seoul, South Korea
6. Visit NANTA Theatre In Myeongdong
NANTA Theatre is legendary when it comes to things to do in Myeongdong.
Worried you'll need to understand or speak Korean to enjoy yourself? This comedy performance is a non-verbal award-winning, all around good time.
The NANTA Theatre's comedy centers around their fictional Korean cooking show that is performed to the beat of a Korean percussion ensemble.
The actors in the NANTA performances uses kitchen tools like cutting boards and knives to bring their cooking show to life.
Mixed in with the percussive elements of the ensemble and the pounding of the kitchen tools, the NANTA Theatre's performance is one that the whole family can enjoy on their trip.
Though tickets can be a bit pricey, this show's rave reviews speak for itself.
The antics and humor in the NANTA show are loved by all—from young children to older members of the family.
The storyline behind the whole kitchen show centers on a mean restaurant owner that hires his nephew and tells his staff to start teaching him how to cook.
As the nephew takes on his culinary training, the staff need to prepare for an impeding wedding banquet at 6pm.
As the clock ticks away, the wedding guests grow impatient waiting for the food.
The staff start chaotically cooking and chopping, with some even falling in love with one another.
This high energy show is not short on laughs and is interactive and engaging no matter what language you speak.
Address: 26, Myeongdong-gil, Jung-gu, Seoul, South Korea
7. Myeongdong Cathedral
Devout Christians and fans of architecture alike will enjoy a visit to the Myeongdong Cathedral.
This church is Korea's first Catholic Church and remains an important symbol throughout the country.
This Myeongdong Cathedral is officially known as Cathedral Church of the Virgin Mary of the Immaculate Conception.
This beautiful cathedral was built in the Gothic style and is constructed entirely of brick.
At 75 feet tall and with a bell tower that's 147 feet tall, this cathedral is as impressive in its architecture as it is as in its historic beginnings.
The church got its start in 1784 when churchgoers first congregated in the location that would be known as Myeongnaebang.
Around 1894, Chinese builders started constructing the permanent church using grey and red bricks.
The very first stone in this church was laid by King Gojon—the final Joseph Dynasty king and Korea's first emperor.
Upon the completion of the construction in 1898, the church chose Our Lady of the Immaculate Conception for their patron saint.
After World War II, the church became known as Chong-Hyen, then was named Myeongdong Cathedral.
Address: 74 Myeongdong-gil, Jeodong 1(il)-ga, Jung-gu, Seoul, South Korea
8. Visit Museums
From the Bank of Korea Museum to the 3D Black Art Museum, Myeongdong is not short of cultural experiences.
On your trip to Seoul, be sure to visit some of the following museums as you look for things to do in Myeongdong:
Bank Of Korea Money Museum
This museum is dedicated to Korean and world currencies that date back to the ancient times.
Designed by Tatsuno Kingo, the museum itself is made of steel and concrete, using granite for its outer walls.
After the Japanese occupation, the Bank of Korea operated from this building from 1950 to 2000. Opening again in 2001, the museum celebrated its 50th anniversary.
Take a few hours on your visit to view all the various currencies from around the world and learn a bit about Korean history in the process.
Address: 39 Namdaemunno 5(o)-ga, Jung-gu, Seoul, South Korea
3D Black Art Museum
This 3D museum features interactive paintings that visitors can become apart of.
The exhibition features everything from a boxing kangaroo to a Frozen-themed reindeer-drawn carriage.
If you need a break from walking up and down the streets of Myeongdong, this museum gives you the perfect opportunity to do that.
Address: 27 Myeongdong 8ga-gil, Chungmuro 2(i)-ga, Jung-gu, Seoul, South Korea
Korea Postage Stamp Museum
Stamp fans can visit this iconic museum to learn more about stamps and their history in Korea.
As the stamp collection at this museum is quite extensive, it is recommended that only real fans of stamp collecting pay this spot a visit.
Address: 70, Sogong-ro, Jung-gu, Seoul, South Korea
Start Planning Your Trip To Myeongdong
As you can see from this extensive guide, there are a wide variety of restaurants, museums, stores, and pop-up shops to visit in Myeongdong.
Prepare for your upcoming trip by plotting out your itinerary. Include one or two of these stops on your trip as you plan out what to do in Myeongdong.