Busan is the second largest city in South Korea with plenty of opportunities for sightseeing.
If you are a traveler who has been searching for a new place to experience, a trip to Busan in South Korea is strongly recommended.
Busan has dozens of attractions and activities available.
Even with a typical one week stay full of adventures, it is unlikely that you will see half of what Busan has to offer.
From the mountains to the coastlines and everything within the city itself, Busan is definitely a city that requires multiple trips just to be able to experience it all.
The city of Busan is composed of so many different areas that there's no way you will be bored for even a minute during your visit.
You barely have to go half a mile before finding yourself in a completely new neighborhood.
You can relax on the beach, go for a walk in the park or check out some South Korea food vendors.
Whether you are interested in history, being out in nature or sightseeing, there are plenty of things to do in Busan.
If you are wondering about what to do in Busan, here are the top suggestions (along with travel tips and travel hacks).
1. Enjoy The Scenic Hikes Of Taejongdae Park
Taejongdae Park is along the coastline of Yeongdo, Busan and consists of rocky beaches.
There are dozens of trails to hike that give you the chance to see woodlands along with Buddhist temples.
These trails will take you up to the clifftops for scenic and breathtaking views.
There is a known legend that aside from the people who are local to the area, gods and goddesses also like to take in the views and surrounding scenery.
They like to sit on Sinseon Rock near the lighthouse while being mesmerized by the sea.
Even for those who are not big fans of hiking, these views must be incredible if gods and goddesses approve of them.
If you enjoy the clifftop views (who wouldn't?), you can head up to the lighthouse for more incredible views.
If you were not already taking photos while on the clifftops, this is the place to do it. Aside from picture-worthy views, lighthouses can be fun to check out.
Hiking these trails is a good way to get a bit of exercise.
For those who do not have the time or ability to go hiking, there is a Danubi train that will take you to see all of the main attractions.
Address: 24 Jeonmang-ro, Dongsam-dong, Yeongdo-gu, Busan, South Korea
2. Gamcheon Culture Village
Visiting the Gamcheon Culture Village is among the top things to do in Busan.
If you are interested in unique things to do in Busan, Gamcheon Culture Village should definitely be in your plans.
This village is located in the hills high above Busan and has pastel painted shops and stores.
Every surface of the village has been decorated with interesting street art and murals.
Stop by a restaurant or cafe for a bite to eat and witness whatever theme has been set for that particular place.
Several restaurants have their own unique theme which gives you a reason to come back and check out different places.
Gamecheon is seen as a mural village of South Korea. This means that it was once in a run down condition.
The locals decided that they were getting tired of the neighborhood looking so run down and worked to turn the village into the rainbow tourist attraction it is today.
They offer a map of the village that will take visitors on a scavenger hunt.
This scavenger hunt involves collecting postcards and stamps to see various notable artwork on display.
Address: 203, Gamnae 2-ro, Saha-gu, Busan, South Korea
3. Haeundae Beach
This beach in Busan is one of the most popular in South Korea due to the few miles of its sandy coastline.
Haeundae Beach is a popular beach that both tourists and locals like to visit. Relax and get a tan or enjoy an outing with family and friends.
Once you are tired of lounging and soaking in the sun, you can head up the boardwalk. Seek some shade while drinking a cup of coffee or eating lunch.
There is a market near Haeundae station which sells reasonably priced Korean food.
The Busan Aquarium is also nearby for the enjoyment of marine life.
If you are a night owl, Haeundae is a popular destination for partying, drinking and karaoke.
Address: 264, Haeundaehaebyeon-ro, Haeundae-gu, Busan, South Korea
4. Sunset At Gwangalli Beach
Gwangalli Beach is seen as a quieter and more peaceful alternative to Haeundae Beach.
It has views of Gwangandaegyo bridge that people who are local to Busan cannot help but adore.
Sunset is considered the best time to visit Gwangalli Beach. Relax after a day filled with fun by staring at a sky of red and orange. There is not a better way to end a day in Busan.
If you stay after dark, the bridge will be lit up with red, orange, yellow, green, blue and purple twinkling lights.
You don't have to be obsessed with rainbows to be mesmerized by such a breathtaking view.
Aside from the sunset and bridge, an evening trip to the beach may include musicians and performers.
Staring at the beauty of the bridge while enjoying street performers is a perfectly valid reason to not go to bed.
Address: 219, Gwanganhaebyeon-ro, Suyeong-gu, Busan, South Korea
5. HurShimChung Spa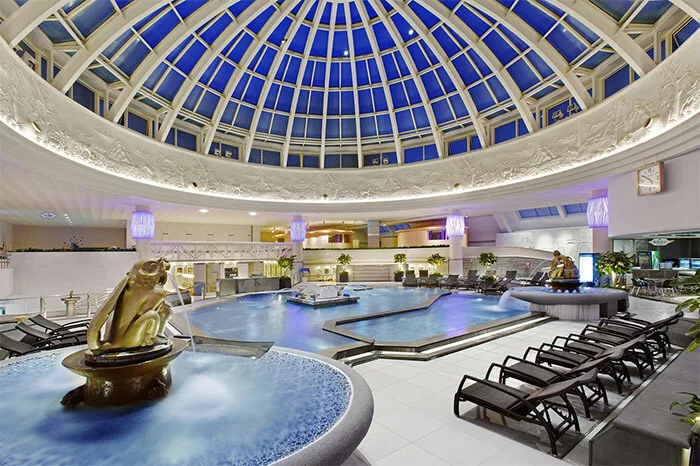 South Korea is well known for having excellent spas and beauty centers. Visiting a spa on a trip to South Korea is a must and Hur Shim Chung Spa is located in Busan.
Hur Shim Chung Spa is among the oldest in South Korea and is hence one of everyone's favorites. They provide visitors with an authentic spa experience.
It is best to start off with their Korean body scrubs that are known to be rejuvenating.
There are pools and saunas provided with herbs and fragrances that provide various ailments.
Just like Gwangalli Beach's sunset, a spa like Hur Shim Chung Spa is a perfect way to relax after seeing the sights of Busan.
Address: 23 Geumganggongwon-ro 20beon-gil, Oncheon 1(il)-dong, Dongnae-gu, Busan, South Korea
6. Jagalchi Fish Market
Busan is a port town, so it has the largest fish market in South Korea. If you decide to visit the Jagalchi Fish Market, you would be well advised to wear shoes.
You should basically put on whatever footwear that completely covers your feet.
The fish at Jagalchi Fish Market are fresh and are brought in immediately after being caught. They are then sliced, chopped and prepared to be served and eaten.
If you are planning to try octopus, there is a chance it will still be alive when you eat it. Do not be surprised or hesitant because that is not unusual in Busan or South Korea.
Fresh fish can be bought in a stall and taken to a tented restaurant to be prepared. Hang out under a tent with a local while enjoying your seafood with a beverage called soju (alcohol).
If you want to be able to see the various seafood being brought in and prepared, you should set an alarm to be sure you are up early.
Address: 52 Jagalchihaean-ro, Nampo-dong, Jung-gu, Busan, South Korea
7. Haedong Yonggungsa Temple
Go north to the outskirts of Busan to visit the Haedong Yonggungsa Temple. This Buddhist temple is located on top of a cliff.
Most temples in South Korea are located up in the mountains. Haedong Yonggungsa Temple is one of the few temples located near the sea.
The temple site has been around since the thirteen hundreds. A Buddhist teacher built the site because he was told to while having a vision.
The Haedong Yonggungsa Temple has had to be rebuilt after being destroyed multiple times throughout the previous centuries.
Despite this, it is currently seen as a beautiful temple because of its structure and its setting.
This temple is said to have numerous reports of strange and unusual incidents occurring throughout the years.
Also, by praying to the Buddha statue outside of the pagoda, you will be free of diseases.
To top it all off, there is a market that sells unusual treats of South Korea if you are brave enough to try them.
Address: 86 Yonggung-gil, Gijang-eup, Gijang, Busan, South Korea
8. Go Haggle At Gukje Market
At this point in the list, it is obvious that Busan, and South Korea in general, have a good amount of different markets.
These markets sell a variety of items from food to accessories. When you go visit Busan, odds are you will end up visiting a few markets.
Your trip to Busan should include at least one visit to Gukje Market.
They basically have everything. So if you happen to need or want a particular item, you are bound to find it.
This market has been around since the Korean war when refugees were in Busan.
If you get a chance to check out Gukje Market, it is recommended that you also go see Kkangtong and Bupyeong Markets nearby.
Address: 25 Gukjesijang 2-gil, Gwangbok-dong, Jung-gu, Busan, South Korea
9. Try Some Busan Cuisine
Trying the food that is local to the area is a part of experiencing a foreign country.
Busan cuisine is not something that is likely to appear on the shelves of Wal-Mart when you go back home.
Who knows if and when you will be returning to South Korea or Busan specifically, so why pass it up?
Trying new food might be one of the things to do in Seoul, but do not be afraid to go off the beaten path.
Dwaeji Gukbap is the most famous of Busan and is a definite dish to try.
It is a stew that is made with a broth from boiled pork bones. It has pork and vegetables in it along with some seasoning.
Twin Pork Soup Restaurant and Wonjo Halmae Gukbap both in the center of Busan are considered the best places to visit for this stew.
While visiting food markets, try to find some Ssiat Hotteok which is the Busan version of pancakes.
With that being said, why would you not try them? And with them being so available, they should not be hard to find.
Address (Twin Pork soup): 887-1 Daeyeon 1(il)-dong, Nam-gu, Busan, South Korea
Address (Wonjo Halmae Gukbap): 27 Gunam-ro 21beon-gil, U 1(il)-dong, Haeundae, Busan, South Korea
10. Stay At The Temple Of Beomeosa
Any temple in Busan is worth a visit, especially the Temple of Beomeosa.
Just as most temples in South Korea are, the Temple of Beomeosa is up in the mountains surrounded by serene and peaceful seclusion.
The history of the temple goes back over a thousand years and the temple has the most important site in South Korea.
The Beomeosa Temple has a Korean Temple Stay program to participate in for those who are interested.
By participating in this program, you will spend a few days living in the temple along with all of its accommodations.
You can either meditate while enjoying the South Korea mountain scenery or shadow monks to learn about their daily lives.
Address: 250 Beomeosa-ro, Cheongnyongnopo-dong, Geumjeong-gu, Busan, South Korea
11. Shinsegae Centum City Department Store
Busan has the biggest shopping center in the world. Shinsegae Centum City actually has the title of the largest shopping center in the world to make it official.
Shinsegae is well known throughout South Korea. It is like a department store, only much larger and spread out across fourteen floors.
There are no taxes while shopping for some people and anyone who loves to shop is sure to have a field day at Shinsegae Centum City.
Address: 35 Centumnam-daero, U-dong, Haeundae, Busan, South Korea
12. Shop At Nampo-dong For Korean Products
Aside from Shinsegae, another go to shopping area is Nampo-dong. The Nampo-dong district has plenty of apparel stores and boutiques to check out.
The stores in this district have unique items you will not be able to find anywhere else.
No matter how much or how little money you are willing to spend, you will find something for a price you can agree to.
The Nampo-dong district also has restaurants that serve different kinds of cuisine.
Interesting shops to visit and new food to try are all the reasons you need to go and visit the Nampo-dong district.
Address: 2-6 Nampodong 5(o)-ga, Jung-gu, Busan, South Korea
13. Hiking The Geumjeongsan Mountain
Geumjeongsan Mountain has woodlands, hot springs, rock formations and Buddhist temples.
All of this makes Geumjeongsan Mountain one of the best places for hiking in Busan and South Korea.
If you have a good amount of free time or love to be in the middle of the great outdoors, you should definitely go for a hike along the Geumjeongsan Mountain.
The Temple of Beomeosa is actually located on Geumjeongsan Mountain which means you can stop for a short visit while on a hike.
This mountain is not too difficult of a hike and reaching the top will reward you with the amazing sky view of Busan down below.
The ruins of what was once the Geumjeongsan Fortress is also a sight that is worth seeing.
Address: 38, Dongmun-ro, Geumjeong-gu, Busan, South Korea
14. Oryukdo Skywalk In Igidae Park
Igidae Park is one of the "off the beaten track" things to do in Busan. This coastal walk will take you past the Gwangan Bridge and Haeundae Beach.
A walk down this trail will allow you to see plenty of Busan, possibly including some attractions you have already visited or plan to visit.
It is a way to get some exercise and do some sightseeing.
The south end of the park has a spot that looks out to the five Oryukdo islands. If you want to visit Oryukdo via a ferry, you can walk along the sky bridge that has a glass bottom.
It can be a cool and somewhat nerve-wracking experience which makes it an opportunity that should not be passed up.
While visiting Igidae Park, you can also visit the Haedong Yonggungsa Temple that is nearby. Both attractions are close enough to be able to visit in one day.
Address: 137 Oryuk-doro, Yongho-dong, Nam-gu, Busan, South Korea
15. Busan Modern History Museum
Museums are typically a common attraction to visit while on a trip or a vacation and Busan has them.
The Busan Modern History Museum has a few exhibition halls where you can learn about the history of Busan and the Korean War.
This museum offers a history class you can take if you happen to be fascinated with the information available in the museum or about the city of Busan.
Regardless of how much you are into history, it can be a fun activity to participate in.
Address: 104 Daecheong-ro, Daecheongdong 2(i)-ga, Jung-gu, Busan, South Korea
Explore South Korea
And if Busan has so much to experience as the second largest city in South Korea, then just imagine what Seoul, the largest city in South Korea has to offer.
If you are interested in Seoul, check out this article on the things to do in Seoul.