Okinawa is a prefecture located in Japan surrounded by coral reefs, tropical beaches, and 160 neighboring archipelagos.
It sits in the East China Sea between Taiwan and Japan's mainland.
Okinawa's lustrous nature, clear waters, and tropical climate make it one of the most prominent tourist sights in the world.
Whether you are dining out, sightseeing, shopping, or engaging in an adventure, Okinawa offers something entertaining for everyone.
Here are 52 fun things to do in Okinawa.
Marvel At Okinawa's Ancient Traditions And Customs
When you visit Okinawa, Japan, you'll notice many historical references to the Ryukyu Kingdom and Battle of Okinawa, Japan's final battle during World War II.
Visitors to Japan love Okinawa for its flourishing architecture, art, and breathtaking landscapes.
Exploring Okinawa can be an all-day excursion. Japan offers many fun things to see, especially when you travel to Okinawa.
Shurijo Castle
Japan rebuilt the 18th Century Shurijo Castle after the Americans destroyed it during the war in 1945.
The castle perches atop a small hill that overlooks the Naha regions in Japan.
Visiting the castle requires hiking its lofty hills and walking on roads created from paved stone.
The Shurijo Castle is a symbol of Okinawa's culture, which is why it was restored to represent the era of the Ryukyu Kingdom.
In the year 2000, they entered the Shurijo Castle as a UNESCO World Heritage Site.
Address: 1 Chome-2 Shurikinjocho, Naha, Okinawa 903-0815, Japan
Peace Memorial Park
One of Okinawa's most recognized monuments is located in the Peace Memorial Park.
The Peace Memorial Park is a public area commemorating the lives lost during the Battle of Okinawa WWII.
It exhibits wartime photographs and objects in memory of those who perished during the Battle of Okinawa.
The names of those who died during the war are also inscribed on the Cornerstone of Peace.
When you stroll through the park, the Peace Prayer Memorial Statue comes into view.
It symbolizes prayers for world peace and the souls of the dead.
The Okinawa Prefectural Peace Memorial Museum offers permanent exhibits and a library.
Address: 444 Mabuni, Itoman, Okinawa 901-0333, Japan
Cape Manzamo
In the northern region of Okinawa's mainland, Cape Manzamo sits on the Onna Village.
This famed rock developed like an upside-down elephant trunk is one of the most seen scenic rocks in Japan.
Many tourists come to Okinawa to see the cliff that overlooks the deep-blue East China Sea.
During the sunset, this rock formation makes a spectacular background.
Take photos or videos of this rock formation and make it a souvenir of your trip to Japan.
Address: Onna, Kunigami District, Okinawa 904-0411, Japan
Nakagusuku Castle
Nakagusuku Castle and its ruins are one of Okinawa, Japan's most famous UNESCO World Heritage Site.
This marvelous castle sits on a plush hill formed of Ryukyu limestone.
The city of Ginowan and the East China Sea overlook the west side of the castle. The Katsuren Peninsula and Yomitan face the north.
During your excursion of the castle, you'll come across many artifacts.
As one of the best-preserved castles in Japan, Nakagusuku Castle is one of the must-do things to do in Okinawa.
When you visit the grounds, you must take the proper precautions to avoid slipping and falling.
It is advised for tourists to wear protective shoes that are anti-slippery.
There is also no lighting installed at the castle site so you must be careful when exploring on your own.
Address: 503 Ogusuku, Kitanakagusuku, Nakagami District, Okinawa 901-2314, Japan
Katsuren Castle Ruins
When visiting Okinawa, going to the Katsuren-Jo Site is a must-do.
The Katsuren-Jo Site stands on the Katsuren Peninsula, on the island of Uruma.
It comprises Gusuku (castle ruins) from the Ryukyu Kingdom era.
Strolling this property is an all-day venture.
Touring the grounds includes four enclosures, three staircases, springs, caves, palace ruins and more.
From the Ichi-no Kuruwa Castle Gate to the Ushinujigama (cave), the UNESCO World Heritage Katsuren-Jo Site offers marvels to see.
When you visit the grounds, you must take the proper precautions to avoid slipping and falling.
Tourists are advised to wear protective shoes that are anti-slippery.
There is also no lighting installed at the castle site so you must be careful when exploring on your own.
Address: 3908 Katsurenhaebaru, Uruma, Okinawa 904-2311, Japan
Shikinaen Royal Garden
The Ryukyu Kingdom built Shikinaen Royal Gardens in 1799 to welcome the delegates of the Chinese Emperor.
It flourished as an intermediary between countries to sustain healthy relations between China, Japan, Korea, and Southeast Asia for trade.
As you walk through the property, the stone-paved road introduces you to its Ryukyu limestone.
This stone is very common around many of Okinawa's sites. A tunnel leads you through the woods until you arrive at the gardens.
The majestic shapes of trees against the open water and little bridges are the reasons many tourists visiting Okinawa Prefecture, Japan stop here.
Address: 421-7 Maaji, Naha, Okinawa 902-0072, Japan
Sonohyan-utaki Stone Gate
The Sonohyan-utaki Stone Gate was built in 1519 from Ryukyu limestone.
The Chinese and Japanese limestone architecture features smooth-flowing curves at the end of the temple's roof.
The door is built from wood. Keeping with Okinawa tradition, the temple was used by the royal family to pray whenever the king left the castle.
Take a stroll around the gate and notice the roof's tiles shaped like a flaming jewel and killer whale.
When you visit the Utaki, you'll also notice sacred rocks and trees dedicated to Gods.
Okinawa World
Explore Japan's Ryukyu Kingdom era when you visit Okinawa World.
This village carries all the traditional customs from the Ryukyu reign.
Visit the traditional crafts village comprising old local houses decorated with red-roofed tiles.
Wonder through the limestone cave made from a coral reef.
Stop at the tropical orchards and admire the various tropical trees and fruits. You'll find rare seasonal flowers and fruits.
Take a stroll inside the Habu Museum and learn from the snake and reptile exhibit.
When you stop at the souvenir shop, purchase Okinawa beer or gifts to remember your visit to Okinawa World.
Address: 1336 Tamagusuku Maekawa, Nanjo 901-0616, Okinawa, Japan
Okinawa Prefectural Museum & Art Museum
Okinawa Prefectural Museum & Art Museum is the first Okinawa Prefecture art museum showcasing Japan's pre-and postwar era.
The Art Museum drives in encouraging artistic endeavor while becoming an international center for promoting Asia-Pacific arts and cultural projects.
Among its permanent displays are fossils of whales, ammonites, and diverse creatures of the ancient seas.
Archeology, arts and crafts, natural history, history, and folk customs are some sub-exhibitions.
The museum likewise carries an inner courtyard exhibition that reveals the restoration process of a traditional Okinawa farmhouse and a traditional Okinawa storehouse.
Address: 3 Chome-1-1 Omoromachi, Naha, Okinawa 900-0006, Japan
Tamaudun Royal Mausoleum
The Ryukyu family built the Tamaudun Royal Mausoleum in 1501.
They constructed the mausoleum with large stone chambers that remain closed to the public.
When you visit the mausoleum, the ticket includes entrance to the museum.
In the museum, you can see images of what the Tamaudun looked like before and after the war.
This is the smallest museum in Okinawa and it's listed as one of the UNESCO World Heritage sites.
The mausoleum is within 20 minutes from Shuri Castle.
It's five minutes from the Shuri Station Monorail so it's easy to get to.
Sefa Utaki
When you travel to Okinawa, make a stop at the Sefa Utaki.
Sefa Utaki is on the southeastern side of Okinawa Honto.
During the 16th century, Sefa Utaki became the center for religious ceremonies and rituals.
Its emphasis on worshipping nature imitates that of Shinto.
As you stroll the forested hillside, you'll notice the oceanic rock formations connected side to side on the walking trails.
Sefa Utaki is also one of Okinawa's World Heritage Sites because of its significance to Okinawa's indigenous religion.
Address: Kudeken-455 Chinen, Nanjo, Okinawa 901-1511, Japan
Visit The Best Places In Okinawa
When you visit Japan, you'll find a plethora of things to do in Okinawa.
From snorkeling to swimming with sharks, Okinawa is open to many adventures.
Explore the various isolated and inhabited islands of the Okinawa Prefecture.
You'll see why so many tourists from around the world visit Okinawa, Japan all year long.
Okinawa Zoo and Museum
The Okinawa Zoo and Museum is home to over 1000 animals and approximately 150 species.
Animals native to Okinawa, such as the Yonaguni horse and a baby lion Arusha, were born at the zoo and are Okinawa's great attraction.
Besides animal exhibits, the Okinawa Zoo offers visitors horseback riding on the weekends and holidays.
The zoo also features a petting zoo, ride-on-cars for kids, and a merry-go-round.
The Wonder museum located inside the premises contains workshops and interactive exhibits so children can have hands-on experience.
The Okinawa Zoo & Museum is the only zoo in Japan catered to children.
Address: 5 Chome-7-1 Goya, Okinawa, 904-0021, Japan
Karate Museum
Karate continues to be one of Japan's most fascinating sports.
If you love martial arts, the Okinawa Prefecture Karate Museum will amaze you.
It is one of three national sports museums in Okinawa.
The Director and founder, Tetsuhiro Hokama, hosts the museum.
Mr. Hokama is a 10th Dan Gojuryu Karatedo Hanshi and the president of the Okinawa Gojuryu Kenshi Kai Karatedo Kobudo Association.
He displays his exhibits on the second floor; where over 500 martial arts items including weapons, and tools, and photos of Karate Masters hang on the wall.
The museum preserves the meaning behind Karate.
It places most research on the origins of Karate during the Ryukyu regime.
Address: 2-chome-17 Uehara, Nishihara, Nakagami District, Okinawa 901-2101, Japan
Oceanic Culture Museum
Okinawa's Ocean Expo Park is state-owned and houses many popular attractions.
One of these attractions is the Oceanic Culture Museum.
This museum in Okinawa exhibits items from the 1975 Okinawa International Ocean Expo which convey the oceanic culture of the Asia-South Pacific region of the 1970s.
The Oceanic Culture Museum provides a heritage link between the sea, Japan, and Okinawa.
Walk over to the 13 canoe exhibits and learn about French Polynesia Tahiti to Samoa Upolu Island.
They pack the museum halls with a plethora of historical references attributing to Okinawa's cultural diversity.
You'll learn about the lifestyle of Oceania people, including but not limited to fishing, dance, faith, and music.
Address: Motobu, Kunigami District, Okinawa 905-0206, Japan
Ryukyu Glass Village
The Ryukyu Glass Village is the largest glass factory in Okinawa.
Learn how blown and cased-glass is made at Okinawa's glass factory.
When you visit the Ryukyu Glass Village, you can observe how Ryukyu artisans make their masterpieces.
You'll find an extensive variety of vibrant glasswork at this village in Okinawa.
Find sentimental keep-sakes, traditional Okinawan crafts, and sweets at the different shops.
Address: 169 Fukuji, Itoman, Okinawa 901-0345, Japan
Okinawa Churaumi Aquarium
Okinawa Churaumi Aquarium is the world's largest aquarium housing multiple whale shark breedings.
It has also been prosperous in breeding multiple species of Bayou Mantas.
The museum supports projects designed to teach people the approach to environmental issues.
Get splashed at the Oki-chan Theater Splash Time dolphin show. Or, touch and feel the Charumi creatures.
You'll learn about the 70 species of coral living in Okinawa's waters.
The Churaumi Theater shows films that teach about Japan's desire to help its sea creatures.
Address: 424 Azaishikawa, Motobu, Kunigami District, Okinawa 905-0206, Japan
Valley of Gangala
The Valley of Gangala is a subtropical forest excavated from a cave that collapsed years ago.
It is believed to have been once the home to Minatogawa, a human fossil discovered in 1970.
When you visit the Valley of Gangala, you need to figure out how to plan your trip.
The tour runs about a one hour and twenty minutes hike that includes climbing stairs and no bathroom.
Wear comfortable sneakers, one of the many travel hacks that work whenever traveling on foot.
Address: 202 Tamagusuku Maekawa, Nanjo 901-0616, Okinawa, Japan
Onna Seaside Civil Park
If you are looking for adventure, then the Onna Seaside Civil Park offers a variety of things to do in Okinawa.
Ride on a banana boat from the beach to the snorkeling location.
While in the water, you'll become acquainted with the colorful clownfish.
This is the perfect location to pull out your underwater camera and click away.
There is no need to worry if you can't swim because the tour provides each passenger with a strong life jacket.
The park also offers kayaking in the clear water and barbecuing on an LP gas-fired bbq inside a cottage styled with Okinawan red tiles.
Address: 419-4 Onna, Onna-son, Kunigami-gun 904-0411, Okinawa, Japan
Kouri Island & Kouri Bridge
Kouri Island is an inhabited island located north of Japan's Yagaji Island.
It is part of Okinawa's Nakijin Island and distances about 5 miles to and from the Kouri Bridge entrance.
The shallow seawater is ideal for swimming and gazing at the stars at night.
You can capture photos of the bridge in various stages of the day.
Bring a light jacket because the wind tends to be cool.
The best time to go Okinawa is in April and May when the temperature is considered comfortable.
You can stroll the island in 10 minutes.
Kabira Bay Glass Bottom Boats
In Ishigaki Island, Kariba Bay is home to green coral gardens separated by an emerald blue sea and white sands.
It is one of the nine uninhabited islands in Okinawa, Japan that offers spectacular views of the sea life below.
Take a tour of the surrounding Okinawa islands via a glass-bottom boat and get a glimpse of sea turtles, clams, and clownfish underneath you.
Okinawa does not allow swimming at Kariba Bay because it cultivates black pearls.
Address: 1054 Kabira, Ishigaki, Okinawa 907-0453, Japan
Busena Marine Park
The Busena Marine Park is the only underwater observatory in Okinawa.
Submerged five feet below Okinawa's clear subtropical sea, the room is designed with twenty-four window panes that form a 360-degree view.
Visitors can view out the windows to catch a glimpse of the sea bottom covered with a coral reef, clownfish, and more.
If the weather in Okinawa permits, you can also take a cruise on a glass-bottom boat shaped like a whale.
You'll capture the view of proliferated coral reefs and the fish hiding in narrow crevasses.
Address: 1744-1 Kise, Nago, Okinawa 905-0026, Japan
Ryukyu Mura
One of Okinawa's most popular theme parks is Ryukyu Mura.
The park offers Okinawan cultural experiences such as folk songs and free shows.
This Okinawa theme park hosts the Ryukyu Village Summer Festival every year.
Enjoy bingo games, dinner buffet, or watch the fireflies.
The park has many interactive attractions.
Learn how to make coral lamps, paint sculptures of sea animal, or carve beach sandals.
Address: 1130 Yamada, Onna, Kunigami District, Okinawa 904-0416, Japan
Taketomi Island
Visit the old remains of the Taketomi Island townscape.
Houses are decorated with limestone walls and adorned in hibiscus and bougainvillea.
Okinawa's traditional red-tiled roofs are visible from afar.
The government of Japan has preserved this district as one of Okinawa's traditional neighborhoods.
Take a stroll down the coral sand streets or take a ride on a buffalo carriage.
Learn about the Asatoya Yunta, an Okinawan folk song that remains strong in Okinawa.
As the sun goes down, take photos of the sunset as it casts behind the red tiles of these traditional homes.
Sea Turtle Museum of Kumejima
For those who love turtles, the Sea Turtle Museum of Kumejima offers a plethora of species to see.
The museum specializes in turtles of the Ojima (Ou Island).
Out of the seven varieties of sea turtles, the museum specializes in the green sea turtle, the hawksbill turtle, and the loggerhead sea turtle.
During a few times a year, they allow visitors to the museum to touch a sea turtle.
If you dive the waters of Kume Island, you might be lucky and spot a turtle.
Address: 170 Ou, Kumejima, Shimajiri District, Okinawa 901-3106, Japan
Naha Whale Watching
Whale watching is one of the most exciting things to do in Okinawa.
Book half-day tours at Naha, Okinawa to watch humpback whales migrating from Alaska to Kerama Islands.
These humpbacks only migrate every January to March.
Watch the whales swim next to their babies in a dynamic movement.
Many facilities throughout Okinawa provide whale watching.
Studio-B
When visiting Okinawa, experience the Okinawan nightlife.
Get to know Okinawa's lifestyle when you travel to Japan.
Studio-B is a fun Karaoke and social bar that provides music and dancing.
The bar offers first-rate Japanese and English music and free Karaoke.
Also, Studio-B creates a safe environment for its locals and military guest.
They ensure that when people visit their establishment in Okinawa, their guests have fun.
Address: 1 Chome-11-20 Chatan, Nakagami-gun, Chatan-Cho, Okinawa 904-0116, Japan
Explore Authentic Traditional Okinawa Dining
During Japan's reign of the Ryukyu Kingdom, Okinawa was a hub for maritime trade.
Trade between the East, Southeast Asia, and the Malacca Sultanate resulted in Okinawa's adoption of flavors comprised of fruits, herbs, and spices that define Okinawa cuisine today.
When you travel throughout Japan, you'll recognize the difference between Japan's mainland cuisine and Okinawa's.
Awase Fish Market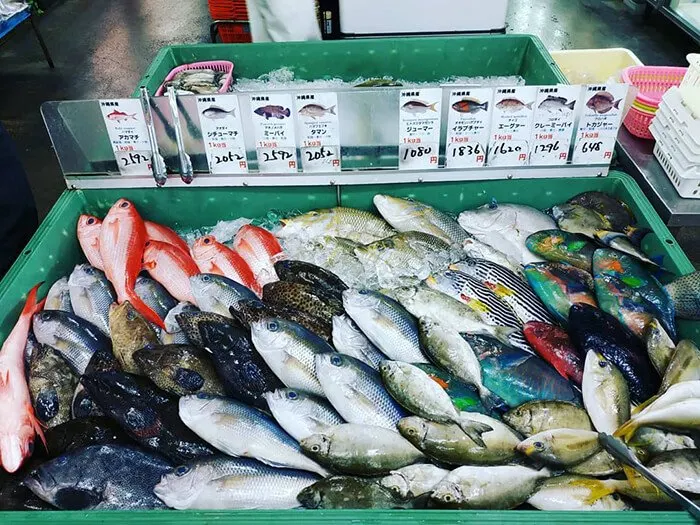 One of the most cultural things to do in Okinawa is to taste Japan's amazing seafood.
The Awase Fish Market offers a vast category of fish for all your culinary needs.
You can find fish, octopus, lobster, clams and more. Visuals next to each fish help you identify the food.
Also, the market sells rice, spices, and other items.
The market writes the menu in both English and Japanese, so ordering and paying for your food is easy.
Once you pay, you can enjoy eating in the dining areas inside or outside the market's building.
Address: 1-11-34 Awase, Okinawa City 904-2172, Okinawa, Japan
Ufuya Restaurant
In Okinawa, Japan, the Ufaya restaurant resides in a 100-year-old historical house that lights up at night.
In traditional Okinawan architecture, the red tiles on the rooftop accentuate the adjacent forest.
Japan's Ryukyu cuisine comes in the taste of the Agu pork dish and beef from Japan.
While you enjoy your meal, you can hear the gentle forest sounds and softness of the waterfall.
After dinner, take a stroll through the straw-shaped canopy that faces the vibrant courtyard.
Address: 90 Nakayama, Nago, Okinawa 905-0004, Japan
Kamimura Shuzo Distillery
Awamori, an alcoholic drink indigenous to Okinawa, derives from distilled long-grain, Indica rice.
In Okinawa, Japan the Kamimura Shuzo Distillery makes its Awamori from matured kusu that has aged three or more years.
Shurei and Danryu are their most popular Awamori, but they also make an assortment of other flavors.
Owners of the Kamimura Shuzo Distillery established it in 1882.
You are welcome to tour the factory if you make an appointment.
When you buy your kusu, they allow you to store it for 5 or 10 years.
You may attach a personal message to it.
If you are an Awamori connoisseur, you'll appreciate visiting the Kamimura Shuzo when you visit Japan.
Yachimum & Cafe Gunjo
Yachimun & Café Gunjo offers authentic Italian cuisine served on Tsuboya Yaki pottery.
The cafe is next to Masakazu Soma, the cafe owner's father/owner of the Toshin Gama kiln in Zakimi, Yomitan Village.
The cafe's interior wall concrete design and wooden floors create a spacious contemporary look.
Large windows inside the restaurant create a brightly lit modern atmosphere.
This eloquent dining location plays music delivered through a Tsubo (pot) Speaker designed by Toshin Gama & Onkyo Ashitomi.
Live Okinawan folk and jazz concerts occasionally perform on the roof.
The cafe offers over eight varieties of pizzas including Margherita, Quattro Fromage, and Oven-Baked Island Vegetables (Altonara), their most popular dish.
When you visit Okinawa, Japan, stop at the Yachimum & Cafe Gunjo for a treat.
Chinsuko
When you visit Okinawa, Japan, you must try chinsuko cookies.
These pastries are made from wheat flour, sugar and lard.
Their biscuit-like texture is soft but not very sweet.
Chinsuko was once the favorite of royals during the Ryukyu Dynasty. Only aristocrats ate the long, thin cookies.
In 1966, chocolate coating was added to chinsuko, and that led to other coatings such as cheese and pineapple.
Traditional chinsuko today have many shapes, sizes and flavors.
First Makishi Public Market
If you are a foodie, one of the top things you should do is visit Okinawa's First Makishi Public Market.
This market holds a plethora of items, meats, fish, ingredients and more.
Established at Naha in 1972, this market has become a popular tourist attraction.
What attracts tourists the most is the market's ability to cook the food they buy.
The food is bought on the first floor and cooked on the second floor.
There are over 150 shops inside the market, so Okinawans and tourists have top choices on seafood, vegetables, meat, condiments and more.
The market conveniently resides within walking distance of the Makishi and Miebashi monorail stations.
Address: 2 Chome-10-1 Matsuo, Naha, Okinawa 900-0014, Japan
Taco Rice
Taco rice is a Japanese tradition born in Okinawa in the 1960s.
It is a blend of Mexican tacos and Japanese rice that has become a symbol of Okinawan tradition.
Taco rice is a product of the brand Omutako and can be eaten with Fuwa Toro eggs, vegetables, mozzarella cheese, avocado or whatever toppings you desire.
The Onna village store in Okinawa is one of many shops that sell taco rice.
When in Okinawa, Japan make sure to try this traditional cuisine loved by the Okinawan people and all over Japan.
Kajinho Cafe
The pizza cafe sits atop a small hill in the town of Motobu.
This cozy and traditional cafe offers a scenic view of Esoko and Minnajima Islands.
They use water from the Okuni-rindo spring which is credited for giving their foods its unique flavor.
This water comes from the Daikoku Forest Road, known to Okinawan's to be blessed by Yamabara.
This spring water arrives from all over Okinawa, so at times it takes more than two hours to collect.
They will wait to collect the water. No matter how long it takes, they wait to use the spring water to make their pizza and coffee.
Their priority is to maintain the integrity of their food's flavor.
Address: 1153-2 Yamazato, Motobu-cho, Kunigami-gun 905-0219, Okinawa, Japan
Bamboo Cafe
One of the many things to do when you visit Okinawa, Japan is to dine at one of its most popular restaurants.
The Bamboo Cafe is one of Okinawa's favorite restaurants renowned for its Jamaican jerk chicken.
They serve their food as a full dinner, wings, or sandwiches.
The Bamboo Cafe's signature jerk pork is made from Okinawan meat.
Other favorite recipes include a mixture of Jamaican flavors such as jerk chicken fried rice, Thai curries, and jerk salmon.
Address: 3 Chome-1-9 Central, Okinawa, 904-0004, Japan
Shop For Traditional Okinawan Souvenirs
Japan offers a plethora of souvenirs and reminders of your stay.
When you visit Okinawa, traditional styles of clothing, furniture, and items will impress you.
Perusing the markets and many shops are a fun way of getting to know the Okinawan culture.
Here are a few shops and markets in Okinawa where you will find gifts for everyone.
Kokusaidori Yataimura
If you are not sure what to do in Okinawa, visit the Kokusaidori Yataimura.
This International Street Stall Village dwells in Naha City and introduces traditional Okinawan dishes and liquor to the public.
This open space welcomes family fun. Comprising several stalls, each vendor offers 3 cups of liquor and knobs set at a price.
If you are looking for cultural relics and gifts, walk over to the Rito Marushe.
Grab a coffee and observe performances of classic Okinawan dances and songs.
The Makishi Monorail Station is three minutes from the International Street Stall Village so getting around is easy.
Address: 3 Chome-11-16,17 Makishi, Naha, Okinawa 900-0013, Japan
Ashiya Street
If you contemplate what to do in Okinawa, Japan, visit Ashiya Street. It is the central hub for tourists in Naha.
As you stroll down the street, you'll notice the traditional architecture of Okinawa.
The street is full of shops where local Okinawa vendors sell antique replicas.
Go to Yakimun, a splendid cafe in Okinawa. Or, stroll to the Ashiya folk art shop and peruse the Ashiyayaki potters and other pottery.
If you are creative, try the Iku Ceramic Garden Yachimun Dojo.
Learn how to make pottery with Rokuro at the Sakai shop.
This is one of the most entertaining streets in Okinawa.
Mihama American Village
In Okinawa, the Mihama American Village is one of the top places to visit.
They dedicate the village to central, south and north American fashion and products.
Stop at the Titicaca grocery store for groceries and clothing.
The Titicaca is the only retail outlet in Japan with outlet prices.
Stop at the American Depot and find fun things themed in the American lifestyle.
Other American stores include Outlet-J where you can find popular casual wear, chic styles and more.
Address: 15-69 Mihama, Chatan, Nakagami District, Okinawa 904-0115, Japan
Tsuboya Yachimun Street
If you love the crafts, then Tsuboya Yachimun Street will introduce you to Okinawan pottery.
In Naha, Okinawa, the streets are home to cobblestone and red brick houses next to pottery dealers and shops.
Tsuboya Yachimun Street has a 300-year history of potters.
At the Shisa and Ikutoen workshops, you can take pottery courses and indulge in creative fun.
One of the top things to do is to stop at an antique shop and admire the carvings.
Address: 1 Chome-16 Tsuboya, Naha, Okinawa 902-0065, Japan
National Theater Okinawa
One of the cultural traditions in Okinawa is Okinawan theater.
The National Theater Okinawa produces Okinawan group dances, Ryukyu dance, Sansen music, and Okinawa plays.
Performances include group dances composed of serifs, music, acts, and dances.
They are classical dances, kozou, and creative dance. Dances evolved from folk music are considered cross-dance.
If you love Asian music, the theater has Sanshin performers that play three-line folk music.
Okinawan acts are stories of the common people told as operas and dialect.
If you love the arts, then the National Theater Okinawa has much to offer.
Address: 4 Chome-14-1 Jitchaku, Urasoe, Okinawa 901-2122, Japan
Diving Is A Must Do While Visiting These Okinawa Islands
Okinawa has spectacular places to go snorkeling and diving. These are a few places in Okinawa that are popular with tourists.
Miyako Island
When visiting Okinawa, Japan, one thing you must do is to travel to Miyako Island.
The Miyako Archipelago rests southwest of Naha City and northeast of Ishigaki Island.
Travel to its large and small islands and examine their Ryukyu Limestone.
Miyakojima Island makes 70% of the archipelago's center and is one of Okinawa's most frequented places for tourists.
If you love to dive, seek diving services such as 24°NORTH, the first diving service in Miyakojima since 1977.
Or, join Maehama Ocean Leisure for snorkeling, diving, and marine time experiences.
Nagannu Island
For an entire day excursion, visit Nagannu Island in the Okinawa Prefecture, Japan.
The waters are transparent and make a wonderful display for sea life.
Diving or snorkeling in Nagannu Island is one of the perfect top things to do when visiting Okinawa.
The island is a bird and animal sanctuary protected by the Okinawa prefecture regulations.
Because the island is also a spawning area for sea turtles, Okinawa does not allow tourists to enter Nagannu Island during the breeding season May to October.
Kerama Islands National Park
Kerama Islands are north of Naha, on the island of Okinawa, Japan.
Divers and snorkelers consider these islands the most fascinating diving locations in Okinawa because of the sea turtles and whales that inhabit it.
Japan designated Kerama Islands as its 31st national park to protect the 250 species inhabiting the island's amazing coral reefs and pristine waters.
Ishigaki Island
Okinawa has many diving and snorkeling facilities that sell diving gear and also offer tours.
If you love the outdoors, snorkeling is one of the things to do in Japan.
The Yaeyama Islands, Miyako Islands, and Okinawa Islands comprise the main island chains of the Okinawa Prefecture.
Ishigaki Island is the most populated island of the Yaeyama Islands with several beautiful beaches surrounded by coral reefs.
Every beach on the island is open to snorkeling.
If you decide to go diving, make sure to capture photos of the manta rays. They dwell at the Manta Scramble near the Kabira Bay.
Zamami Village
Located at Shimajiri District in the Okinawa Prefecture, Zumami Village is the most popular tourist attraction in Japan.
The clear blue-green waters have been nicknamed Kerama Blue and are popular for kayaking all year long.
Paddle along the clear water on a one or two-seat kayak. Dive or snorkel the surrounding islands for a glimpse of sea turtles or anemone fish.
These are one of the best areas in Okinawa to take clear photos of sea life.
After exploring the ocean, travel to Ama Beach and rent a cottage to stay overnight.
There is only one campsite located in the Youth Travel Village Campsite.
Encounter tropical fish, sea turtles, and manta rays when you swim the Kerama Blue waters.
Zamami Village advises diving with guides who know the terrain including sea creatures.
They can guide you through the calm Kerama Sea and away from tidal currents that could endanger your life.
Tarama Island/Minna Island
Tamara island sits between Miyako and Ishigaki Islands. The island is famed for the vast sugar cane fields formed by coral reefs.
The town has remained as a traditional village that contains narrow streets know as tuburi. They make a path from the town to the sea.
Minna Island is home to coral reefs and white sand. Visit Japan in August for the harvest festival in Tarama Island.
The village landscape is made from fukugi trees based on the Feng Shui tradition.
Tarama Island's streets and villages are recognized as the most beautiful villages in Japan.
The streets and villages on Tarama Island are laid out on a grid with a windbreak of fukugi trees based on the concept of Feng Shui.
This is a result of ancestors carefully organizing a method to minimize the damage caused by typhoons, which often strike the island.
With its stunning landscape, the villages remain much in their original form, it is the only village in Okinawa to be recognized as one of the most beautiful villages of Japan.
Minna Island's transparent waters are home to an abundance of sea turtles.
Dive alongside these majestic creatures and take the opportunity for many ops.
Iriomote Island
As one of the second's largest island in Okinawa, Iriomote Island, is 90 percent covered by dense jungle and mangrove forest.
In Okinawa, most of this geographical area belongs to the Iriomote Ishigaki National Park.
The island is popular with nature lovers who take tours of Iriomote's abundant nature.
Explore the ocean via sea and river kayaking, sailing, or fishing. T
his Okinawa island offers snorkeling and hiking as well.
Swimming with Whale Sharks
Indulge yourself in one of the life-time adventures by swimming with the whale sharks.
Diving is done outside the Yomitan shore.
Whether you chose to dive or snorkel, you'll have the opportunity to have an intimate close look encounter with the largest fish in the world.
The whale shark is a gentle giant that is used to swimming alongside divers in Okinawa.
If you are a licensed diver, you will be able to swim alongside them too.
Diving the USS Emmons
Many diving facilities around Okinawa provide a diving buddy, diving lessons, or take you to various sites.
With so much history on land, diving the deep seas of Okinawa allows you to face with secrets of the deep.
One such secret of the deep is the USS Emmons.
In 1944, the USS Emmons was assigned to clear mines off the coastal waters of Okinawa.
The ship got caught amidst five kamikazes so the U.S. Navy sunk it to avoid its capture.
Diving to the USS Emmons takes you down 120-150 feet Okinawa's waters.
Strong currents make the dive challenging so you should only attempt to dive with a buddy even if you are an expert diver.
If you are a novice, seek out many of the diving facilities in Okinawa.
Yonaguni Monument
The Yonaguni Monument is an ancient monument located 32 feet below Okinawa's sea level.
The shallow dive is tricky because of strong currents.
To get to the monument, you must enter a small tunnel that takes you to the ruins.
Once you arrive, you'll tour the platforms, coral reefs and come across turtles and moray eels.
If you are an inexperienced diver, hiring a diving company to take you is your best choice.
You should always dive with a buddy when diving in the deep waters of Okinawa.
Blue Cave Diving
Blue Cave Diving is the most popular diving in Okinawa.
Blue caves are located at Cape Maeda in Onna Village of Okinawa Island.
The semi-submerged caves produce a mysterious blue hue haze when the sunlight hits it.
As a result, the refracted sunlight creates this blue phenomenon that attracts divers worldwide.
You also find Blue Caves in Hokkaido, Miyakojima, Ishigaki.
However, the Cape Maeda in Onna Village in Okinawa, Japan is the most popular location.
Swim with Dolphins
Swim with dolphins in Okinawa. Motobu Genki Village offers many programs for adults and children.
They offer diverse dolphin programs and orientations.
After each orientation, you'll be paired with a dolphin and shown to swim with it by holding on to its dorsal fin.
You can touch and play games with the dolphins in shallow water just like the trainers.
Start Planning Your Trip To Okinawa And The Rest Of Japan
After you leave Okinawa, Japan, take a few stops to enjoy Okinawa's neighboring cities and islands.
Find fun things to do in Tokyo.
Watch Sumo or relax and have a cup of coffee at an animal cafe.
Or, visit the Osaka Castle Tower as one of the things to do in Osaka, Japan.
Stop at Sapporo, Hokkaido's capital, as one of the things to do in Hokkaido, Japan.
Visit the Sapporo Beer Museum for its historic background, beer tasting, and beer garden.
Your final stop before you leave Japan should be Kyoto.
Visit the many temples, shrines, and museums as some of the few things to do in Kyoto.
Kyoto is known for the city that maintains the heart of Japanese tradition.