With everything from mountains to meteorite craters, Flagstaff is known for the kind of rugged natural beauty that you can only find in Arizona.
But did you know that there's a lot more to the city than just hiking trails and rock climbing sites?
For tourists, you can't go wrong with the entertainment scene of Flagstaff.
There are shops, bars, clubs and restaurants everywhere, and all of them will provide fun stuff to do on your Arizona vacation.
For scientists, Flagstaff is home to a number of museums, planetariums and observatories.
It's even been recognized as "America's First STEM Community" because of its dedication to math and science.
For historians, Flagstaff is one of the oldest settlements in Arizona, and it's filled with rock dwellings and crumbling ruins that speak to centuries of ancient living.
It's also close to a number of Native American reservations where the old ways are still practiced today.
Visitors can learn a lot about their traditions and history by emerging themselves in the local culture.
Are you ready to experience all of the amazing things that Flagstaff, Arizona, has to offer?
Whether you're looking for travel hacks, local hot spots or just cool places to go, we've got you covered. Here are 24 crazy things to do in Flagstaff.
1. Coconino National Forest
Coconino National Forest is one of the most stunning places in Arizona.
It covers more than 1.8 million acres and is home to a diverse range of landscapes that include forests, deserts, marshes, mountains, wetlands and volcanic summits.
You could lose entire weekends to its wilderness!
The forest is perhaps most famous for its red rock canyons.
Towering over a dry, stark landscape, they're the kind of dramatic cliff formations that you can only find in Arizona.
If you're feeling brave, you can walk, hike or bike them to the very top.
If you aren't in the mood for sand, there are other attractions in Coconino National Forest as well.
You can go camping in the tree groves; you can go swimming or rafting in the creeks.
You can explore petroglyph sites or wander through a series of underground river caves.
You can take pictures until your camera shutter refuses to work anymore.
There's a little something for everyone at the Coconino National Forest, so it's easily one of the best things to do in Flagstaff.
It might even be one of the best things to do in the entire state of Arizona!
Whether you like splashing in the water or working up a dusty sweat on a desert trail, you'll enjoy this great Arizona destination.
Address: Flagstaff, AZ 86001, USA
2. Museum of Northern Arizona
Arizona is home to many different Native American tribes, but much of their history has been lost over the years.
Their art has been destroyed; their jewelry, pottery and household goods have been broken or scattered.
The Museum of Northern Arizona is dedicated to both the celebration and preservation of Native American culture.
It showcases everything from fierce headdresses to delicate wall tapestries, and its exhibits are open to everyone who wants to learn more about the original residents of Flagstaff.
Not everything about the Museum of Northern Arizona is steeped in tradition, however.
Not everything is somber and sacred.
For example, one of their recent galleries revolved around contemporary Native American artists showing off their love of Star Wars.
The force was with them, and they weren't afraid to show it.
The Museum of Northern Arizona is a nice way to explore the history and culture of the indigenous people of Flagstaff.
You'll learn new things, and the price of your ticket will go towards a good cause.
Plan a visit to the Museum of Northern Arizona for an educational and entertaining time.
Address: 3101 N Fort Valley Rd, Flagstaff, AZ 86001, USA
3. Grand Canyon National Park
You can't visit Arizona without visiting the Grand Canyon. It's the law.
Fortunately, Flagstaff is very near the "south rim" section of the Grand Canyon, so you can enjoy a trip to the city and an excursion into the wilderness when you visit this particular part of Arizona.
You'll start with a short drive from Flagstaff to the Grand Canyon.
Once you've arrived, you can take your pick of how to see the sights.
Do you want to strike out on an independent walking tour, or would you prefer driving, cycling, shuttling or horseback riding with an experienced guide?
Would you like to hop on a helicopter for an aerial tour?
Can you hike a scorching trail with nothing more than a water bottle and a lot of determination?
There are other things to do besides sightseeing, too.
You can take a train ride on the Grand Canyon Railway, or you can spend some money at the shops and restaurants of the Grand Canyon Village.
You can even book a room at an on-site hotel if you want to explore the cliffs for an extended period of time.
It all starts with a trip to Flagstaff.
If you want to cross the Grand Canyon off your bucket list, pull up a map and start planning a trip to Arizona.
4. Downtown Flagstaff
According to legend, Flagstaff was named for the original settlers who stripped a wooden post and attached the American flag to it.
This flagstaff stood for years as a testament to the origins of the city and its place in Arizona history.
Today, downtown Flagstaff has been revitalized into a busy hub of commerce, but it still retains some old-fashioned charm.
Vintage hotels have architecture from generations past, and railways and red brick tunnels will remind you of the city's industrial origins.
The shade-covered plaza is always bustling with crowds. The big cities of Arizona don't have this nostalgic air, but Flagstaff does.
Additionally, a lot of fun things to do in Flagstaff can be found in the downtown area.
Not only are there shops and restaurants everywhere, but you can also enjoy festivals, carnivals, parades and other special events that are held in the main square.
For example, Flagstaff broadcasts free movies in the plaza every summer.
If you're wondering where to begin with your Arizona vacation, consider downtown Flagstaff.
It has so many points of interest that you could spend your entire vacation within a few square blocks.
But even if you want to see more of Flagstaff than the main plaza, the latter is a good starting point!
5. Lowell Observatory
Lowell Observatory is one of the oldest astronomy centers in the state of Arizona.
It's also one of the most famous; its research facilities have discovered everything from stars to planetary rings, and it was a major base of operations for NASA's Apollo missions.
Visitors to Lowell Observatory can enjoy all kinds of celestial fun.
There are stargazing events and sightseeing tours; there are classes, workshops, demonstrations and film showings.
You can peer through a telescope and see the shadows on the moon; you can attend a lecture with a laser-guided light show to learn more about the galaxy and your own place within it.
If you're a science lover who is looking for geeky stuff to do in Flagstaff, you won't want to miss the Lowell Observatory.
Not only does it have an important place in STEM history, but it can also teach you a thing or two if you're interested in the world beyond the stars.
Your body might be in Arizona, but your mind can take flight to the universe!
Address: 1400 W Mars Hill Rd, Flagstaff, AZ 86001, USA
Going to other parts of Arizona? You'll love our lists of things to do in Tucson & things to do in Phoenix!
6. Flagstaff Extreme Adventure Course
Get your heart racing with a trip to the Flagstaff Extreme Adventure Course.
Offering everything from suspended rope bridges to zip lines stretching between tree canopies, it's a surefire way to kick-start your adrenaline on your Arizona vacation.
Are you new to the world of thrill-seeking?
Try a beginner's obstacle course where you climb a rock wall or work your way across raised wooden planks.
Are you skilled in the art of death-defying adventures?
Try one of the advanced challenges where you throw yourself into a harness and fly across the forest while whooping at the top of your lungs.
You don't even have to leave the kids at home.
The company offers child-friendly courses that are challenging but safe, so the whole family can get in on the excitement as they test themselves against various physical and emotional challenges.
You won't need a lot of time to conquer the Flagstaff Extreme Adventure Course, but it's one of those fun weekend attractions that will give you a great story when you get home.
Anyone can visit Flagstaff, but how many people can say that they ziplined through its trees?
Address: Fort Tuthill County Park, Flagstaff, AZ 86001, United States
7. Arizona Snowbowl
It's a common misconception that Arizona is nothing but a desert.
Flagstaff is proof of that; there are green forests and blue rivers as far as the eye can see.
Another place that defies expectations is the Arizona Snowbowl.
Located just a few miles north of Flagstaff, the Arizona Snowbowl is a ski resort located on top of a volcanic mountain range.
It offers dazzling views that exceed 11,500 feet, and there's a thriving community of bars, restaurants and souvenir shops that will give you the full "village" experience.
As for outdoor fun, the Arizona Snowbowl has all kinds of winter sports and games for you to enjoy.
The big one is skiing; there are slopes for every age and skill level.
You can also go snowboarding or snow tubing, or you can ride on a chair lift for incredible, heart-stopping views.
Some of the best things to do in Flagstaff are the ones that you wouldn't expect.
Throw away your flip-flops and pack your snowboarding boots; it's time to hit the powder of the Arizona Snowbowl.
Address: 9300 N Snow Bowl Rd, Flagstaff, AZ 86001, USA
8. The Arboretum at Flagstaff
Covering more than 200 acres, The Arboretum at Flagstaff is a great place to unwind during the mad dash of an Arizona vacation.
It's beautiful and tranquil, and it offers low-key pursuits for visitors of all ages.
The most popular activity is sightseeing.
The arboretum is home to 750 species of trees and flowers, and a series of walking trails will let you enjoy all of their rustling leaves and fragrant petals.
You can also take a guided tour or enjoy lunch at one of the designated picnic locations.
Another nice feature of the Arboretum at Flagstaff is its butterfly house.
They aren't common in Arizona, but you can find one right here at the arboretum.
Wander among hundreds of brilliant, colorful butterflies; feed them special nectars; encourage them to land on your fingers.
Kids will especially love this personal touch from nature's creatures!
Consider a visit to the Arboretum at Flagstaff if you're looking for unique points of interest in Arizona.
Not every state has this kind of scenery to enjoy, so take advantage of it while you can.
Address: 4001 S Woody Mountain Rd, Flagstaff, AZ 86001, USA
9. Pioneer Museum
You don't have to travel to places like Richmond to get a taste of the American frontier.
Flagstaff was known as a lumber and railway town as far back as the 1800s, and these things are still alive in places like the Pioneer Museum.
Run by the Arizona Historical Society, the Pioneer Museum runs out of an old converted hospital and sprawls across several acres of natural land.
Vintage wagons, cabooses and log cars are set up as interactive displays around the main building, and a one-room cabin allows visitors to peek inside for educational displays.
The museum itself houses all kinds of artifacts and exhibits from the old days.
It's on the second floor of the hospital; the other floors are reserved for things like folk festivals, old art galleries and line dancing classes.
Take a step back in time with a visit to the Pioneer Museum.
It's one of those places that celebrates traditional interests in all forms, so if you're intrigued by the history of Flagstaff, this is the place to go.
Address: 2340 N Fort Valley Rd, Flagstaff, AZ 86001, USA
10. Orpheum Theater
Billed as the "premier entertainment venue" of Arizona, the Orpheum Theater manages to combine small-town charm with big-city production values.
From the outside, it might not catch your eye.
It's a simple building with an almost vintage aesthetic, and it's easy for it to get lost among all of the gleaming lights of a busy Flagstaff night.
Once you're inside, however, the Orpheum Theater lives up to its reputation as an outstanding music hall.
The grand architecture will make you feel like you've stepped into a luxury opera house, and state-of-the-art acoustics will help every sound of the performers reach your ears.
As for the shows, you'll have your pick of plays, concerts and comedy routines.
There's always something happening at the Orpheum Theater.
Here's one of our best travel tips: Call the venue and see what's going on before you arrive.
While some tickets can be purchased at the door, other events might be popular enough to require an advance booking.
You don't want to miss out on the latest and greatest shows at the Orpheum Theater.
Remember, it's one of the best destinations for art and theater in the entire state of Arizona!
Address: 5511, 15 W Aspen Ave, Flagstaff, AZ 86001, United States
Visiting other areas of Arizona? Check out our lists of best things to do in Sedona & fun things to do in Scottsdale!
11. Brandy's Restaurant & Bakery
Memphis is known for its barbecue. Kansas City is known for its chili.
What kind of food can you find in Flagstaff?
More importantly, where can you go to find it?
One potential destination is Brandy's Restaurant & Bakery.
It offers everything from frothy cappuccinos topped with cinnamon to breakfast burritos stuffed with eggs, cheese, bacon and sausage.
It's one of the best-rated eating establishments in Flagstaff, and its menu reflects both its quality and diversity.
Last but not least, Brandy's Restaurant & Bakery won't break the bank.
While not the cheapest restaurant in the city, it's very reasonably priced considering the high quality of the ingredients and the generosity of its portion sizes.
This isn't an establishment where you look at your plate and think, "That's it?"
You'll get your money's worth.
If your stomach is rumbling, consider a visit to Brandy's Restaurant & Bakery.
Whatever you're craving for, you can find something good to fill your belly.
Address: 1500 E Cedar Ave #40, Flagstaff, AZ 86004, USA
12. Flagstaff Mall
Oh no! You forgot to buy kitschy Arizona t-shirts for your friends and family!
Swing by the Flagstaff Mall to scoop up some souvenirs.
As the largest shopping complex in the city, the Flagstaff Mall offers plenty of options for people who are looking to spend some money.
There are more than 60 retailers in the multi-story space, including big-name brands and small, independent shops.
Whether you're looking for expensive jewelry or cheap key chains, you'll be able to find it here.
The Flagstaff Mall is pretty interesting from a visual standpoint, too.
It's designed to look like an old-fashioned pioneer lodge with wooden beams and brick features, and its central resting area is an indoor, four-sided fireplace.
You can relax in front of the blaze after you've filled your arms with shopping bags and food court goodies.
If you check the mall's schedule, you might even get lucky with a special event that coincides with your vacation.
Flagstaff welcomes a number of authors, actors and musicians, and the mall is one of their favorite spots to sign books or shake hands with their fans.
It might not be the fanciest shopping complex in the world, but there's a quaint kind of charm to the Flagstaff Mall.
You'll also find everything that you could possibly want from its stores, stalls and kiosks.
It's worth a visit at any time of day or night!
Address: 4650 US-89, Flagstaff, AZ 86004, USA
13. Wupatki National Monument
Officially listed on the National Register of Historic Places, the Wupatki National Monument is an amazing collection of natural ruins.
In addition to being a beautiful sightseeing location, it's also a place where you can explore the history of multiple Native American tribes, including the Sinagua, Cohonina and Kayenta Anasazi.
The word "Wupatki" means "tall house," and it refers to a gigantic pueblo that stretches for more than 50 miles and includes hundreds of rooms, stairs and ball courts.
It's surrounded by red cliffs and green desert cacti to make a colorful tableau.
Access is restricted in some areas to preserve the sanctity of the ruins, but you can get close enough for awesome views and pictures.
You might also enjoy the grounds around the Wupatki National Monument.
You can take a driving tour if you aren't the hiking type, but there's something satisfying about lacing up your boots and venturing down the trails yourself.
You'll enjoy a feeling of accomplishment when you finally make it to the ruins.
The Wupatki National Monument is one of the most historically significant places to visit in Flagstaff.
It's stood for thousands of years and will probably stand for thousands more.
If you're wondering what to see in the region, stop by the tall house.
Address: 25137 N Wupatki Ln, Flagstaff, AZ 86004, USA
14. Grand Falls
The Grand Falls aren't like other waterfalls.
Nicknamed "Chocolate Falls," they have muddy, sediment-laden water with a light brown color, and they're comprised of several different waterfalls that join together in a gigantic basin at the bottom of a canyon.
They were formed by lava flowing from a meteorite crater into a nearby river, and they're fed today by rain and snowmelt from the mountains.
Despite their unusual appearance, however, the Grand Falls aren't a cute little oddity.
They're some of the most impressive waterfalls in Arizona.
They're both taller and stronger than Niagara Falls, and they move literal tons of water with immense power and pressure.
Their roaring sound alone will take your breath away!
Visitors can observe the falls from multiple viewing points along the marked nature trails.
It might be a bit difficult to find them; they're located a few miles from Flagstaff on Navajo land.
Fortunately, you don't need any special permits to visit them. As long as you have a map, you should be fine.
Grand Falls is one of those beautiful, natural places that you can only find in Arizona.
Where else can you see chocolate waterfalls formed by meteorite lava?
They're a pearl of Flagstaff, and they'll provide one-of-a-kind photographs to admire when your vacation is over.
15. Mother Road Brewing Company
Located on the historic Route 66, the Mother Road Brewing Company will let you get a nice buzz in a relaxed atmosphere.
It isn't one of those ultra-polished beerhouses with squeaky floors and expensive glasses that you're afraid to break.
At the Mother Road Brewing Company, you'll be served craft beers in solid, thick-bottomed mugs.
You can buy your drinks from the bar or as part of a tour, or you can make your own brews during a special class.
Once you have your beverage, you can enjoy it in a comfortable bar or patio setting with friendly locals.
The brewery even offers board games if you want to challenge one of your new friends to a match.
Maybe you're hitting all of the roadside attractions of Route 66. Maybe you're just driving with the windows down and going where life takes you.
If you're planning an epic road trip, make sure that Flagstaff is on your list of must-see destinations along with places like Gainesville, Minneapolis and Las Vegas.
The Mother Road Brewing Company is just one of the cool destinations of Arizona, but it certainly isn't the last.
Address: 7 S Mikes Pike St, Flagstaff, AZ 86001, USA
16. Mount Elden
If you've seen a picture of Flagstaff, you've probably seen a picture of Mount Elden.
It has a total elevation of 9,301 feet, so it towers above the city skyline and is visible from just about every location within the city.
The good news is that you don't have to be satisfied with pictures alone.
Though it might look imposing, Mount Elden is a well-loved and well-traveled summit, and thousands of people make the climb every year.
You can walk, bike or drive through a series of trails to reach the mountain's peak, and the views from the clouds will mesmerize you from every direction.
Getting back down is just as exciting as going up.
While you can take the same trail if you're worried about getting lost, you can also take a different roundabout to reach your original destination.
This means new animals, new activities and lots of new things to see.
Do you want to see Flagstaff laid before you like a prize?
Do you want to take some incredible photos of the Arizona wilderness for your travel blog?
Strap on your backpack and get to moving on Mount Elden.
17. Bushmaster Park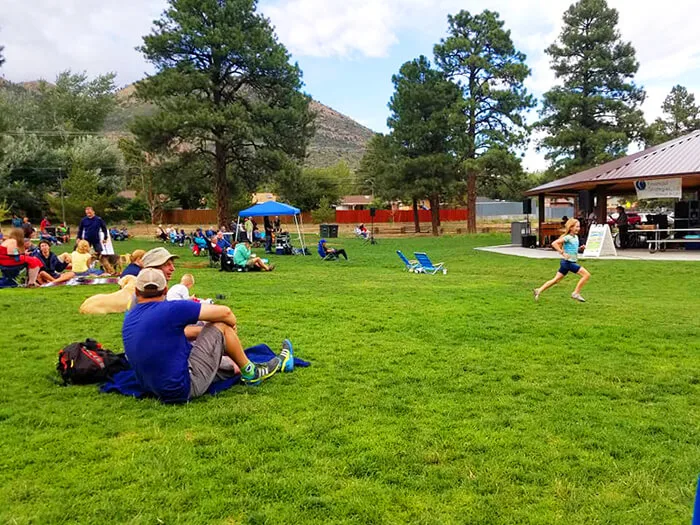 With everything from tennis courts to shaded picnic areas, Bushmaster Park is one of the most fun things to do in Flagstaff.
It's a park that has a little something for everyone.
Your kids can enjoy the swings and climbing structures of the playground; your teenagers can flaunt their apathy at the skate park.
Even your dogs can frolic freely in the "bark park" designed just for pets!
As for you and the other grown-ups, you can shoot some hoops at the basketball court or volley a few lobs at the tennis courts.
There are also bathrooms, drinking fountains and picnic tables for your practical family vacation needs.
Many people wonder what to do in Flagstaff. They stop wondering when they realize the potential of Bushmaster Park.
It can provide a lot of fun for the whole family, so don't hesitate to visit, skate, dunk, picnic and play fetch!
Address: Flagstaff, AZ 86004, USA
18. San Francisco Peaks
Despite their name, the San Francisco Peaks are located squarely in Arizona.
They were christened by friars who wanted to honor St. Francis in 1629.
They're known by other names as well, including Dook'o'oosliid ("the summit which never melts") in Navajo and Nuva'tukya'ovi ("place of snow on the very top") in Hopi.
As for the mountains themselves, there's plenty to see and do around their cliffs and canyons.
You can start with a summit to Humphrey's Peak, the highest point in all of Arizona, and you can end with a trekking or camping experience in one of the many recreational areas cleared off for tourists.
The only downside of the San Fransisco Peaks is that they're vulnerable to changes in the weather.
For example, an unusually warm winter might put a stop to your sledding, or a rainy weekend might dampen your dreams of hiking a trail that became too muddy.
You should always call ahead and ask about the condition of the mountain before you go.
If you're looking for outdoor activities in Flagstaff, however, it doesn't get much better than the San Fransisco Peaks.
They'll provide amazing views for sightseers and incredible opportunities for adventurers.
They're near and dear to the hearts of the locals, and they'll become one of your favorite places in Arizona as well.
19. Flagstaff Aquaplex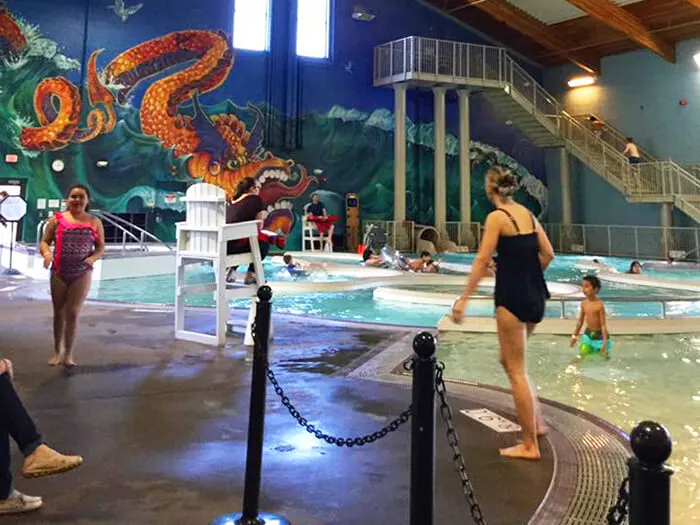 We've talked a lot about snowy days in Arizona, but what if you're traveling there in the summer?
What if you're looking for places to visit that can cool you off when those desert temperatures start climbing?
The Flagstaff Aquaplex will be a soothing balm to hot and humid days.
It's an aquatic-themed recreation center with pools, slides and water playgrounds for visitors of all ages.
If you don't feel like getting wet, there are other ways to enjoy yourself as well.
The aquaplex is attached to a gym with all kinds of fitness activities, including an indoor rock wall.
You can also sign up for classes in everything from yoga to kickboxing.
You might not have expected this kind of splash from an Arizona attraction.
You might have thought that you could only get such experiences from beach destinations like Tallahassee or Santa Cruz.
If you're willing to make do with pools instead of oceans, however, you'll find that Arizona can be just as wet and wild as Florida or California.
You just have to trust in the aquaplex as one of the most fun things to do in Flagstaff.
Address: 1702 N Fourth St, Flagstaff, AZ 86004, USA
20. Riordan Mansion State Historic Park
Arizona is full of historic things to see, but few attractions have put in as much effort as the Riordan Mansion State Historic Park.
Its proprietors actually tracked down the negatives of the original mansion and remodeled it to be as authentic as possible!
So, what's the Riordan Mansion State Historic Park?
It's a historical site where visitors can learn about everything from the history of the stagecoach to the origins of the first settlers of Flagstaff.
Tours are available for people who want to view the mansion in all of its restored glory.
There's a constant rotation of exhibits, lectures, classes and events to educate the masses about centuries past.
You might also want to take a walk outside of the mansion.
There's an abundance of natural wildlife in the fields and forests surrounding the building, and you can walk along the trails to enjoy a quiet, scenic afternoon in nature.
It's perfect for a weekend getaway.
The hours of operation at the Riordan Mansion State Historic Park will change depending on the season, so make sure to double-check before you go.
It's one of the best places to visit in Arizona, so you don't want to be left standing outside of a locked door!
Address: 409 W Riordan Rd, Flagstaff, AZ 86001, USA
21. Monte Vista Lounge
Despite its proximity to Northern Arizona University, Flagstaff isn't known as a rowdy college town. The nightlife can be a bit sparse.
An exception to the rule is the Monte Vista Lounge.
It offers food, drink and live music in a combined bar and lounge setting where the locals go to see and be seen.
It's one of those places where you can always find a good drink and a friendly ear if you're in a sociable mood.
You don't have to worry about fitting in with the right crowd, either.
The Monte Vista Lounge has two floors that cater to different demographics.
The upstairs bar is where the older people hang out; the downstairs bar is where the younger folk let down their hair.
It might not be one of the major points of interest in Flagstaff, but the Monte Vista Lounge should provide more than enough entertainment for a bored individual looking for new things to see.
The liquor is always flowing, and the music is always pulsing. There are definitely worse ways to spend a night.
Address: 100 N San Francisco St, Flagstaff, AZ 86001, USA
22. The Geekery
The Geekery might not top the usual "what to do in Flagstaff" lists.
It's a small gaming establishment that doesn't offer any majestic mountain views or adrenaline-soaked obstacle courses.
On a rainy day, however, the Geekery can keep your family from climbing the walls of your hotel.
You can't always trust the weather in Arizona to stay pleasant, especially in high-elevation cities like Flagstaff, so it's nice to have a backup plan when the trails get too muddy for a hike.
What's so special about the Geekery?
Simply put, it's a place to enjoy games.
Whether you're into board games, video games or card games, you can find something to entertain you at the Geekery.
It might be a shopping rack of Zelda plushies; it might be a tabletop where you can challenge someone to a round of Monopoly.
If you like playing games, the Geekery will provide a safe, comfortable place to get your geek on.
It's also one of the best places to visit on a stormy day or snowy night.
You don't have to drive around Flagstaff looking for open attractions; you can just walk into the Geekery and find yourself in a world where anything is possible.
Address: 1800 S Milton Rd #110-111, Flagstaff, AZ 86001, USA
23. Meteor Crater Natural Landmark
If you've ever wanted to see a genuine relic from outer space, plan a trip to the Meteor Crater Natural Landmark.
It's a gigantic impact crater from a meteorite that struck Earth around 50,000 years ago, and it's located just a few miles east of Flagstaff.
Stretching almost a mile wide, the Meteor Crater Natural Landmark is one of the few crater sites that you can see in the US, and it's the only one in the entire state of Arizona.
While you can't actually hop inside of it because of preservation reasons, you can view it from both an upper and lower observation deck, and you can touch rocks from the crash through the on-site museum.
You can also learn a lot about space through the museum.
It offers films, presentations, special exhibits and an astronaut hall of fame, and visitors are encouraged to pick up some fun facts about meteors while marveling at the site where one of them struck.
The Meteor Crater Natural Landmark is one of the best things to do in Flagstaff.
It's cool; it's unique; it will make you a little more educated than you were before. What's not to love?
Address: Interstate 40, Winslow, AZ 86047, USA
24. Fort Tuthill County Park
Open year-round, Fort Tuthill County Park is one of the best vacation spots in Arizona.
Its unique location near Flagstaff allows for quick access to tourists, and its full activity roster means that there's something to do in every season.
In the summer, visitors can play golf, ride horses, take archery lessons, bike around the trails and enjoy the many different fairs and festivals that take place on the grounds.
There are also weekly concerts and outdoor music events for people in Flagstaff who like to groove.
In the winter, the park is transformed into a winter wonderland of white, fluffy snow, and visitors can enjoy a wide range of cold-weather activities.
From skiing to snowshoeing, this place has it all.
Arizona is home to more than its fair share of parks and campgrounds, but there's something special about Fort Tuthill County Park.
You'll have to see it to believe it. Let us know how your visit goes!
Address: 2446 Fort Tuthill Loop, Flagstaff, AZ 86005, USA
Start Planning Your Trip To Flagstaff
Not only is Flagstaff one of the nicest cities in Arizona, but it's also one of the most beautiful places in the US.
These are just a few suggestions if you're looking for points of interest in this remarkable destination.
You don't have to drive around the streets and debate what to do with your time; with a list like this, you can plan your entire trip in advance.
Flagstaff is full of amazing things to do. You just have to decide where to go and what to see!